Rep. Michael Grimm pleads guilty in tax case, refuses to resign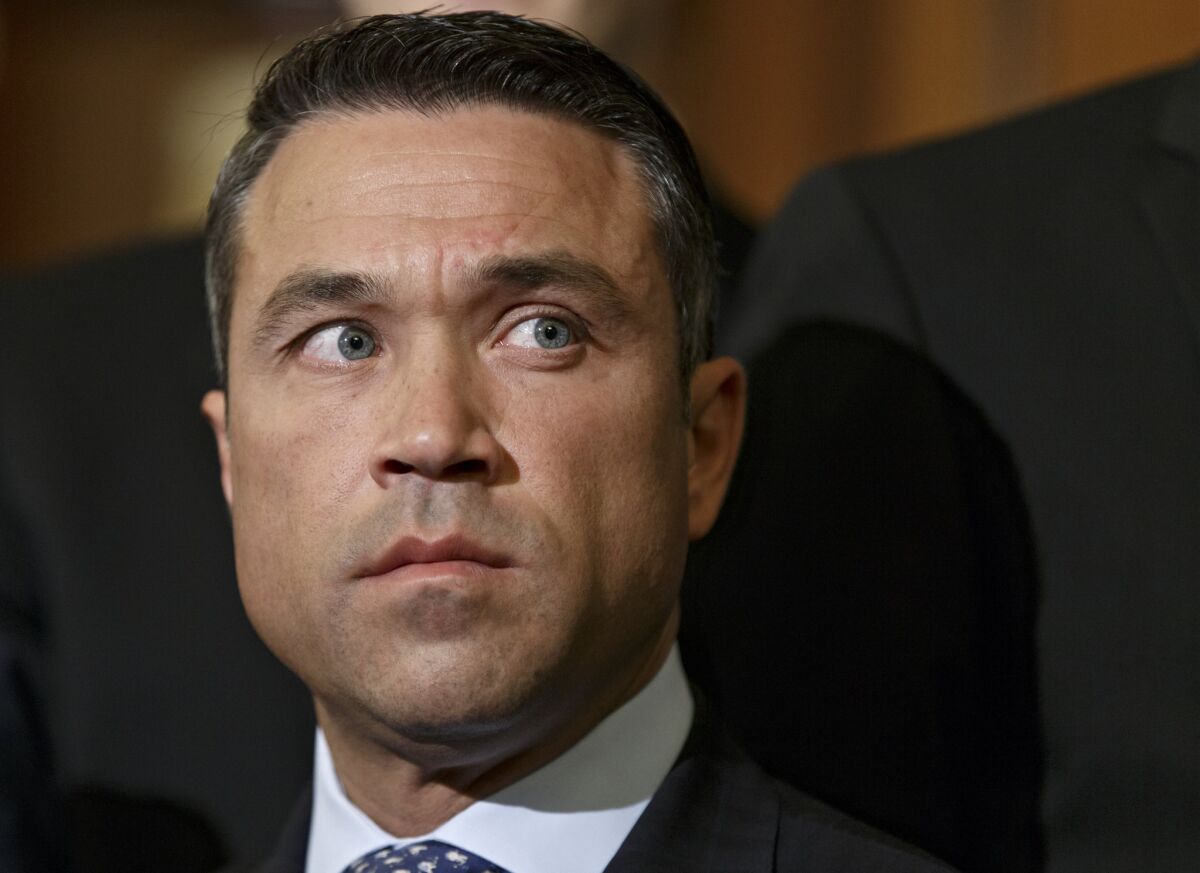 Embattled Republican Rep. Michael Grimm (R-N.Y.) pleaded guilty Tuesday to a single count of tax evasion, but said he would not resign his seat.
In a Brooklyn courtroom before U.S. District Judge Pamela Chen, Grimm admitted to aiding in the filing of a false tax return, according to court filings.
Grimm was indicted in April on federal charges including mail fraud, wire fraud, tax evasion, employing undocumented workers, and perjury in relation to a Manhattan fast-food restaurant he once co-owned and operated.
Grimm admitted that he had made "off the books" payments to employees and under-reported nearly $1 million in gross receipts to the Internal Revenue Service and New York state tax collectors. He also admitted that he lied during a deposition about whether employees had been paid in cash, and whether he had used email accounts to operate the restaurant.
"I should not have done it and I am truly sorry for it," he told reporters outside the courtroom.
He struck a defiant tone when asked whether he would resign after the plea. "I'm going to get back to work and work as hard as I can," said the 44-year-old, who represents Staten Island.
Grimm had previously said that if he was convicted, he would step down from Congress. "Certainly, if I was not able to serve, then of course I would step aside," he said at a debate in October, according to the Associated Press.
In a 20-count indictment unsealed in April, federal prosecutors accused Grimm of under-reporting his employees' wages to the IRS, paying them in envelopes full of cash, and said he had lied under oath when he claimed he was not responsible for handling payroll.
Grimm sold his interest in the restaurant before taking office in 2011, according to prosecutors.
The trial in his case was set to begin in February, according to the Associated Press. If convicted, Grimm could have faced a prison sentence of anywhere from six months for hiring undocumented workers to 20 years for each of the mail and wire fraud charges, prosecutors said.
Grimm is scheduled to appear for sentencing June 8, and could still be facing prison time. He faces up to three years in prison, according to prosecutors, and has agreed to pay restitution to the IRS and New York state.
FBI assistant director George Venizelos said Grimm's actions "put self-interest above public service."
"As an elected official, Grimm was responsible for deciding how taxpayers' money should be spent, yet he chose not to pay his fair share of taxes while operating his business," Venizelos said in a statement. "Adding insult to injury, while serving as a member of Congress, Grimm lied under oath in an effort to conceal his criminal activity. The public expects their elected officials at all levels of government to behave honorably, or at a minimum, lawfully."
Grimm, a former FBI special agent and Marine, has called himself the victim of a political witch hunt.
Controversy has dogged the congressman, who was just elected to his third term, for years.
Federal prosecutors first began investigating Grimm in a probe of an alleged "donor swapping" scheme designed to skirt individual campaign contribution limits to candidates.
In January, Grimm threatened to throw a New York TV reporter off a balcony and break him in half "like a boy" for asking him about the allegations on camera. Video of the incident quickly went viral, and he was pilloried by pundits and on late-night shows.
Earlier this year, the House ethics committee announced it had opened an investigation related to the fraud charges, but deferred action as the federal investigation continued.
He gave up his post on the House Financial Services Committee following his indictment, but vowed to seek another term, winning reelection in November.
"I know who I am and I know what I've done for this country," Grimm told reporters after pleading not guilty in April. "I know I'm a moral man, a man of integrity. I also know that I have a lot more service and leadership to provide this country, and that's exactly what I intend to do."
Democratic leaders called for his ouster. In a statement released Tuesday ahead of Grimm's plea, House Minority Leader Nancy Pelosi (D-San Francisco) released a statement calling on Speaker John Boehner to "insist that Congressman Grimm resign immediately."
The Democratic Congressional Campaign Committee also called for Grimm's resignation. "It's past time for Michael Grimm to go and it's John Boehner's responsibility to make it happen," Josh Schwerin, a DCCC spokesman, said in a statement. Schwerin said allowing Grimm to stay in Congress despite his guilt "is a disservice to the people of Staten Island and Brooklyn and a stain on the institution of the United States House of Representatives."
Boehner's office had no immediate comment. "We won't have any announcements until the Speaker discusses the matter with Mr. Grimm," said Michael Steel, a spokesman for Boehner.
Republican lawmakers touched by lesser scandals have been pressured to resign in the past.
Christopher Lee, a former congressman from New York, resigned in 2011 hours after flirtatious emails, which included a photo of him shirtless, were posted online by a gossip website. In the emails, Lee, who was married, claimed to be a divorced lobbyist as he communicated with a 34-year-old woman.
Just as Grimm's indictment was unfolding, the Republican leadership pressured Rep. Vance McAllister of Louisiana to step down after surveillance video was released showing him kissing a married staff member. McAllister, a married father of five, apologized but rejected a personal request from then-Majority Leader Eric Cantor to step down. He decided not to seek reelection.
If Grimm refuses to resign, it would take a rarely used action of the House to expel him. The lengthy procedure was last used in 2002 and ended with a vote to remove James Traficant of Ohio, who refused to resign after he was found guilty of taking kickbacks from staff members and pocketing bribes.
Traficant was only the second person to be removed by the House since the Civil War.
Staff writers Michael Memoli and Richard Serrano contributed to this report.
For more breaking news, follow me @cmaiduc
---
Life is stressful. Our weekly mental wellness newsletter can help.
You may occasionally receive promotional content from the Los Angeles Times.