Ann Romney takes her turn onstage with cookbook aiding brain research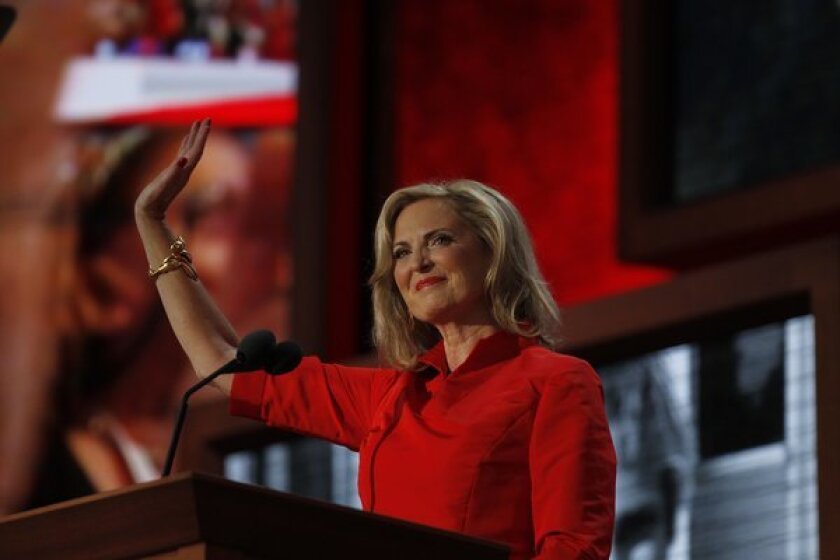 With homespun recipes from "Mitt's meatloaf cakes" to "banana trash pudding," Ann Romney's new cookbook, "The Romney Family Table," has been a brisk seller since its recent debut, topping Amazon's list as the bestselling hardcover cookbook.
That is good news for the Center for Neurologic Diseases at Brigham and Women's Hospital in Boston and the center's co-director, Dr. Howard L. Weiner, who has treated Romney since she was diagnosed with multiple sclerosis in 1998. After writing the cookbook this year, Romney announced that she would donate the proceeds to the center's research into the causes and treatment of neurological diseases -- including multiple sclerosis, Alzheimer's disease and ALS, also known as Lou Gehrig's disease.
On the campaign trail last year, Romney spoke openly about her struggles with multiple sclerosis, a debilitating disease affecting the central nervous system. She has said hers is in remission.
When Romney's adversaries portrayed him last year as a heartless corporate raider, his wife countered with stories about the early days of her diagnosis, when she was too weak to handle routine tasks like cooking dinner. The former Massachusetts governor stepped up on the home front, she would tell audiences, reassuring her that he was perfectly happy eating cereal for the rest of his life.
Now in her solo turn in the spotlight, Romney has talked more about her involvement in multiple sclerosis research, including her participation in a long-term study of MS patients at Brigham and Women's that is focused on improving the quality of life of patients with the disease.
"For many years there had been no treatments at all, and we've made a great deal of progress in MS," said Weiner, who teaches neurology at Harvard Medical School and won the John Dystel Prize from the American Academy of Neurology for his work on multiple sclerosis.
When Weiner diagnosed MS patients in the early 1980s, he had no treatments to offer them. But the prognosis improved with experiments using chemotherapy, then injectable treatments, then steroid therapies in the late 1990s, when he first saw Romney. "I've been blessed to be able to see this over my career," he said in a telephone interview Wednesday, adding that he was "now ready to move to the next stage, where we're really talking about cures."
In conversations with Romney, Weiner said, she was intrigued by the chance to direct the proceeds from her cookbook toward the center's research in "new areas that can transform these diseases."
Romney was particularly interested, for example, in the center's work on developing blood tests for MS and Alzheimer's to help doctors determine how well a patient is responding to treatment. Her other areas of interest included development of a vaccine to prevent MS in kids, treatments for Alzheimer's (a disease, Weiner noted, that currently has no set treatment), "next generation" imaging that would offer different ways to look at the brain, and studies involving computational scientists and mathematicians who can use information from genetic and genomic research to inform the center's work.
Romney, a part-time Californian, is already participating in Brigham's CLIMB study of MS patients, which the Center hopes to expand to California and other parts of the country. The study collects data annually from 2,000 MS patients -- including MRIs, blood work, and quality-of-life studies -- in the hope of developing clues into why some patients fare better than others over time.
Weiner noted that Romney benefited from immediate and aggressive treatment as soon as she was diagnosed. "That's a very important principle that people are now understanding—that you treat early and aggressively," he said. "With new drugs coming on to the market, we're beginning to talk about disease-free status -- people who are totally free of disease -- and how can we achieve that."
Weiner is co-directing the Center at Brigham and Women's with Dennis J. Selkoe, whose research has focused on mechanisms in the brain that lead to the development of Alzheimer's Disease -- specifically the role played by the amyloid plaques that clump together in the brains of Alzheimer's patients.
Some of Selkoe's recent studies focused on how the amyloid-beta proteins, when bonded together in certain toxic ways in the brain, can affect the ability of neurons in the brain to communicate -- hampering a patient's memory.
Weiner and Selkoe have been collaborating on developing vaccines for MS and Alzheimer's -- in the case of Alzheimer's, a vaccine that could detoxify those clumps of amyloid-beta proteins. The vaccine for MS would use "regulatory cells" to shut down what Weiner calls the "killer cells" that allow the disease to advance.
"As we learn more about the brain, we learn that some of the things that go on in one disease can help us understand other diseases, because the cells are the same," Weiner said. The center's strategy, he said, is to "cross borders not only between diseases -- so that we apply what we learn in MS to Alzheimer's and vice versa.
"We want to cross borders geographically, work collaboratively with other centers, make our discoveries known and encourage other people."
Twitter: @maevereston
---
Must-read stories from the L.A. Times
Get all the day's most vital news with our Today's Headlines newsletter, sent every weekday morning.
You may occasionally receive promotional content from the Los Angeles Times.