Boehner ridicules Obama administration's healthcare law extension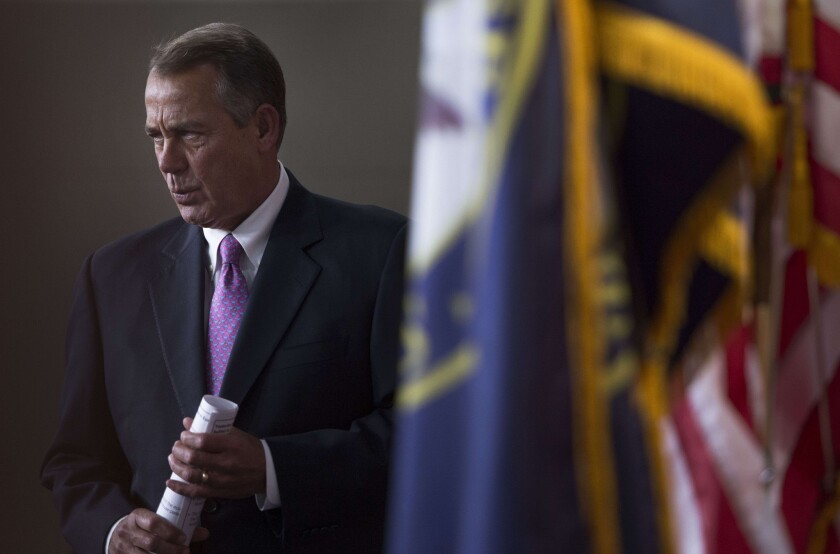 WASHINGTON – House Speaker John A. Boehner mocked as a "joke" the Obama administration's decision to offer a grace period for enrollment in health plans beyond March 31, saying it made the deadline "meaningless."
The Obama administration announced late Tuesday that consumers who say they started the process before month's end will have additional time to complete their enrollment for health insurance under the Affordable Care Act, a move spurred by a surge in activity on HealthCare.gov.
But to Boehner and his fellow Republicans, it represented another "loophole" the administration created unilaterally, despite what the law stated. The Ohio Republican particularly mocked the fact that the administration would not seek to verify consumers' claim that they began the enrollment process before next week's deadline – saying it amounted to an "honor system."
"What the hell is this, a joke?" Boehner said at his weekly news conference. "This is part of a long-term pattern of this administration manipulating the laws for its own convenience. And it's not hard to understand why the American people question this administration's commitment to the rule of law."
Though Boehner said Obama does not have the authority to "change the law whenever he wants," a White House spokesman pointed to a precedent set in George W. Bush's administration when penalties were waived for seniors who missed a deadline to enroll in the Medicare prescription drug program.
Senate Majority Leader Harry Reid (D-Nev.) defended the extension as the "right thing to do" and said Republicans should be "trying to help people get healthcare, not delaying it."
"The joke, I say to my dear friend John Boehner, is him having more than 60 votes over there to terminate Obamacare," Reid said, pointing to House votes to undermine the 2010 law or repeal it outright.
Twitter: @MikeMemoli
---
The Latinx experience chronicled
Get the Latinx Files newsletter for stories that capture the multitudes within our communities.
You may occasionally receive promotional content from the Los Angeles Times.