Democrat abandons Alaska governor's race and joins a 'unity ticket'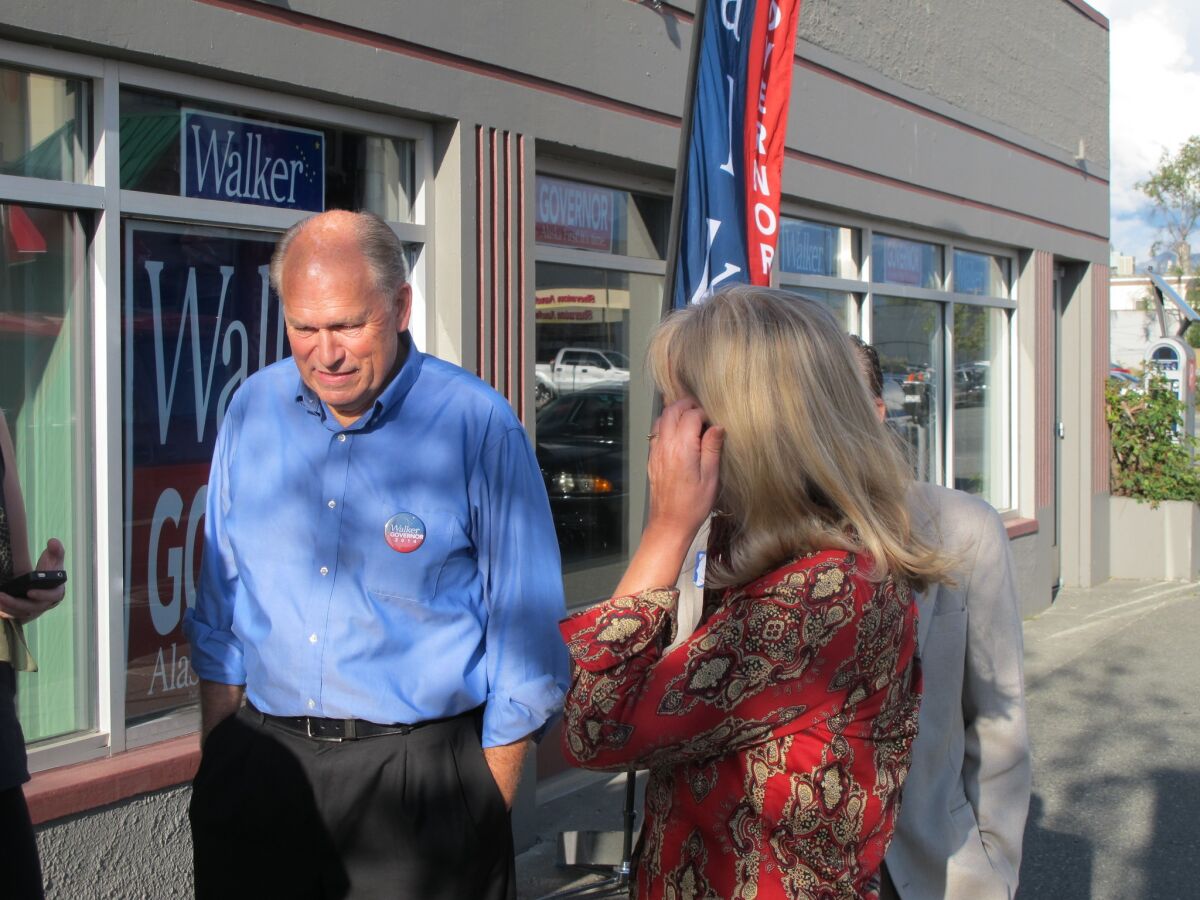 Reporting from Seattle —
In a move that will shake up the Alaska governor's race, the Democrat running for the Last Frontier's highest office is poised to suspend his own campaign and join forces with the independent candidate in a unity ticket.
Democrat Byron Mallott, in an interview Tuesday, said he and independent Bill Walker would announce shortly that Walker would seek the governor's office, retaining his unaffiliated banner, and Mallott would seek the post of lieutenant governor and keep his party designation.
The new configuration puts Walker in a head-to-head contest against the Republican incumbent, Gov. Sean Parnell.
"There's been a lot of speculation over the course of several weeks that in a three-way race there's no way for a Walker candidacy or my candidacy to prevail," Mallott told the Los Angeles Times. "We will merge our campaigns and move forward as a unified Alaskan ticket. This is unprecedented."
Parnell spokesman Luke Miller, in a statement to The Times, offered "congratulations to Bill Walker and Byron Mallott for confirming what Alaskans already knew: they are two peas in a Democrat pod."
"Bill Walker is really a Democrat, and he and Byron can now advocate freely for [President] Obama's policies in Alaska," Miller said. "Whether expanding Obamacare, raising taxes or growing government, Bill and Byron have confirmed they are part of Alaska's Team Obama."
Although the Alaska primaries were held on Aug. 19, Tuesday is the deadline for changes to the Nov. 4 ballot, Mallott said. In order for the Democrat to suspend his campaign, the party state central committee had to vote in favor of such a switch. Late Monday its members did just that, on a 89-2 vote.
"We have a competitive governor's race," Democratic Party spokesman Zack Fields told The Times. "The party endorsed their partnership."
Fields said central committee members had "raised many concerns about Parnell's record, whether it's billion-dollar deficits, cuts to public education, or a cavalier disregard for Alaska's best interests."
In addition to the central committee vote, the Democratic and independent candidates for lieutenant governor had to agree to drop out, which Mallott said they did. Hollis French was running for lieutenant governor as a Democrat and Craig Fleener as an unaffiliated candidate.
"They deserve tremendous credit and our most humbling gratitude," said Mallott, who, if elected, would be the first Native Alaskan elected to statewide office.
Besides realizing that a unity ticket could prevail where his own candidacy would not, Mallott said, he had to believe that he and Walker, a former Republican, could work together. Over the course of the campaign and their latest deliberations, Mallott said he learned to trust his rival turned running mate.
"We share very similar views about the future of Alaska as a place and its people and the kind of society we need to build toward," Mallott said. "We differ on personal moral issues. He is pro-life. I am pro-choice .... We are basing our campaign on a very broad belief in the future of Alaska and that will be the core of the campaign."
Mallott said that if the two men are elected he would be able to stake out areas of particular interest on which to work, in addition to his duties as lieutenant governor.
Walker's spokeswoman, Lindsay Hobson, declined to comment, saying that she was "going to let them make the announcement."
Mallott's campaign website appeared to have been taken down Tuesday morning, while Walker's had a statement posted Monday with the headline, "Walker & Mallot Camps Explore Unified Ticket." Yes, his new running mate's name was misspelled. But the campaign got it right in the statement as a whole:
"Over the past 72 hours, good faith negotiations have been taking place to determine if a joint Walker Mallott ticket is feasible and agreeable. Bill Walker invited Byron Mallott, Hollis French and Craig Fleener, along with key advisors to meetings to evaluate the possibility of an unprecedented fusion of Republican and Democrat candidates in an unaffiliated ticket to advance a united, Alaska First team to represent all Alaskans."
Follow @marialaganga for national news
Must-read stories from the L.A. Times
Get the day's top news with our Today's Headlines newsletter, sent every weekday morning.
You may occasionally receive promotional content from the Los Angeles Times.