GOP senator's changed vote puts ATF nominee on verge of confirmation
Secretary of Homeland Security Janet Napolitano announced her resignation in July 2013, intending to serve as president of the University of California system. She had served at her post since 2009, and previously was governor of Arizona from 2003 to 2009.
(Alex Wong / Getty Images)
Secretary of State Hillary Clinton, the highest-profile departure from the White House, left shortly after President Obama's second inauguration. Clinton's final months were occupied by illness and controversy over her handling of the response to the 2012 terrorist attack in Benghazi, but her popularity remains high as anticipation builds for a 2016 presidential run.
(Matt Rourke / Associated Press)
The spirited (and notoriously profane) Rahm Emanuel left Congress to serve as Obama's first chief of staff in 2009, and lasted more than a year until becoming mayor of Chicago in 2011.
(Charles Rex Arbogast / Associated Press)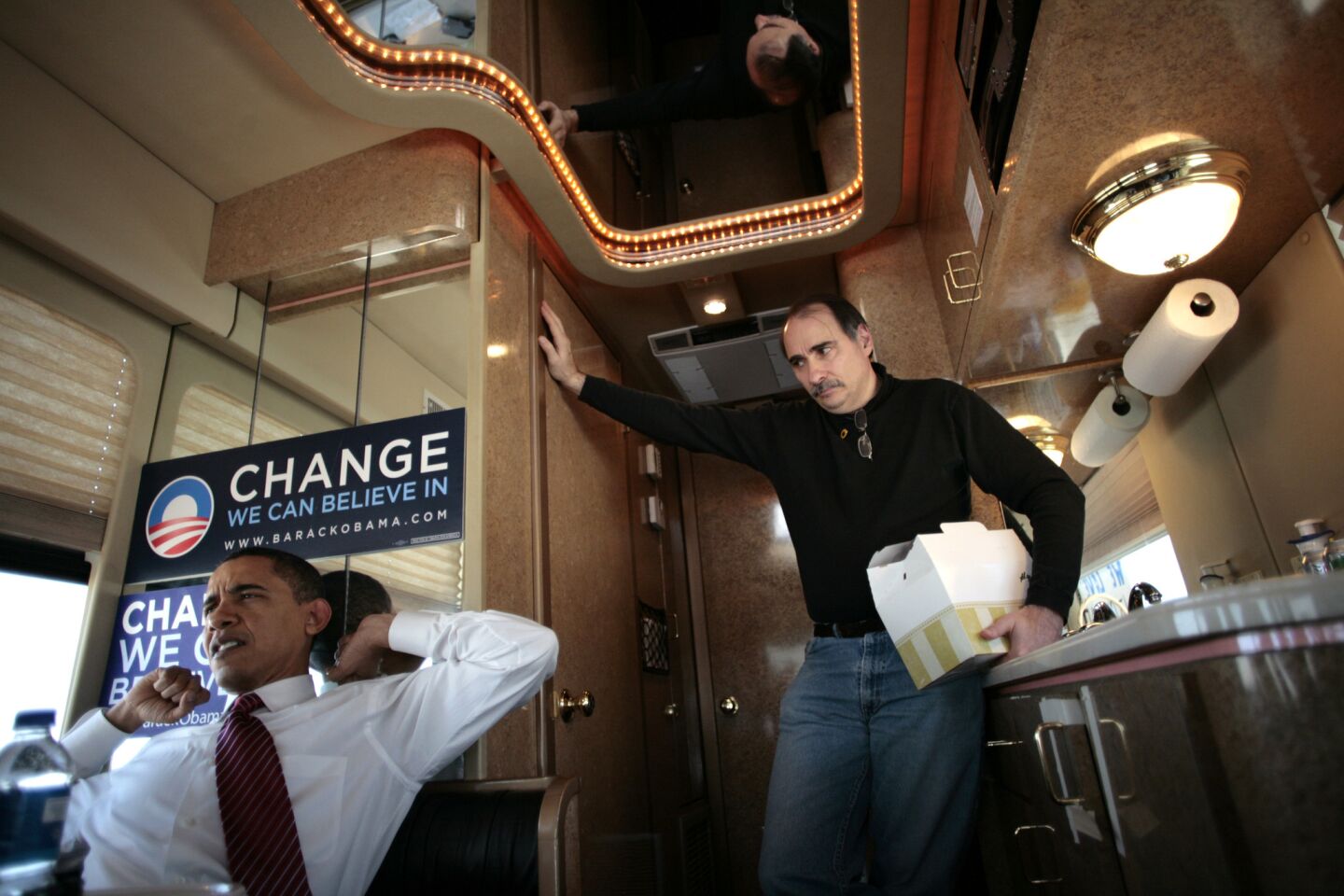 One of President Obama's longest-serving advisors, David Axelrod worked at the Chicago Tribune until entering politics. The two had known each other since 1992, and Axelrod eventually served as Obama's chief campaign advisor in 2008. After the election, he served as Obama's senior advisor until 2011, when he left to work on the 2012 campaign. Axelrod announced the reelection campaign would be his last, and has since focused on his work to find a cure for epilepsy, along with a gig as a political analyst for NBC and MSNBC.
(Zbigniew Bzdak / Chicago Tribune)
President Obama retained Robert Gates as his secretary of Defense after Gates had served under President George W. Bush since 2006. Gates stepped down in 2011. An architect of the troop surge strategy in the Iraq War, Gates later oversaw the beginning of the Obama-era withdraw from the country. A Presidential Medal of Freedom recipient, Gates is now the 24th Chancellor of The College of William and Mary and serves on the Starbucks board of directors.
(Claudio Reyes / EPA)
Robert Gibbs wore a number of hats during his time with President Obama, serving as communications director for Obama during his time in the Senate and his 2008 campaign. After the 2008 victory, he became the White House press secretary until 2011, when he shifted to being an advisor. Gibbs is now a contributor on MSNBC, and is a co-founder of the communications practice The Incite Agency with fellow former Obama team members Ben LaBolt and Adam Fetcher.
(Ron Edmonds / Associated Press)
Leon Panetta held not one, but two posts in the Obama administration, initially becoming director of the CIA from 2009 to 2011, and then replacing outgoing Secretary of Defense Robert Gates until 2013. Panetta has returned to his home in California, directs the Panetta Institute for Public Policy and is on the board of Blue Shield of California.
(Manuel Balce Ceneta / Associated Press)
Former Rep. Hilda Solis, (D-Calif.), was President Obama's Labor secretary from 2009 until 2013 and the first Latina in the cabinet. Solis has since expressed interest in running for a seat in the Los Angeles County Board of Supervisors in 2014.
(Ron Edmonds / Associated Press)
Former Colorado Sen. Ken Salazar joined the Obama administration at the beginning of 2009, and departed from his post earlier in 2013. Salazar recently became a partner in WilmerHale, an international law firm that notably worked for BP after the Deepwater Horizon disaster.
(Rob Schumacher / Associated Press)
Physicist Steven Chu served as secretary of Energy from 2009 to 2013, persistently advocating for research into alternative fuels and becoming the first cabinet member with a Nobel Prize. Chu is returning to Stanford as a professor of physics and molecular and cellular physiology.
(Michael Reynolds / EPA)
Former Treasury Secretary until President Clinton, Lawrence Summers was the director of the White House U.S. National Economic Council in the wake of the so-called Great Recession. Summers left the White House in 2010, voicing concerns over increased government spending and returning to his post as a professor at Harvard University's Kennedy School of Government. Summers is also an advisor for venture capital firm Andreessen Horowitz, and a columnist for the Financial Times.
(Mark Lennihan / Associated Press)
<i>This post has been updated, as indicated below.</i>
WASHINGTON – B. Todd Jones is on the cusp of becoming the first Senate-confirmed director of the ATF on Thursday, after a fierce lobbying effort successfully swayed a single Republican lawmaker to change her vote.
Democrats had expected a close result, but nonetheless were confident they had the votes to ultimately end a Republican filibuster of Jones' nomination to lead the Bureau of Alcohol, Tobacco, Firearms and Explosives when they decided to bring it to the Senate floor this week.
But a dramatic scene began to play out when Sen. Lisa Murkowski (R-Alaska), one of the Republicans that Democrats had expected to break from the minority party, cast an initial no vote. After five other Republicans voted yes and it was clear Murkowski's would be the decisive vote, the Alaska senator was surrounded in the well of the Senate chamber by senators from both parties, including members of the leadership and the top Democrat and Republican on the Senate Judiciary Committee, who could be seen pleading their cases.
PHOTOS: Team Obama, where are they now?
At one point Sen. Susan Collins (R-Maine), one of the Republicans who had voted to advance Jones' nomination, pulled Murkowski off of the Senate floor to talk in private.
"I was concerned that she was being pummeled by both sides and thought she might need a little break," Collins later told reporters, joking that they just chatted about a recent dinner Murkowski had hosted at her home.
After nearly an hour, Murkowski returned to the Senate floor and announced she would instead vote yes.
In an unusual step that speaks to the narrow result, Senate leaders held open the vote so that a Democratic senator, Heidi Heitkamp of North Dakota, could return to the Capitol to cast the clinching vote.
President Obama nominated Jones to be the permanent director in January, as he rolled out a series of other executive actions to address gun violence that he planned to make in response to the school massacre in Newtown, Conn. Jones has been the agency's acting director since 2011, when the previous director was dismissed amid fallout from the Operation Fast and Furious gun-tracking controversy.
PHOTOS: 2013's memorable political moments
His status remained in doubt for much of the year as Republicans moved to block his and a number of other executive appointments. The National Rifle Assn. has also typically mounted opposition to confirming ATF leadership.
But the NRA's late decision to remain neutral on Jones' confirmation, and a separate agreement between Senate Democrats and Republicans to process other stalled nominations, led Democrats to believe they could round up the needed 60 votes to break a GOP filibuster.
Republicans continued to express concern about ongoing investigations related to Jones' tenure as U.S. attorney in Minnesota. Iowa Sen. Charles E. Grassley, the top Republican on the Senate Judiciary Committee, said Wednesday that confirming him amid questions over his handling of whistle-blower complaints would send "a chilling message to all employees" of the ATF.
"We should not be conducting this vote until this matter is resolved," he said.
Grassley would later plead his case to Murkowski directly as it seemed she was wavering. She could be heard telling Democratic colleagues that she was concerned about the investigation Grassley cited.
At one point Sen. John McCain, who had helped broker the recent agreement that ended a showdown between the parties over threatened rule changes on nominations, was pulled into the scrum by Senate Majority Leader Harry Reid (D-Nev.) to talk to Murkowski. Other senators later said concern about a return to the brinkmanship over filibuster rules was part of the case made to Murkowski.
"We've been able to march through some really difficult nominations like NLRB and EPA, and the last thing we want right now as we head into the fall - where I still think there is a good chance we could get some kind of bipartisan agreement on the budget and on the debt – … is to leave with some radioactive blowup," said Sen. Amy Klobuchar (D-Minn.), a lead supporter of Jones' nomination.
Another major factor, Klobuchar said, was the fact that since a 2006 law passed that required Senate approval of ATF directors, no nominee has been confirmed.
"At some point why would you have a confirmable position when under both George Bush and Barack Obama the Senate has refused to confirm anyone?" she said.
[Updated, 3 p.m. July 31: In a statement released by her office, Murkowski explained that her initial no vote was "based on my understanding that the nominee was the subject of an investigation, because I believe that it is common sense not to confirm someone who is the subject of an active investigation."
During the vote, Murkowski added, colleagues told her "that the investigation phase has concluded and a mediation process has been initiated to resolve this issue." Based on that information, she changed her vote so that Jones' nomination could proceed to a final up-or-down vote. At that point, she said she would vote against Jones.]
Murkowski has in recent years become a key swing vote in the Senate, often breaking with Republicans to support Democratic initiatives. First appointed to the Senate in 2002 after her father resigned his seat to become governor, Murkowski won a second full term in 2010 after first losing in a Republican primary to a tea party-backed challenger. She later waged a successful write-in campaign to win in the general election.
Follow Politics Now on Twitter and Facebook
Twitter: @mikememoli
Must-read stories from the L.A. Times
Get the day's top news with our Today's Headlines newsletter, sent every weekday morning.
You may occasionally receive promotional content from the Los Angeles Times.