Rick Santorum: 'I'm ready to lead'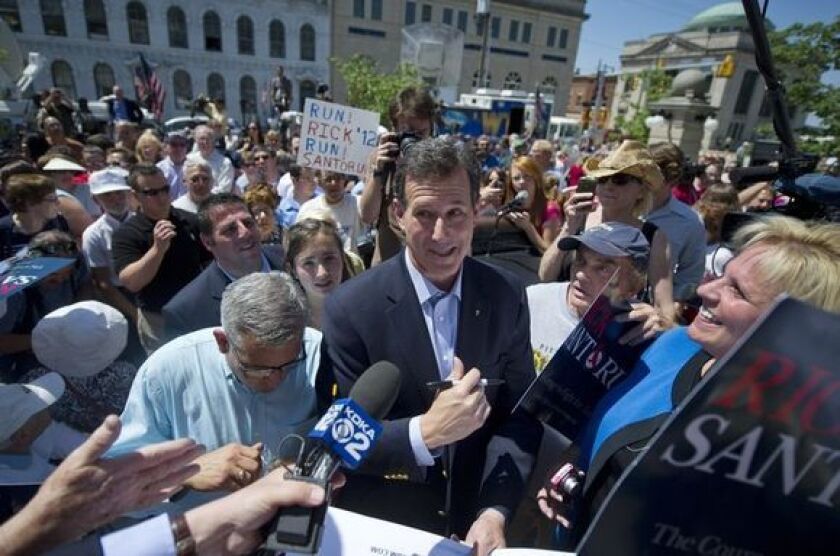 Reporting from Somerset, Pa.   —
Rick Santorum launched his White House bid from ancestral turf Monday, imploring an enthusiastic crowd of several hundred to join his fight.
---
FOR THE RECORD
An earlier version of this online article described Ron Paul as a former Texas congressman. Paul is currently serving his 12th term representing Texas' 14th congressional district .

---
"I'm ready to lead. I'm ready to do what has to be done for the next generation, with the courage to fight for freedom, with the courage to fight for America," the former U.S. senator said from the steps of the Somerset County Courthouse.
Santorum's announcement in a small town with red, white and blue balloons floating and a band playing older music like "Hello Dolly," harkened back to a time in politics before the Internet and social media. The setting was meant to evoke feelings of tradition and patriotism.
A blunt-talking favorite among Republican social conservatives, Santorum, 53, reiterated a stump speech he's been making for nine months or so as he's toured the early primary states weighing a run for president. The central theme of his campaign is that God grants people their rights, not government.
He said President Obama was undermining Americans' freedoms.
"The principal purpose of America was to make sure each and every person was free. Ladies and gentlemen, that is at stake now," Santorum said, pointing to the Democrats' healthcare law loathed by conservatives. "Every single American will be hooked to the government with an IV."
The crowd that gathered by the steps Monday afternoon, in an area that helped vote Santorum out of office in 2006, was fired up about Santorum's candidacy.
Only one lone man stood with a makeshift sign that said, "No hate in the White House." The protestor called the surrounding supporters "bigots" by association.
Santorum is deplored by liberals for his strict stances against abortion and same-sex marraige.
The announcement did not lack for mini-dramas. The balloons popped sporadically during his speech, and Santorum joked that they weren't shots, although he'd taken plenty of them in his political career.
Then an elderly woman fainted from the heat and Santorum stopped speaking, handed off his own water bottle and waited by her side until medics carried her away. He asked the crowd to pray for her.
Earlier, as a band played, Santorum supporters filled the courthouse steps. Many held up signs with his new campaign slogan, "The Courage to Fight for America," which is consistent with the theme of Santorum's speeches.
Santorum chose the courthouse because of its proximity to the coal mines where his grandfather worked after immigrating to America from Italy. Santorum said his grandfather came to Somerset County to escape fascist Italy, to "give his children, my dad, who was 7 years old when he came in 1930, the opportunity for freedom, to live your dreams, because he knew America believed in him, believed in people, gave people a shot, if they worked hard, they could succeed."
Santorum has already been campaigning in early voting states, and said he's been "walking" instead of "running" so he can really talk to the American people. He's won two informal Republican straw polls, in New Hampshire and South Carolina, but short of that he is barely registering in national polls, sometimes coming in at 1% or 2% and other times not showing up at all.
As he weaved through the crowd, signing autographs and shaking hands, a reporter asked how he'll compete with heavyweights like Sarah Palin or Mitt Romney.
"We had a great reception," he said as his aides guided him away, "and we're going to keep going."
He now continues his travels as an official candidate, circling back to Iowa and New Hampshire this week, and gearing up for a debate on June 13 where he'll face Romney, Minnesota Gov. Tim Pawlenty, Texas Rep. Ron Paul, businessman Herman Cain, former House Speaker Newt Gingrich and Minnesota Rep. Michele Bachmann.
---
Must-read stories from the L.A. Times
Get all the day's most vital news with our Today's Headlines newsletter, sent every weekday morning.
You may occasionally receive promotional content from the Los Angeles Times.