Walker abruptly cancels California GOP speech; Perry suspends campaign
Welcome to Trail Guide, your daily run through the wilds of the 2016 presidential campaign. It's Friday, Sept. 11, and this is what we're watching:
Scott Walker pulls out of California Republican event
Presidential candidate Scott Walker on Friday abruptly canceled his planned speech at the California Republican Party convention next weekend, according to someone involved with the event's planning who was not authorized to speak publicly about the matter.
Walker, the governor of Wisconsin, had been a top draw to the state GOP gathering, and was due to speak at the Saturday night dinner in front of hundreds of delegates and guests in Anaheim.
A Walker spokeswoman said the candidate's schedule changed and he would now be spending the weekend in Iowa and South Carolina.
Walker was initially viewed as a top-tier candidate in the GOP field, but has fallen to the single digits in recent national polling and in surveys of Iowa voters.
Former Arkansas Gov. Mike Huckabee is still scheduled to attend the state party event, addressing attendees at a luncheon on Friday.
11:02 a.m.: This post was updated with comment from Walker's campaign.
We have a tremendous field -- probably the greatest group of men and women. I step aside knowing our party is in good hands, and as long as we listen to the grassroots, listen to the cause of conservatism, if we do that, our party will be in good hands.
Former Texas Gov. Rick Perry, announcing his withdrawal from the race for the GOP presidential nomination.
Former Texas Gov. Rick Perry suspends his campaign
Former Texas Gov. Rick Perry announced he's suspending his flagging campaign.
In a speech to the Eagle Forum, a conservative group in Missouri, Perry said he believed the party was in good hands and commended the broad GOP field.
"We have a tremendous field — the best in a generation — so I step aside knowing our party is in good hands, and as long as we listen to the grassroots, the cause of conservatism will be, too," Perry said, according to prepared remarks sent out in advance of his speech.
"I share this news with no regrets. It has been a privilege and an honor to travel this country, to speak with the American people about their hopes and dreams, to see a sense of optimism prevalent despite a season of cynical politics."
Perry entered the 2011 cycle as the GOP front-runner but failed to catch on after repeated stumbles, particularly in primary debates.
On his second try, Perry's campaign again failed to gain traction. His announcement comes less than a week before the second Republican primary debate, where he was relegated to a stage for candidates at the bottom of the heap.
It's no surprise that Joe Biden's candid and emotional interview with Stephen Colbert Thursday night is being scrutinized for fresh evidence of whether the vice president plans to run for president. There's much to look at.
Biden was almost painfully open in his discussion of the heartbreak and fragility he feels over the death of his son, Beau.
He put on display exactly what he means when he says he's not certain if he has the "emotional fuel" to run for the White House. Biden choked up when talking about his son. And he acknowledged feeling "self-conscious" about talking about his grief.
The Times' Mike Memoli noted that's far from what most politicos expected.
"When CBS announced Biden would appear on the show, many immediately suspected Biden might use the moment to announce once and for all his decision about 2016," he wrote.
The interview has led to an outpouring of support for the vice president. It's also led to a discussion about authenticity in presidential politics. Did Biden show off one of his best assets -- an ability to connect with voters? Or did he only demonstrate he's not ready for the rigors of the campaign?
Donald Trump goes all in on beauty pageant
Republicans have embraced the buzzwords and the backdrop of Silicon Valley, but the tech sector isn't returning the love, reports the Times' Evan Halper.
Halper visited Sen. Rand Paul's much-hyped Silicon Valley office to find very little evidence of the Paul campaign. And some executives say the outreach in both parties has been missing the mark.
"The candidates talk about tech all the time, but in the offices of startups and the boardrooms of venture capital firms, there is little excitement about the crop of politicians whose outreach tends to involve clumsy efforts to speak the language of innovation followed by an appeal for campaign checks," he writes.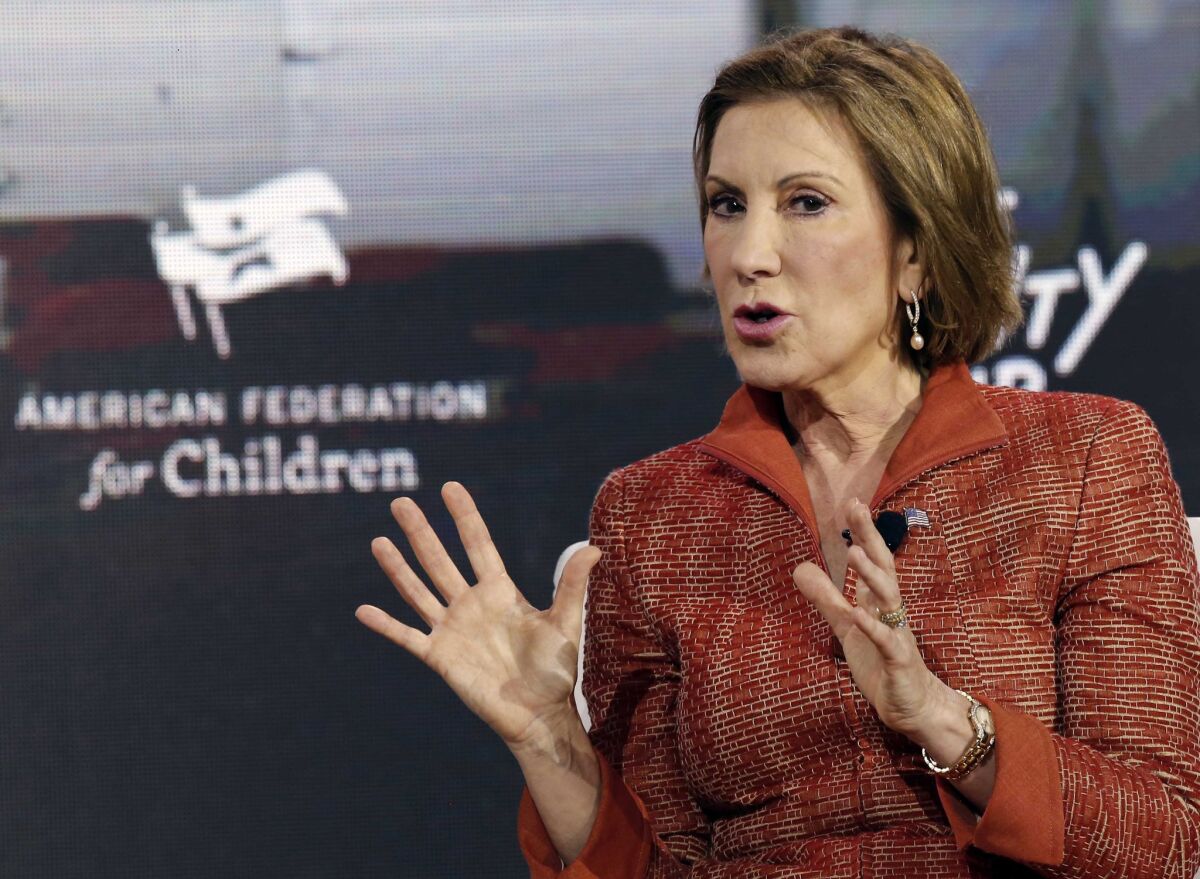 Since last month's "happy hour" debate, Carly Fiorina's stock has surged as she seeks the Republican presidential nomination.
Late Thursday, CNN, the sponsor of next week's debate, announced who will be on stage when the lights come on.
Fiorina, who has California roots, will battle top-tier candidates like former Florida Gov. Jeb Bush and billionaire businessman Donald Trump.
The Times' Kurtis Lee has more.
Must-read stories from the L.A. Times
Get the day's top news with our Today's Headlines newsletter, sent every weekday morning.
You may occasionally receive promotional content from the Los Angeles Times.