Pro-Trump campaigners open field office in Jewish settlement
Republican activists in Israel are ramping up a multi-city effort to get out the vote for Donald Trump, with a special focus on expatriates living in Israeli settlements in the occupied West Bank.
The Israeli chapter of Republicans Overseas kicked off the settlement push Monday in a home in the town of Ginot Shomron, where an 80-year-old rabbi from Illinois will host a voter registration drive in his living room.
Clinton and Trump exchange Labor Day blows in the key state of Ohio
Hillary Clinton opened her sprint to election day with a lancing denunciation of Donald Trump, her Republican opponent who himself was campaigning in this key state.
In a speech in Cleveland that was interrupted by a coughing fit that left her voice raw, Clinton spent the vast majority of her time castigating Trump, adding to her usual retinue of criticism a new batch derived from Trump's trip to Mexico last week.
The Republican nominee had visited the neighboring nation for what he and President Enrique Peña Nieto described initially as a friendly conversation. But a war of words soon followed.
Peña Nieto said he had told Trump Mexico would not, as Trump routinely promises, pay for a border wall; Trump soon retaliated by saying in an immigration speech in Arizona that Mexico would have to pay for the wall
"You can't make this stuff up, can you?" Clinton told revelers at a Labor Day picnic.
"When you see that he can't even go to another country without getting into a public feud with the president, I think the answer is clear Donald Trump does not have the temperament to be our commander in chief. Imagine him in a real crisis."
But Clinton and her running mate, Virginia Sen. Tim Kaine, did not have Ohio to themselves. Trump campaigned outside Cleveland and near Youngstown.
He took part in a round table at an American Legion post in Brook Park, where he equated the loss of American jobs under President Obama with the capture of the Confederate capital in the Civil War.
"Our jobs have been taken like Grant took Richmond," he said. "We have never had a case like this before and it's getting worse and worse and worse."
David Muir reflects ahead of his interview with Hillary Clinton and Tim Kaine
In the two years since David Muir took over as anchor of "ABC World News Tonight," he's done town hall specials with President Obama and Pope Francis (the latter requiring hours of lessons in conversational Spanish) and moderated primary debates with both the Republican and Democratic presidential candidates. He's done his evening newscast from San Bernardino; Orlando, Fla.; Paris; and Brussels to report on terrorist attacks, and Dallas, where five policemen were shot dead in July.
There are Fridays when Muir signs off and then heads to far-flung locations to do enterprise reporting, such as an upcoming series following the journeys of Syrian refugees to the U.S.
While much of the country is enjoying Labor Day barbecues, Muir is in Ohio, where he will conduct an exclusive interview with the Democratic presidential ticket of Hillary Clinton and Sen. Tim Kaine that will air across ABC News programs starting Tuesday.
Gary Johnson snags his first newspaper endorsement
Libertarian presidential nominee Gary Johnson won his first newspaper endorsement from the Richmond Times-Dispatch, which labeled him a man of "integrity," "apparently normal ego" and of "trustworthy character."
"Neither Donald Trump nor Hillary Clinton meets the fundamental moral and professional standards we have every right to expect of an American president," the paper's editorial board wrote. "Fortunately, there is a reasonable — and formidable — alternative."
The Times-Dispatch supported Mitt Romney in 2012 and John McCain in 2008. But in this election, the editorial board urged voters to reject the two major-party nominees and support Johnson, the former governor of New Mexico, and called on the commission overseeing presidential debates to include Johnson.
"If given the opportunity to make his case, Gary Johnson will persuade millions of Americans that he is the most capable and ethical candidate running this year," the board wrote.
Bill Clinton chats up Beyoncé and Jay Z at Philadelphia music festival
Bill Clinton spent his Sunday talking with Beyoncé and hanging out with music lovers at the Made in America festival in Philadelphia.
People snapped photos of the former president and husband of Democratic nominee Hillary Clinton chatting with the artists. Clinton won Pennsylvania in both of his runs for president.
Obama defends Colin Kaepernick's right to protest
President Obama on Monday acknowledged that for some people it is a "tough thing" to see Colin Kaepernick kneel instead of stand for the American flag and national anthem, but he defended the NFL quarterback, saying he was "exercising his constitutional right to make a statement."
The flag and anthem hold so much meaning for many men and women in uniform and others who have defended the country that the style of Kaepernick's protest may make it difficult for them to "hear what his deeper concerns are," Obama said.
But, he told reporters at a news conference here, he would rather see people engaged in the argument than "just sitting on the sidelines." Obama spoke after wrapping up an international economic summit here, part of a week-long trip to Asia.
Asked about the Kaepernick controversy, Obama initially said that he hadn't been paying close attention to it, but then delivered a carefully nuanced response, saying that he doesn't doubt the sincerity of the 49ers quarterback and that Kaepernick "cares about some real legitimate issues that have to be talked about."
If nothing else, Obama said, Kaepernick has gotten people talking about subjects of race, equality and discrimination, topics that Obama, the first black president, son of a white mother and Kenyan father, has examined many times before.
Kaepernick's protest has been a lightning rod for criticism and praise for the last week. He hasn't stood for the anthem at any of the preseason games, at first choosing to sit and then, last Thursday, kneeling along with teammate Eric Reid.
Kaepernick has named police brutality and racial injustice among the reasons for his silent protest and indicated that he will keep it up during the regular season that begins Sept. 12 with a game against the Los Angeles Rams.
The reactions to Kaepernick's silent protest have been dramatic. Supportive fans have clamored for autographs and sales of his jersey have skyrocketed. Team officials say they stand behind the quarterback and his right not to participate.
But other fans have heckled and booed Kaepernick, and the Santa Clara police union has threatened to boycott their usual security duties at the 49ers games.
Maybe over time, Obama said, Kaepernick will refine his thoughts and some of his critics will start seeing that he has a point.
"Sometimes it's messy," Obama said. "That's how democracy works."
Hillary Clinton gets a new plane for final stretch of campaigning, and it's big enough for the press corps
In Pennsylvania and nationally, Trump's problems with suburban voters blunt his ascent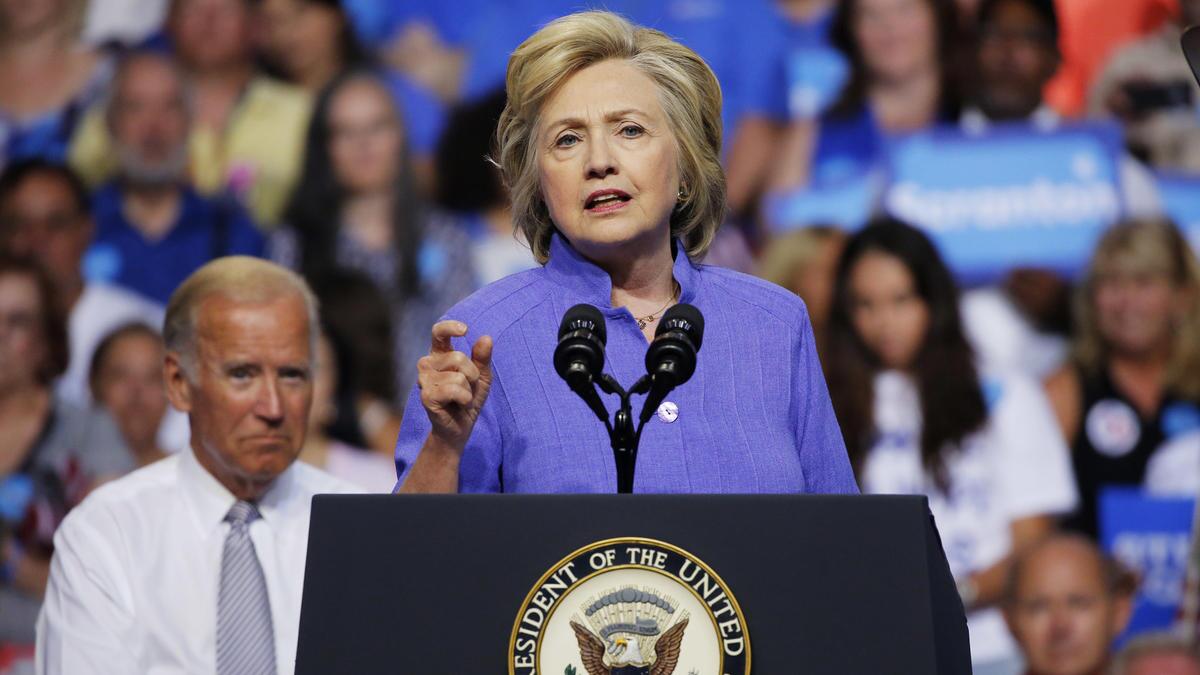 Marie Jeffries has a very firm view of Donald Trump, and she says it won't change in the nine weeks before election day.
"He's a wild man. I think he might put us into a war," said Jeffries, who was among hundreds sauntering down Main Street in this southeastern Pennsylvania town on the balmy evening that opened Labor Day weekend.
She once was intrigued by Trump, she said, but "then he started the shenanigans, and opened his trap."
"He's a bully," she said. "We're trying to get away from it in schools. Why have a bully as president?"
Her views matter. Jeffries is a 66-year-old woman who lives in the suburbs, in her case Philadelphia's. Right now, voters like her stand to cost Trump the presidential contests in key battleground states, starting with Pennsylvania.