On Labor Day, two presidential candidates focus on one topic: Donald Trump
Reporting from Cleveland —
The final sprint of the presidential election began Monday with abundant clarity about what will dominate the next 63 days: defining Donald Trump.
Hillary Clinton's kickoff event on the day that traditionally has opened the most intense part of the election season was dominated by criticisms of Trump, whom she attacked as unqualified to be president.
Speaking in Cleveland before revelers at a holiday picnic, Clinton seemed to accept that the man who has dominated the campaign so far will continue to do so until Americans render a decision on Nov. 8.
She barely touched on her own proposals, although she displayed to the crowd a new book containing them, focusing instead on her criticism of the Republican.
She even jokingly blamed Trump for a hoarse throat that had her struggling through much of her speech.
"Every time I think of Donald Trump, I get allergic," she quipped.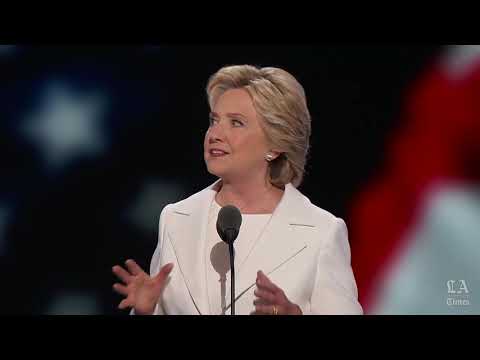 An examination of Hillary Clinton and Donald Trump's convention acceptance speeches and how they line up on several key issues. Full coverage at latimes.com/conventions.
Trump, meantime, campaigned southwest and southeast of her — and also focused largely on himself. Speaking to reporters, he declined to clear up confusion over his immigration proposals and defended himself against accusations that he'd sought to use a campaign contribution to quash an investigation in Florida into Trump University.
The joint focus on Trump reflects multiple realities.
Both candidates are extremely unpopular among voters, nationally and in key states such as Ohio where the race remains close. Much as Clinton might prefer to spend more time detailing policy positions and crafting a more positive image for herself, the swiftest route to the presidency may be in making the election a referendum on Trump, who many voters believe does not have the background or temperament to serve as president.
Moreover, criticism of Trump often has provoked him into making a self-damaging response — or, at minimum, miring himself in topics that Clinton and her allies want voters to consider.
Trump has regularly tried to put the spotlight on Clinton, often in biting terms, as when he called her "clueless" about jobs Monday. But he invariably wanders back to focusing on himself.
Talking to reporters Monday, Trump mused aloud about whether the 2012 nominee, Mitt Romney, had held as many events and press talks as he had. He boasted repeatedly about new polls showing him ahead in Ohio and New Hampshire, among other states, although the new surveys contradict almost all other polling in those states.
Just the day before, he had taken to Twitter — his favorite medium — to prolong a fight with a Republican senator, Jeff Flake of Arizona, who represents a state he needs to win and has expressed doubts that he can support the party's nominee.
Labor Day weekend doesn't possess the political heft it once did, before campaigns aired ads all summer long. But it remains a day that marks the beginning of more intense voter interest in the presidential race.
This year, the race has been acrimonious and nasty through the primaries to the present, giving discontented voters even more reason to check out. But with the first debate between the presidential candidates occurring this month, and early voting starting shortly thereafter in some states, the decision suddenly looms, and the options for the candidates to dramatically alter the race's contours become more limited.
Clinton's campaign thrust was evident throughout Monday as she, her vice presidential running mate Tim Kaine, her husband Bill Clinton, Vice President Joe Biden, former opponent Bernie Sanders and a host of labor leaders fanned out across contested states in a unified front.
The intent was to marshal volunteers to knock on doors and reach out electronically on behalf of Clinton, who from the start has predicated her campaign on a strategy of grinding out the vote.
That strategy relies on turning out the Democratic base President Obama nurtured — young voters, African Americans, Latinos, Asians — and adding to the ranks Clinton's army of women and labor supporters and college-educated moderates turned off by Trump.
Clinton supporters took pains to counter any overconfidence.
"We're going to have to stay on our game," said Cleveland Mayor Frank Jackson. "If anyone takes anything for granted, we're going to lose."
Clinton, who as a public figure has inspired decades of opposition, has not based her campaign on rapturous fealty; she does have rapturous followers, but not enough of them to win. Instead, she is relying more on a shared alliance among many voters over liberal social and economic goals.
But she seemed Monday to have calculated that lengthy descriptions of her many proposals — which, she noted, would be published soon in the campaign's new book "Stronger Together" — would not fully serve her purposes.
Thus her criticism of Trump cropped up even when she urged her audience to help her craft a mandate.
"We need to make sure we have an election that validates the kind of confident future that will make life better for the people of Ohio," she said, "and empty promises and racist attacks won't do that. It won't get your family a job; it won't keep our troops safe; it won't heal the divides in America."
She added specific criticisms of Trump's immigration plans and mocked him for engaging in a war of words with Mexican President Enrique Peña Nieto after Trump's visit to Mexico City last week.
"When you see that he can't even go to another country without getting into a public feud with the president, I think the answer is clear," Clinton said. "Imagine him in a real crisis."
Trump's campaign has never been of the grind-it-out variety; in all of the key states this year, his campaign lags hugely behind Clinton in terms of the traditional campaign markers: offices to organize volunteers and digital programs to identify and track voters willing to cast ballots.
Instead, the Trump campaign has been powered by the candidate himself, a strategy that worked in the primaries before a narrower audience. Campaign officials insist that he will lure those who infrequently or rarely vote but who find kinship in his economic or cultural proposals. Those proposals remain, in many cases, vague.
He said Monday, for example, that "jobs is the whole thing," but he did not explain to his audience at a suburban Cleveland American Legion post what he would do to bring back those lost to outsourcing or automation.
"It's going to be so vital in this country to bring back jobs. Our jobs have been taken like Grant took Richmond," Trump said in a Civil War analogy.
"We have never had a case like this before, and it's getting worse and worse and worse. And we passed plant after plant after plant where there were no jobs. Where it's just gone, it's gone."
Then he shifted to talk about his endorsement by the Democratic mayor of Brook Park and how "this whole area endorsed Trump."
Actually, the state's — and the nation's — unemployment rate has fallen since the recession early in Obama's tenure.
Much of Trump's conversation Monday was driven by the need to explain himself, which is less helpful to Trump than pressing the economic or anti-Clinton message.
He was hit with questions about a $25,000 donation made to a group connected to Florida Atty. Gen. Pam Bondi as her office was considering complaints against Trump's real estate school. The donation was made by Trump's charitable foundation, which is not allowed to make political gifts. Trump's aides claim that the payment by the charity was an error and that he has paid a penalty to the IRS for the improper donation.
Bondi eventually decided not to pursue Trump University. The Associated Press reported in June that Bondi, a Trump supporter, had personally solicited the donation.
"I never spoke to her, first of all," Trump said. "She's a fine person beyond reproach. I never even spoke to her about it at all." He did not say why he had donated the money beyond that.
Twitter: @cathleendecker
ALSO
In Pennsylvania and nationally, Trump's problems with suburban voters blunt his ascent
Can Clinton turn Georgia from red to blue? It's a matter of black and white
No more nation of immigrants: Trump plan calls for a major, long-lasting cut in legal entries
Updates on California politics
Live coverage from the campaign trail
---
UPDATES:
6 p.m.: This article was updated with additional details throughout.
This article was originally published at 2:30 p.m.
Get our Essential Politics newsletter
The latest news, analysis and insights from our politics team.
You may occasionally receive promotional content from the Los Angeles Times.