Live
Campaign 2016 updates: Hillary Clinton calls Donald Trump's praise of Putin 'unseemly'
Donald Trump is in Washington, D.C., today for several events.
Hillary Clinton on some Donald Trump supporters: 'a basket of deplorables'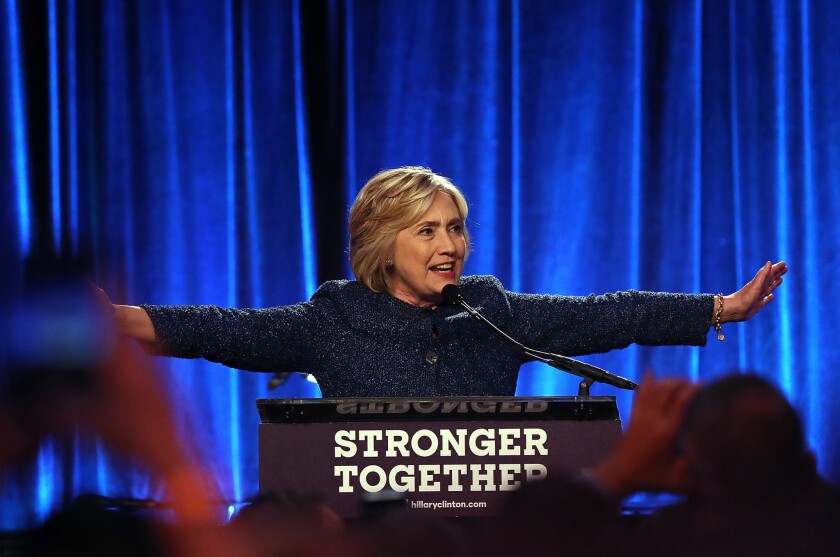 Even as she's hurled criticism after criticism at Donald Trump, Hillary Clinton has avoided slamming his fans.
But that changed Friday night.
During brief remarks at the LGBT for Hillary Gala in lower Manhattan, Clinton called "half" of those supporting the Republican nominee a "basket of deplorables."
"Right?" she said to laughter from attendees, which included entertainer Barbra Streisand. "The racist, sexist, homophobic, xenophobic, Islamaphobic -- you name it. And unfortunately there are people like that. And he has lifted them up."
Clinton assailed Trump for emboldening such individuals through social media and his own rhetoric. In a deluge of television advertisements in battleground states, Clinton and her Democratic allies have cast Trump as divisive and lacking the even temperament required of a president.
Still, recent national polls show support for Trump, as Clinton outpaces him by about 3 percentage points, according to an average of polls compiled by Real Clear Politics. Moreover, in several swing states, such as Florida and Ohio, Trump has gained ground in recent weeks.
Clinton didn't slam all Trump supporters. While she called some "irredeemable," she said that others are just seeking a better future for their families.
"They don't buy everything he says, but he seems to hold out some hope that their lives will be different. They won't wake up and see their jobs disappear, lose a kid to heroin, feel like they're in a dead-end," she said at the gala. "Those are people we have to understand and empathize with as well."