15 Images
Jacume: a 'Black Hole'
The isolated area around Jacume, Mexico, has largely been bypassed by prosperity. Storefronts are shuttered and roads unpaved. For illegal immigrants and drug traffickers, this is a gateway to El Norte - the United States.
(Luis Sinco / LAT)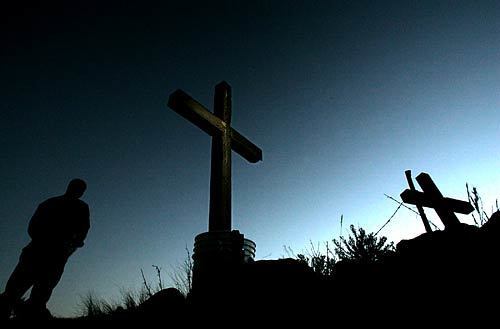 Wooden crosses in the desert mark the border between Jacume and Jacumba, Calif. Their origin long forgotten, they now serve as landmarks for smugglers and the U.S. Border Patrol.
(Luis Sinco / LAT)
Located along Interstate 8 about 70 miles east of San Diego, the tiny town of Jacumba sits across the fence from the "black hole" of Jacume, Mexico, a known center of human and drug trafficking. Smugglers make this one of the busiest corridors on the border.
(Luis Sinco / LAT)
The lights of Jacumba, Calif., often beneath a starry sky, offer immigrants a first glimpse of America. There are said to be safe houses all over town. Money greases the wheels.
(Luis Sinco / LAT)
Beyond the border fence are more obstacles, including Border Patrol checkpoints along Interstate 8. Traffic is funneled into a single lane and agents check passing vehicles closely. Floodlights piece the blackness.
(Luis Sinco / LAT)
Border Patrol agents stop a late-model SUV. Five men pile out, all in possession of fake documents. They are marched away and eventually released south of the border, where they'll be free to try the crossing again.
(Luis Sinco / LAT)
Eyes watch the border around the block. Daylight ends and night descends. The game of cat-and-mouse goes on.
(Luis Sinco / LAT)
Beneath a full moon, siblings holding babies chat at the border fence - a family bisected by a line in the desert. Generations once crossed at will, but the barrier changed that.
(Luis Sinco / LAT)
This is no-man's land, shared by desert rats, smugglers, federal agents, immigrants, Minutemen and the occasional gun enthusiast. Rugged mountains dominate an unforgiving terrain. The emptiness is vast, and temperatures can be extreme.
(Luis Sinco / LAT)
It's easy to get lost in the brush. Sometimes this helps Border Patrol agents as immigrants become disoriented, making them easier to catch. But the terrain mostly helps to hide those on the run.
(Luis Sinco / LAT)
Beyond the border fence, illuminated by the headlights of passing vehicles, smugglers plot their next crossing.
(Luis Sinco / LAT)
Police personnel are heavily armed. But cross-border cooperation between U.S. and Mexican authorities is reportedly hindered by widespread corruption along the line.
(Luis Sinco / LAT)
Daniel Mora was suspended last year as commander of the Tecate Police Department, which oversees Jacume. He was suspected of being in league with smugglers. He dismisses the allegations against him as groundless and politically motivated.
(Luis Sinco / LAT)
Traffickers control the high ground in Jacume. The most prominent smuggling boss is said to direct operations from an A-frame house with a wrap-around balcony, affording a 180-degree view of U.S. border defenses.
(Luis Sinco / LAT)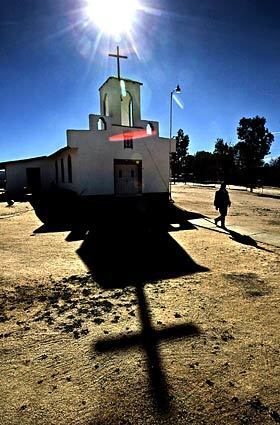 Shadows grow long as the sun dips behind the westward hills. Dogs bark and coyotes growl. In the advancing darkness, people are on the move.
(Luis Sinco / LAT)