10 Images
Sudanese Refugees
Sudanese refugee Mazine Mohamed, 5, peers through the late-afternoon light from his home in Omaha. Mazine lives with his parents, Abdel Hamid Mohamed and Hayffa Ahmed, and siblings in a two-bedroom apartment.
(Genaro Molina / LAT)
Hayffa Ahmed, sharing lunch with her son Mazine and her husband, Abdel Hamid Mohamed, in Omaha, said janjaweed warriors used "guns, clubs, swords — anything to be able to kill or hurt human beings" when they attacked her family's village in Darfur on horseback in April 2004.
(Genaro Molina / LAT)
Sudanese refugee Aida Ahmed, with her children Hassan Elhaj, 2, and Zahara Elhaj, 9 months, at their home in Omaha, checks the Internet for news on Darfur.
(Genaro Molina / LAT)
Family friend Bakheit Shata holds Nizar Mohamed, 4 months, while visiting Abdel Hamid Mohamed and family in their two-bedroom apartment in Omaha. Shata, also a Sudanese refugee, is founder and executive director of the Darfur Community Organization.
(Genaro Molina / LAT)
Mohamed heads to work near his home in Omaha, where he lives with his wife and four children. The city is home to about 9,000 Sudanese refugees -- and Berkshire Hathaway's headquarters.
(Genaro Molina / LAT)
Sudanese refugees have a social club in Omaha where they can play games, watch television and talk about current events in Sudan.
(Genaro Molina / LAT)
Thomas Puok, right, has been living in Omaha for the last three years. He works with many fellow Sudanese refugees at a Tyson Foods plant, packaging meat.
(Genaro Molina / LAT)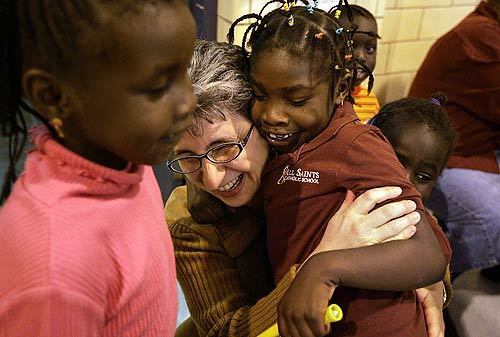 Joan Mueller, a theology professor, runs a group that has helped 500 southern Sudanese families find jobs, schools and homes in the Omaha area.
(Genaro Molina / LAT)
Evelyn Paul, second from right, tries to get the attention of a teacher while having lunch with fellow Sudanese refugees and other students at All Saints Catholic School in Omaha. About 80 Sudanese refugee children attend the school.
(Genaro Molina / LAT)
All Saints student Nyawour Paljor, 12, makes her way home after school in Omaha.
(Genaro Molina / LAT)