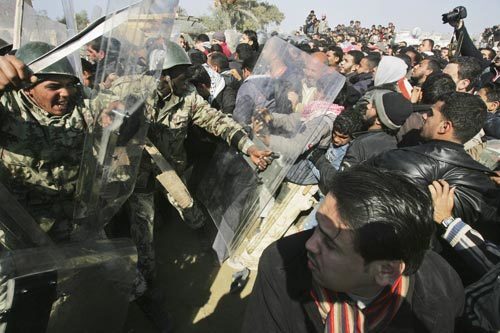 5 Images
Egypt tightens border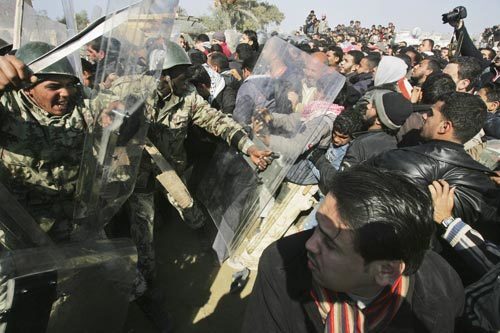 Egyptian border guards and riot police officers clash today with Palestinians trying to cross the border after militants exploded the wall between Gaza Strip and Egypt earlier this week.
(Khalil Hamra / Associated Press)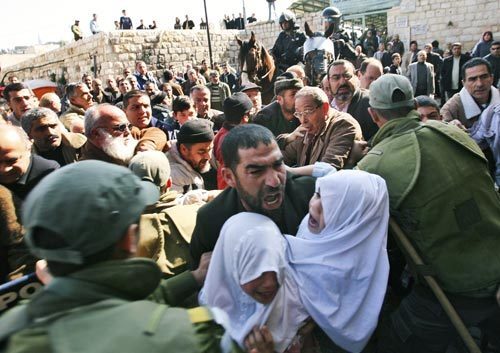 A Palestinian man clutching two girls tries to get past Israeli border patrol officers at the Lions Gate in Jerusalem's Old City on Friday. Palestinians and Israeli officers clashed after police limited access to the Al Aqsa Mosque compound to worshipers older than 40 after an Israeli officer was fatally shot Thursday.
(Dan Balilty / Associated Press)
A Palestinian carrying goods passes through Egyptian security forces on the border in Rafah today. Egypt set a deadline today for the border with Gaza to be resealed and began moving Palestinians back into their territory, stemming the flood of people who have crossed over the last few days.
(Naaman Omar / Bloomberg News)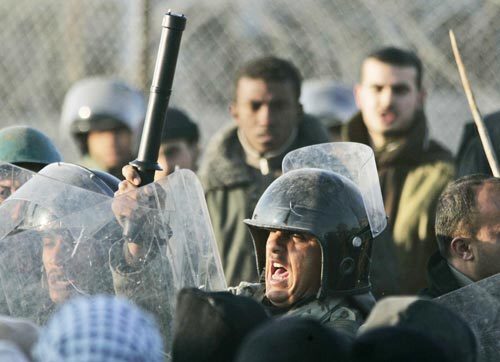 Egyptian border guards with riot shields form human chains today in an effort to hinder the flow of Palestinians into Egypt.
(Lefteris Pitarakis / Associated Press)
Egyptian police officers use a water canon to disperse the crowd of Palestinians trying to cross into the Egyptian side of Rafah. Egypt is trying to gradually reseal the border that was breached by militants earlier this week.
(Hatem Omar / Associated Press)