5 Images
A legacy of terror
Imad Moughnieh, Hezbollah's security chief in the 1980s, was one of the world's most wanted and elusive terrorists.
(Hezbollah)
Firefighters and rescue workers search through the rubble of a Buenos Aires Jewish community center destroyed by a car bomb in July 1994. Moughnieh was sought in the attack, which killed 85 people.
(Alejandro Pagni / Associated Press)
Associated Press correspondent Terry Anderson is surrounded by journalists and well-wishers in December 1991 as he leaves the Syrian Foreign Ministry in Damascus after nearly seven years in captivity. Moughnieh was believed to have directed a string of kidnappings of Americans and other foreigners, including Anderson.
(Santiago Lyon / Associated Press)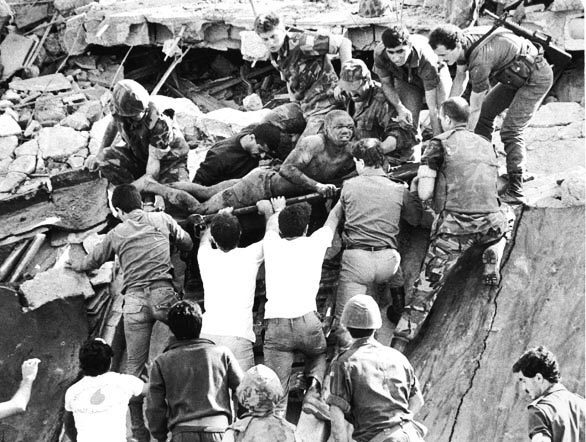 British soldiers help in a rescue at the U.S. Marine barracks in Beirut, where 241 Americans were killed in an October 1983 bombing, an attack linked to Moughnieh.
(Bill Foley / Associated Press)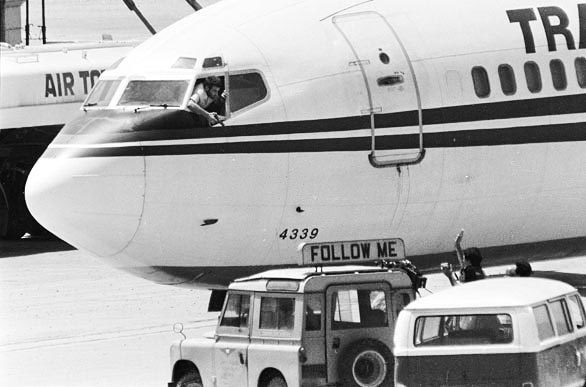 A hijacker points a gun toward an ABC news crew as it approaches a TWA 747 for an interview at Beirut International Airport. In June 1985, Shiite militants seized the jet and flew it back and forth between Beirut and Algiers demanding the release of Lebanese Shiites captured by Israel. During the hijacking -- for which Imad Moughnieh was indicted by the U.S. -- the body of U.S. Navy diver Robert Stethem, a passenger on the plane, was dumped on the tarmac in Beirut.
(Herve Merliac / Associated Press)