10 Images
Ways to love your Dodgers
As the Dodgers mark their golden anniversary in L.A., we offer some ways to think blue. The season's first bobblehead night is May 20, when fans will receive a Casey Blake doll. Fan votes will decide which player will be honored on one of the other bobblehead nights.
Photo: The Joe Torre bobblehead given out on Joe Torre Bobblehead Night last year.
(The Los Angeles Dodgers)
There'll be no need to scream for an autograph if you take the kids to one of the season's designated autograph days. Aw, what the heck, scream anyway.
(Gary Friedman/ Los Angeles Times)
The Brooklyn Dodgers enter Ebbets Field in Brooklyn on opening day of the 1956 season, their penultimate in New York. Two years later, Walter O'Malley moved the franchise to Los Angeles.
(The Barney Stein Photo Collection)
Heading to Vegas or Florida? Go see some future Dodgers playing minor-league ball. Top pitching prospect Clayton Kershaw, shown in a March 4 spring training game, is expected to start the season at AA Jacksonville but will likely get promoted to AAA Las Vegas. And if one of the Dodgers' pitchers gets injured or falters, southpaw Kershaw could be dazzling from the Dodger Stadium mound soon. Time is running out for you to say you saw him in the minors.
(Nati Harnik/ Associated Press)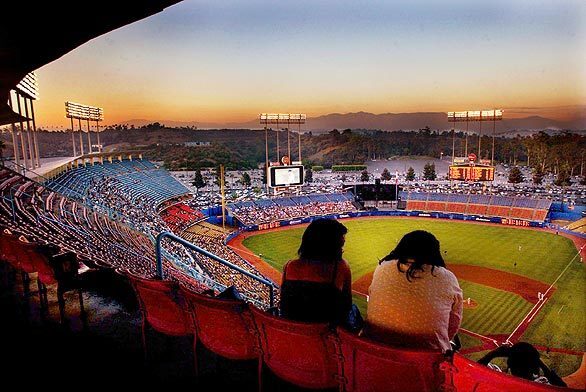 Top deck seats start at $9 for a single game ordered in advance. If you don't get the urge until game day, it'll be $11.
(Lori Shepler/ Los Angeles Times)
Vendor Roger Owens, shown here with fare other than his legendary legumes, is a fixture at Dodger Stadium. He's been tossing peanuts every which way (around the back, under the leg) at the park for more than 40 years and even appeared on "The Tonight Show Starring Johnny Carson." He's still at it.
(Los Angeles Times)
Vin Scully, shown in 1967, has been calling Dodger games since before the Blue Crew moved from Brooklyn. Bring a radio and headphones to the game and you can catch a live game and still hear those dulcet Dodger tones.
(FILE PHOTO)
Barry Manilow sang the National Anthem at Dodger Stadium on opening day in 2001. Think you can do better? Send your best shot on DVD, CD or video, with a professional bio, to: Jane Biondi, Special Events, 1000 Elysian Park Ave., Los Angeles CA 90012.
(Wally Skalij/ Los Angeles Times)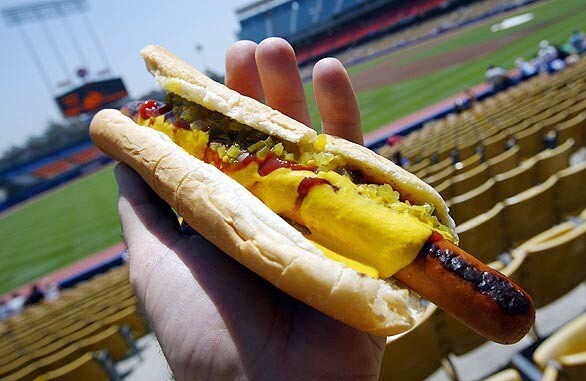 At least one serving of Dodger Dog is recommended per stadium visit. Have as many as you can handle in the All-You-Can-Eat Pavilion.
(George Wilhelm/ Los Angeles Times)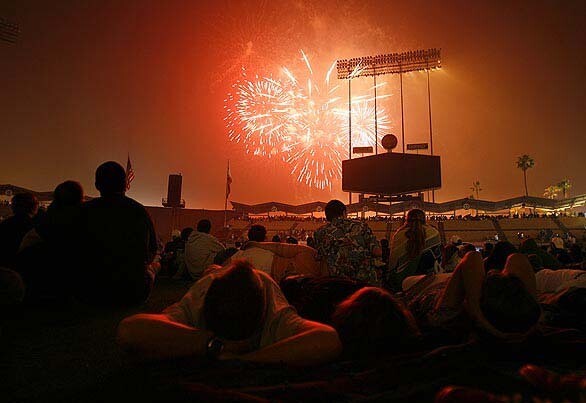 Catch the fireworks this year at Dodger Stadium every Friday night home game in 2009, starting April 17 with Super 70s Night. Postgame, the outfield turns into one big beach blanket strewn with fans craning to see colorful explosions amid the palm trees.
(Wally Skalij / Los Angeles Times)