5 Images
Long-Lost Raceways
la-hy-lost4-j0rujinc
"Speed King" Barney Oldfield is in the lead in this 1903 Auto Club-sponsored race at Agriculture Park, where the Los Angeles Coliseum now stands.
()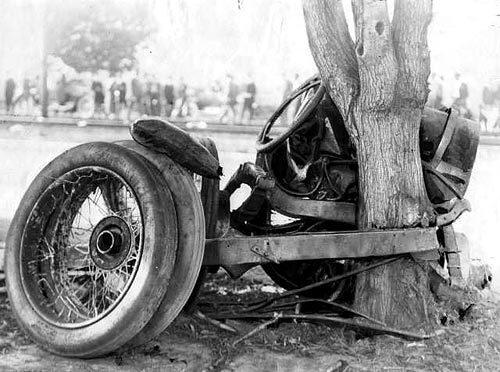 la-hy-lost3-j0ruixnc
Santa Monica banned road racing after this 1915 accident left the driver and three passengers dead.
()
la-hy-lost5-issvbxnc
Legion Ascot Speedway, which opened in 1924 in the hills east of Lincoln Heights, was not only among the region's most popular racetracks — it was also one of its most deadly. More than 20 people died on what became known as the "Killer Track."
(Los Angeles Times Library)
la-hy-lost2-j0rujsnc
Gilmore Stadium, now the home of CBS Television City in the Fairfax District, was the site of popular midget car races and apparently goofy publicity shots, including this 1935 photo.
()
la-hy-lost1-j0rxcknc
Frenchman Pierce Bertrand's car overturns during a 1937 contest at Legion Ascot Speedway. Bertrand suffered only minor bruises from this crash at the "Killer Track."
(Bettmann / CORBIS)