Paparazzi magnet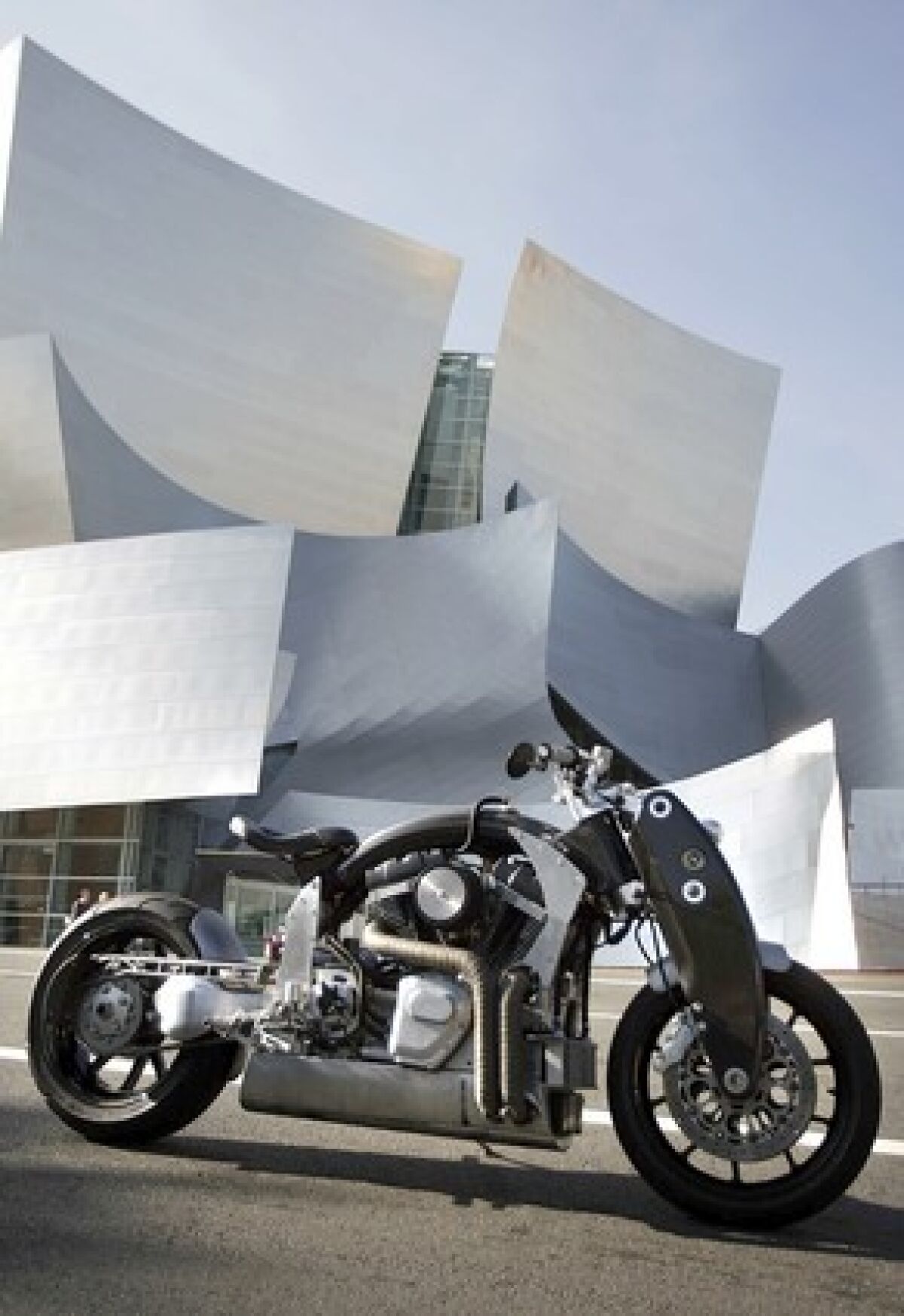 Times Staff Writer
Gawkers get whiplash when Confederate Motor's new Wraith rolls by. That alone may make it a worthy successor to the star-seducing Hellcat. IF there's a motorcycle equivalent to a Hollywood "It" boy, Confederate Motor Co. would be it. About the only time you see a Confederate is with a celebrity on top, and it usually isn't on the street. It's in some glossy mag because that's what a Confederate is: outrageous, expensive and well out of reach of mere mortals.
Tom Cruise. Brad Pitt. They're on the short list of Confederate owners. Each has a Hellcat, the $67,500 hotrod with a stretched teardrop tank, curlicue wrapped exhaust and enough horsepower to make the paparazzi earn their money.
Confederate has been around since 1991, but the Hellcat has been its only bike. More than 500 Generation 1 models were built between 1996 and 2001, when the company went bankrupt. Since 2003, when the company came back from the dead, they've produced about 75 of the more premium Generation 2 models. Then came Hurricane Katrina, literally blowing the small New Orleans manufacturer off the map, forcing it to suspend production not only of the Hellcat but its highly anticipated follow-up model, the Wraith. Now, after seven years of off-and-on development, the Wraith is almost finished. And once it goes into production in February, it's sure to make modern-day McQueens drool. Confederate already has taken 30 down payments, and that's before any A-listers have even taken it for a ride.
Confederate, now based in Birmingham, Ala., doesn't have an L.A. showroom. But the company's head of production design, Brian Case, was in town last week, delivering a Hellcat to "a successful film actor with several feature films currently in post production," putting another Hellcat through its paces for an upcoming Jet Li film and letting a couple of journalists in the saddle of the Wraith's first publicly available working prototype. I was eager to take Confederate's latest star vehicle for a spin, even though, it turned out, the Wraith wasn't quite ready for prime time.
Living in L.A., I have, I'll admit, occasionally wondered how it feels to be famous. I got a taste on the Wraith. I've never been photographed more per mile. With its exposed carbon-fiber backbone, insect-like girder fork and gobs of exposed metal, the limited-production, industrial-strength bike looks less like a motorcycle than a rock crusher. It's unlike anything else on the road.
Most of the bike's photographers were pretty stealth as they whipped out their cellphone, digital and video cameras, but one guy actually did a U-turn and chased me down. I guess that's what happens when a motorcycle maker decides to torch the book on traditional design or, as the Confederate website says, strive "for eclecticism through diversity."
On most motorcycles, the gas tank's in front of the saddle but on the Wraith it's the underbelly. While that lowers the bike's center of gravity, it also means the fuel needs to defy gravity if it's going to get to the carburetor. Since gas tanks aren't ordinarily at the bottoms of bikes, an automotive fuel pump was repurposed for the job and a regulator was added to reduce pressure to the carb.
With the gas tank repositioned, the bike's backbone was left exposed. Fattened to 4 inches, it doubles as the oil tank. One of the bike's most distinctive characteristics is this gently arching spine — molded from carbon fiber. Incredibly strong and lightweight, carbon fiber has its downside: It's costly and difficult to work with, which is why you don't see it on a lot of bikes. On the prototype I rode, the carbon fiber oil tank/backbone wasn't a single, molded piece. It had seams, and one of them was giving way and oozing.
The drips were dribbling off the front end of the chassis ahead of the exhaust, which is, cryptically, next to the gas tank.. The two wrapped pipes disappear into one straight pipe puffing like a smoke stack by the right peg.
Out on the road, I was impressed with the Wraith's muscle and handling. For such a monstrous motor, the bike didn't vibrate like the jackhammer I was expecting. That's because the V-twin is counterbalanced. It's also part of the frame — a stressed member held in place with aircraft-inspired bulkheads supported by aluminum sideplates to null the vibration.
The multi-link carbon fiber girder fork wasn't just smooth, it was fun to watch in action, as it moved up and down taking L.A.'s raggedy streets in stride. The rear shock, meanwhile, was connected to the rear aluminum bulkhead with the actual seat mount integrated in the backbone. The result is an optical illusion: The saddle appears to be floating. Hanging above the modest 180 mm rear tire, the tractor seat was comfortable, even if the seating position was a bit awkward for a gal my size. The rear controls and short, straight handlebars had me stretching like a yoga instructor.
If only the clutch and shifter were as flexible. Both were stiff. It was actually a good thing the bike conked the first time I took it out because I needed to switch boots. The upper on my favorite pair wasn't hard enough to kick up to second. Neutral wasn't so easy to find either and having the exposed, primary drive belt threatening to eat my toe with every attempt was nerve-racking.
The Wraith's five-speed transmission is a Confederate original. It's vertical, not horizontal, to bring the swingarm closer to the bike for a sportier ride. The Wraith has a 58.5-inch wheelbase, making it slightly longer than your average wheelie-ma-bob, but weighing just 410 pounds, it was pretty easy to pull down in corners.
Admittedly, I didn't corner that often or that fast. That's because I didn't ride the Wraith very far, maybe 10 miles max. The first time I took it for a spin, the bike lasted all of three blocks. Block 1, people were pointing and at least one guy snapped a picture. Block 2, I nearly broke a toe on the upshift. And Block 3, the bike conked out from a fuel problem. The second time, there wasn't just a fuel issue to contend with but the leaky oil tank. If the bike got too hot, it started throwing the slick stuff on my back tire.
Yugos have been more reliable, but the Wraith that I was riding is still a work in progress, the fourth of five that will be made before 250 begin rolling off the line in February. Two months may not seem like a lot of time to fix and waterseal Prototype 4's problems, but the $55,000 that Confederate's charging for each Wraith and the demanding jet-setters who'll buy them should be ample incentive.
Case, the designer, already has sourced a different fuel pump. And a seamless backbone from a different manufacturer is in house.
Quick, tell George and Leo.
susan.carpenter@latimes.com
The stories shaping California
Get up to speed with our Essential California newsletter, sent six days a week.
You may occasionally receive promotional content from the Los Angeles Times.