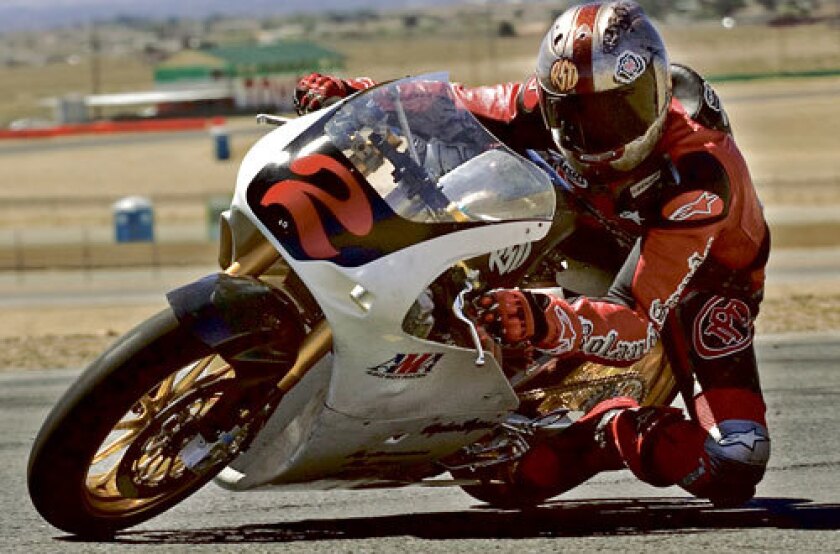 Los Angeles Times Staff Writer
Roland Sands has spent the last year peeling the skins off dirt bikes, reaching deep inside their body cavities. What he's found are the bikes' unlikely alter-egos.
"Every motocross bike has within it the heart of a road racer," says Sands, a custom builder and former MotoGP champ. At his Roland Sands Design studio in La Palma, he's taken a trio of Humpty Dumptied 450-cc dirt bikes and managed to reassemble them into 450 Super Singles.
---
FOR THE RECORD:
Highway 1: A column in the Feb. 6 Highway 1 section on motorcycle designer Roland Sands mistakenly reported that he was a past MotoGP champ. He was actually a past AMA 250GP champion. —

---
What's a Super Single? That depends. For Sands, it's an opportunity to distinguish himself from the mobs of custom builders that have surfaced in recent years and re-brand himself as the designer of high-concept, high-performance motorcycles. For wannabe racers, it's a lower-cost option for entering the sport. For the industry, it's a concept that holds the potential for a new class of street-legal sport bikes and a new generation of riders.
The Super Single idea is so new that Wikipedia doesn't have an entry -- yet -- but when it does, it might go something like this: "A 450 Super Single is a single-cylinder 450-cc dirt bike that's been converted into an entry-level road racer. The frame, subframe, swing arm, motor and transmission are all stock, but the wheels, tires, suspension and bodywork have all been modified for on-track use and general skulduggery."
Sands has developed Super Single prototypes for three Japanese models -- a Yamaha WR450F, a Honda CRF450X and a Kawasaki KX450F. Only the Yamaha will be sold as a ready-to-race bike. Precise quantities and prices haven't yet been determined, but Sands says the current plan is to make "up to 30" Yamahas and sell them for about $15,000 apiece, with the first one being ready for sale and delivery at the end of this month. The other models' mods will be available only as kits, which consist of Roland Sands Design fairings (and the mounts to attach them to the subframe), wheels and foot controls.
Fully assembled, with their slick tires, aerodynamic bodywork and racing front ends, the Super Singles belie their dirt-bike origins. The same is true in the saddle.
I didn't have the chance to take any of Sands' 450 Super Singles on the track, which is where they belong. These bikes are not street legal. But I did get to take the Yamaha for a short scoot along the chicane outside Sands' workshop, where the bike was so nimble that I felt telekinetic and so lightweight that I thought I'd be able to bench-press it when I parked.
These are first impressions, gathered in the three minutes or so I rode the bike on the S-curved side streets. I didn't want to be the girl reporter who prompted the bike's impound, which was likely considering its deficit of Department of Motor Vehicles paperwork.
The Super Single weighs a scant 250 pounds and has a mere 60 horsepower to push it to its top speed of about 130 mph. In other words, a 600-cc or 1,000-cc sport bike could laugh it off the track in a straightaway. But the Super Single actually has a similar power-to-weight ratio to that of a stock 600 super sport.
So, let the bigger sport bikes laugh on a track day in front of the grandstand. They might be crying when the torque-y and lightweight Super Single lives up to its name and makes up for lost time, passing them in the corners. Anyone can twist a grip and go flying, but the emphasis with the Super Single is skill.
That's the whole point of the bike, according to Gavin Trippe, the race promoter, American Motorcyclist Assn. Hall of Famer and supermoto creator who dreamed up the Super Single idea and brought it to Sands to design. Because certain aspects of the bike cannot be modified -- i.e. the motor and swing arm -- money can't buy riders a competitive edge with expensive parts that improve performance. And because the bikes are so lightweight, with low horsepower, racers must focus on technique rather than speed.
"Racing needs a lesser level class than trying to strap yourself on a 600-cc motorcycle with 105 horsepower," Trippe said.
The real test of the Super Single will come this spring, when the bikes debut at the WERA Motorcycle Roadracing championship series. How they perform and how racing fans receive them will offer some clues about the possibility of street-legal 450 sport bikes in the future.
"It's really going to depend on how well it kicks off in this track day and racing segment," said Derek Brooks, Yamaha's motorcycle product planning manager. "If it's something everybody starts to gravitate to, then it could. There's definitely potential there."
---