Custom builder Jesse James has a new bike, and it's based on an Airstream trailer.
(Anne Cusack, Los Angeles Times photographer)
Jesse James Aerobike
The AeroBike motorcycle-with-sidecar combo will make its public debut at the Legend of the Motorcycle concours in Half Moon Bay on May 3.
(Photo by K. Loken)
George Clooney has spent some time in the saddle of a sidecar bike as well.
(AP)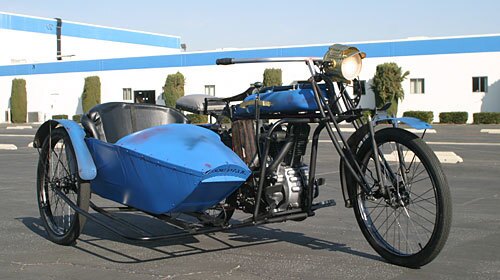 Indian replica electric motorcycle
The 1918 Indian that Clooney rode in his upcoming film, "Leatherheads," was far from vintage, though. The bike was a replica, and the motor was electric to improve reliability and reduce noise for shooting dialogue.
(Photo by Eddie Paul)
Ducati Desmosedici RR
The world's first production unit of Ducati's over-the-top superbike, the $72,500 Desmosedici RR, has been delivered to Beverly Hills Ducati and is waiting for Cruise to speed off with it.
(Ducati)