11 Images
In Focus: Staff Photos from March 30 - April 5
Pallbearers carry the casket of L.A. city firefighter Brent Lovrien into the Cathedral of Our Lady of the Angels in downtown Los Angeles. Lovrien was killed last week in an explosion.
(Mark Boster / Los Angeles Times)
A record crowd of 115,300 cheers at the close of the national anthem before the Dodgers' exhibition game March 29 against Boston at the Los Angeles Memorial Coliseum. The Red Sox won, 7-4.
(Richard Hartog / Los Angeles Times)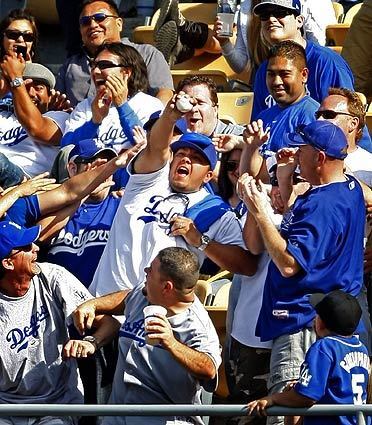 Dodgers faithful cheer after a fellow fan snags a foul ball in the ninth inning in the team's home opener March 31 against the San Francisco Giants. The Dodgers shut out their longtime rivals, 5-0, giving Joe Torre a victory in his L.A. managerial debut.
(Allen J. Schaben Los Angeles)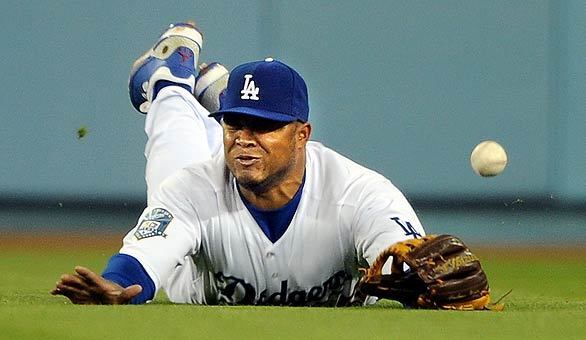 Dodgers center fielder Andruw Jones can't catch a ball hit by the San Francisco Giants' Eugenio Velez in the seventh inning that went for an RBI single at Dodger Stadium on April 1. The Dodgers went on to win, 3-2.
(Wally Skalij / Los Angeles Times)
Alma Soriano, left, a senior at L.A.'s Francisco Bravo Medical Magnet, and Marisol Mendez, right, a senior at the California Academy of Math and Science, were among dozens of Latino high school students who marched on the UCLA campus March 31 in support of increased minority enrollment at University of California campuses. Both students were denied admission to UCLA, although Soriano was accepted to UC Santa Barbara. The march was led by the Coalition to Defend Affirmative Action, Integration and Immigrant Rights and Fight for Equality By Any Means Necessary.
(Al Seib / Los Angeles Times)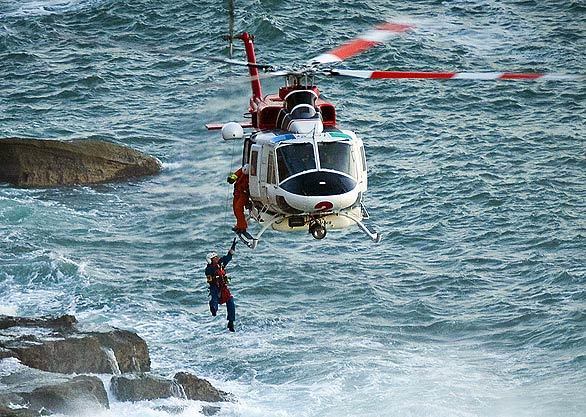 A Los Angeles Fire Department rescue helicopter lifts a critically injured man from the rocks beneath Point Fermin in San Pedro after he apparently fell 100 feet from the cliff above March 31. More than 50 firefighters and police officers took part in the rescue. The unidentified man, in his mid-20s, was found unconscious, with spine injuries and a broken leg.
(Scott Anger / Los Angeles Times)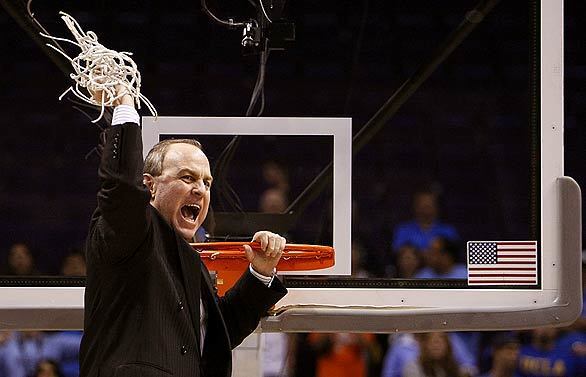 UCLA basketball Coach Ben Howland celebrates the top-seeded Bruins' 76-57 victory over Cincinnati's No. 3-seeded Xavier University on March 29 in the championship game of the NCAA West Regional in Phoenix. Howland says this is the best Bruins team he has taken to the Final Four.
(Robert Gauthier / Los Angeles Times)
Jose Arturo Saldana comforts his sister Stacy Saldana as they mourn the death of their father, who was gunned down March 31 with another salesman at Jesse's Auto Sales in East Los Angeles. The shooting deaths of Arturo Saldana, 62, and Francisco Cereceres, 50, were the first of two double homicides that afternoon in East L.A., within minutes and less than a mile from each other. About 20 minutes after they were killed, two 22-year-old men were shot to death on a street just off Olympic Boulevard. The incidents were not related, authorities said.
(Richard Hartog / Los Angeles Times)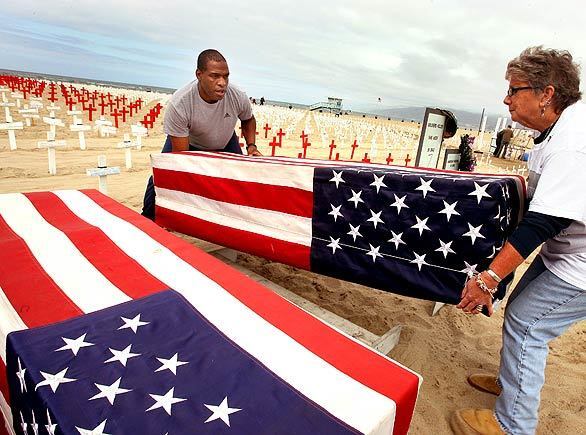 Kenny White and Susan Brodhead place one of seven coffins near the pier in Santa Monica to symbolize seven recent military deaths in Iraq. With more than 4,000 U.S. troops killed in Iraq, Veterans for Peace is running out of room at the beach for its weekly display of crosses. Because the city limited the activists' space, the group has begun including red crosses, each of which represents 10 fallen service members.
(Barbara Davidson / Los Angeles Times)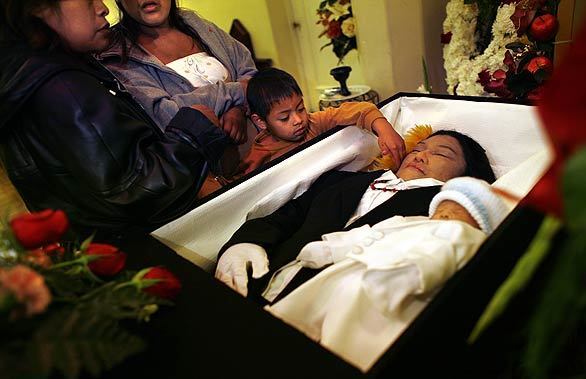 Mourners pay their respects to Alberta Trujillo, 38, and her daughter, Nicole — cradled in her mother's arms in a plain, plywood casket — at an East Los Angeles funeral home. Trujillo died during childbirth along with her daughter on Jan. 25 at East Los Angeles Doctors Hospital. The coroner determined that Nicole died after an abruption of the placenta caused her to lose oxygen and blood supply. Her mother died hours later after amniotic fluid got into her bloodstream, a rare occurrence during childbirth. Although Trujillo had lived in East Los Angeles with her fiance, Margarito Garcia, 27, the bodies were returned to her hometown of Pericotepec, Mexico, for burial.
(Michael Robinson Chavez / Los Angeles Times)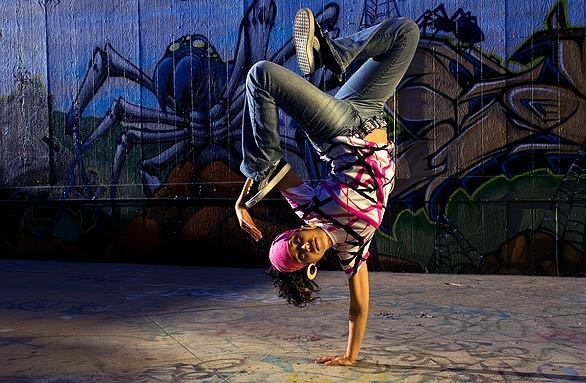 Break dancer Valerie "Val Pal" Acosta strikes a pose in Long Beach. Hip-hop dancing classes are popping up everywhere in Southern California. Unlike previous dance trends embraced by pop culture, hip-hop and its many styles have been integrated into dance academy curricula and studio schedules alongside ballet, jazz and tap. Old-school styles -- break dancing (or breaking), popping and locking -- date to 1970s funk and street dancing. New-school styles -- krumping, Crip walking, Harlem shaking, hyphy and bucking, among others -- emerged in the 1990s and early 2000s. They contain variations on footwork derived from breaking, as well as upper-body movements, or "isolations," from popping and locking.
(Liz O. Baylen / Los Angeles Times)