5 Images
'A Touch of Greatness'
Marine Lance Cpl. Erick Hodges, left, and Lance Cpl. Ryan Sunnerville, right, pose with Pfc. Christopher Adlesperger on Nov. 8, 2004. Two days later, in an attack in Fallouja, Adlesperger killed at least 11 insurgents. Hodges was killed and Sunnerville was wounded.
()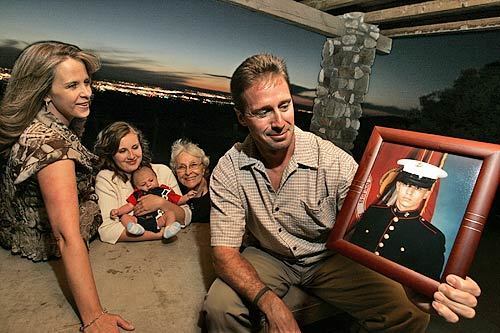 At their favorite park table above the city of Albuquerque, the family of Chris Adlesperger recalls a lifetime of picnics and parties before he was killed in Iraq. From left: his aunt, Casy; cousin, Tamara, with her son, Christopher; grandmother, Wanda; and father, Gary, holding a portrait of his son in his Marine uniform.
(Don Bartletti / LAT)
Adlesperger ran track and wrestled in high school. "If you needed a ride, or if you needed somebody to talk to, he was there for you," said Brian Ferguson, his best friend at the time.
()
Adlesperger poses with a captured AK-47. By all accounts, he loved the Marine Corps. He thrived on the physical challenges, got a USMC tattoo and formed fast friendships.
()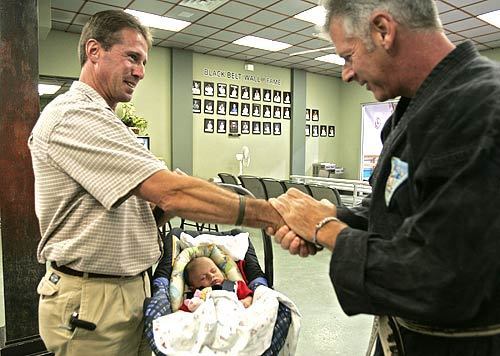 Gary Adlesperger, Chris' father, introduces his baby nephew to Phillip Blackman, who had been Chris' taekwondo coach and who gave the eulogy at his funeral. Under Blackman's tutelage, Adlesperger had become a national champion.
(Don Bartletti / LAT)