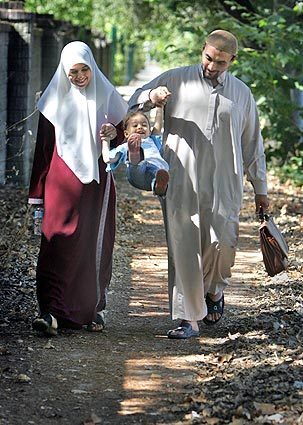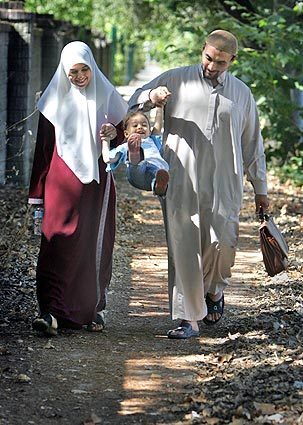 FAMILY TIME:
Mohamed Abdul Azeez walks with wife Kauthar and daughter Zeyneb. The prayer leader at the SALAMÖ Islamic Center in Sacramento shaved his beard to appear less threatening.
(Mark Boster / LAT)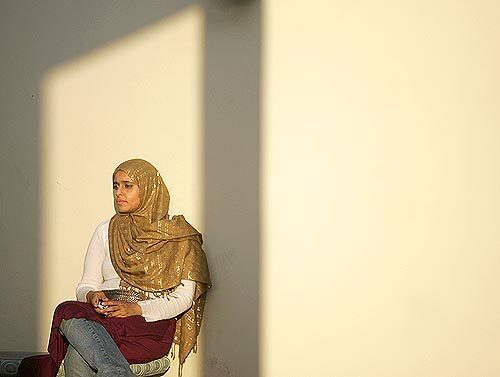 MOTIVATED:
Marya Bangee, a student at UC Irvine, has become a political activist. She says the stereotyping of and misconceptions about Muslims fueled her decision.
(Javier Manzano / LAT)
SOCIAL GATHERING:
Iftikhar Khan, standing, offers appetizers to his guests Mervat Othman, bottom right, and her husband Amer at his home in La Habra Heights. Khan's wife Zubeida, on sofa, has become active in their community.
(Stefano Paltera / For The Times)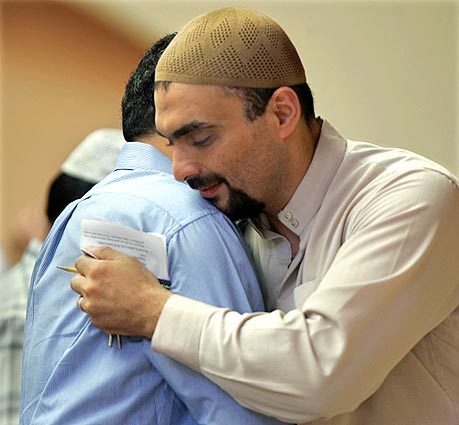 AFTER PRAYERS:
Mohamed Abdul Azeez, right, greets Muslims at Islamic center in Sacramento.
(Mark Boster / LAT)
Friday afternoon the faithful gather at the SALAM (Sacramento Area League of Associated Muslims) Center in Sacramento for prayer.
(Mark Boster / LAT)