A 2 1/2-inch lump of chocolate was found to resemble the Virgin Mary.
(Glenn Koenig / LAT)
Maria Luisa Orales of Bodega Chocolates in Fountain Valley shows visitors the glob of chocolate resembling the Virgin Mary. Jacinto Santacruz, the employee who found it, says, "I can't describe the feeling; the emotions make me cry."
(Lori Shepler / LAT)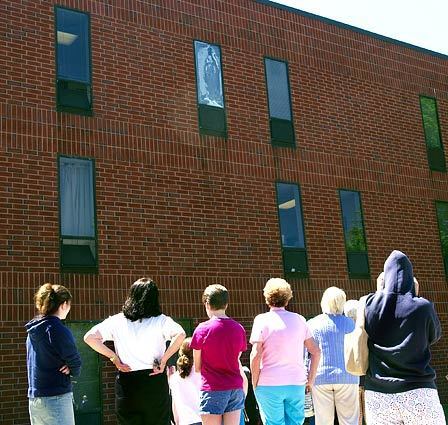 People gather below the bricked-in window located on the Doctor's Office Building on the grounds of Milton Hospital in Milton, Mass. The spot has been interpreted by many as a religious sign as it appears to resemble the shape of the Virgin Mary with a baby.
(Robert E. Klein)
The windows of a building in Clearwater, Fla., that thousands of visitors believed bore the image of the Virgin Mary were discovered broken. The three top panes that showed what appeared to be the Virgin Mary's veiled head were destroyed, with just shards of glass remaining in the window frames. The image first appeared a week before Christmas in 1996.
(Peter Cosgrove / AP)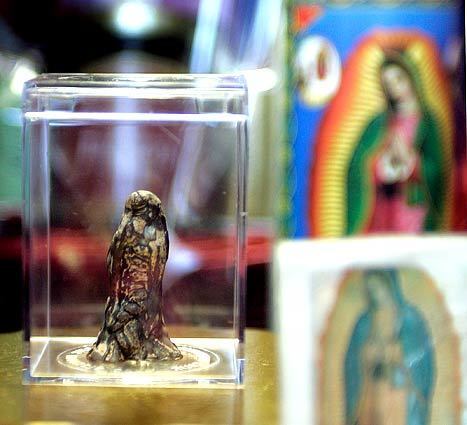 Workers at Martucci Angiano gourmet chocolate company, Bodega Chocolates, in Fountain Valley discovered under a vat a 2 inch tall column of chocolate droppings that they believe bears a striking resemblance to the Virgin Mary on August 18, 2006.
(Lori Shepler / LAT)
Juan Heredia and Horacio Velazquez of Huntington Beach take pictures of the figure with their cell phones.
(Lori Shepler / LAT)
An employee at Bodega Chocolates, Maria Luisa Orales, shows a group of women the chocolate figure.
(Lori Shepler / LAT)