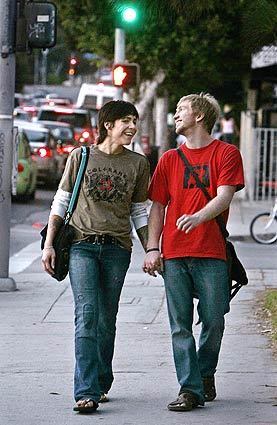 13 Images
Fighting for a Future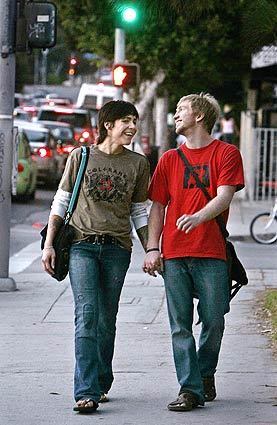 Aspiring mixed martial arts fighters "Roxy Balboa" Richardson and her boyfriend Toby "Tiger Heart" Grear stroll along Sunset Boulevard in Hollywood near the Legends Mixed Martial Arts Training Center, which they manage. They train together and live together and support each other as they struggle to find fame in the world of ultimate fighting.
(Mark Boster / LAT)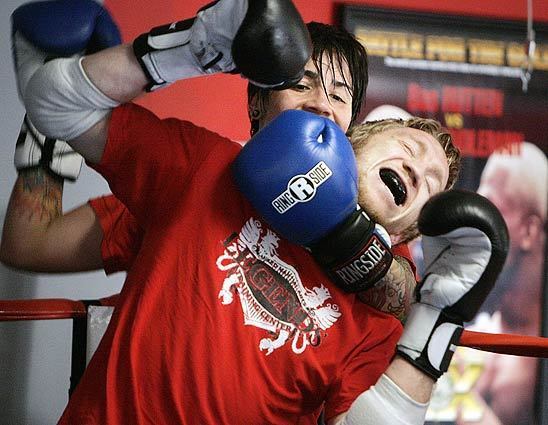 Roxy and Toby spar at Legends, the Hollywood gym that they manage and where they teach ultimate fighting skills. They met last year, introduced by a mutual friend. "I never thought I would find someone I could love so much," he said, "and someone I could spar with too." As for Roxy, "I needed to find a man who is tougher than me," she said. "And I did."
(Mark Boster / LAT)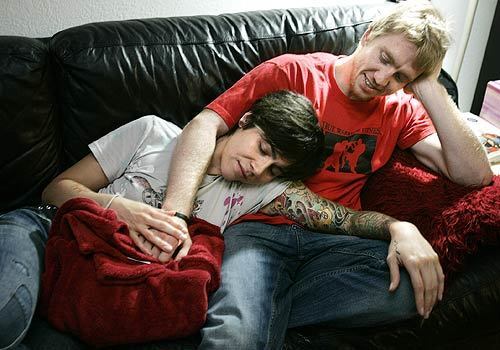 Roxy and Toby relax in their small apartment near Legends. They nurture each other: Roxy gives him books on nutrition to wean him from fast food; he gives her books by the self-help writer Dale Carnegie. They train together, hoping to escape the minor leagues of their sport.
(Mark Boster / LAT)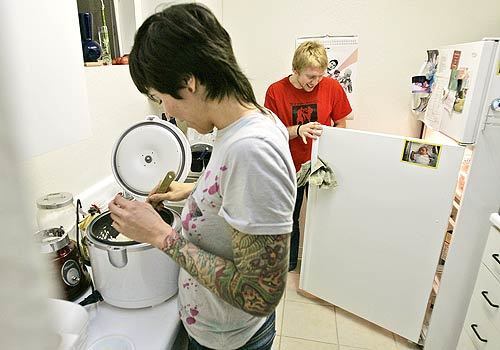 Meal time at the Richardson-Grear household. He grew up in Lima, Ohio, where he attended a Catholic high school. He was drawn to sports: track, swimming, football and finally martial arts. She was raised by a single mother, the black sheep of an upper-crust British family. They were itinerants, living in Italy, California, Maryland and Colorado. After college in Philadelphia, she moved to L.A. in 2002 and soon took up kickboxing.
(Mark Boster / LAT)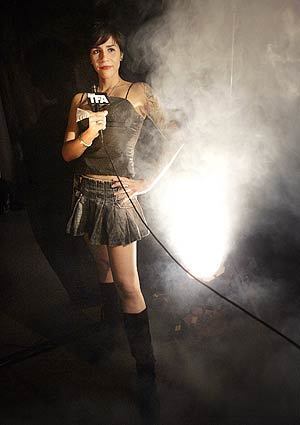 Roxy does the play-by-play for the DVD of a Total Fight Alliance event at the Carson Center in November. Total Fight Alliance is one of numerous upstart mixed martial arts organizations that are hoping to cash in on the sport's growing appeal. Many are losing money, their executives acknowledge. Still, Total Fight Alliance events in Southern California attract hundreds of fans.
(Mark Boster / LAT)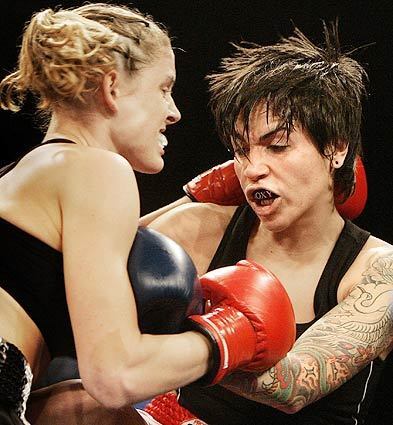 Roxy trades punches with Christina Martin in a full rules Muay Thai match in November at the San Manuel Indian Bingo and Casino in Highland. Muay Thai is a mixed martial art in which fighters use punches, kicks, elbows, knees, standing grappling and head butts. Roxy had been considering turning pro as a kickboxer.
(Mark Boster / LAT)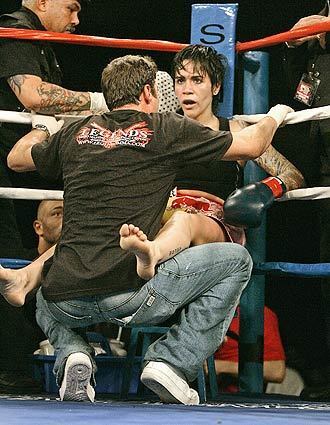 Roxy gets some rest and advice between rounds in her Muay Thai match with Martin. Things were not going well for Roxy.
(Mark Boster / LAT)
Roxy takes a punch to the chin from Martin.
(Mark Boster / LAT)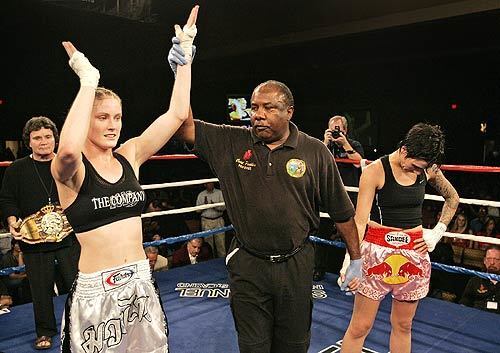 Roxy hangs her head after Martin is declared the winner of their bout. Afterward, Roxy begins thinking of retiring from kickboxing. Her boyfriend, Toby, encouraged her to consider giving up the sport because it bothered him to watch her suffer, but she said she was loathe to go out after a loss.
(Mark Boster / LAT)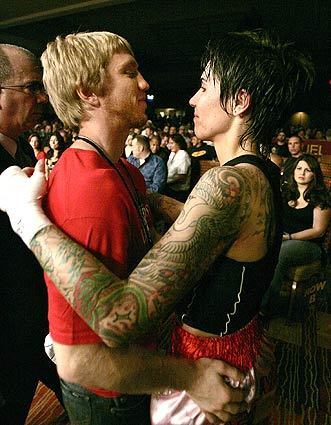 Toby consoles Roxy with a hug after her loss to Martin. Someday they would like to move to Ohio to open a mixed martial arts training center of their own. Their plan hinges, they believe, on achieving some success as ultimate fighters. Toby has given himself five years, he said, "to become a legend."
(Mark Boster / LAT)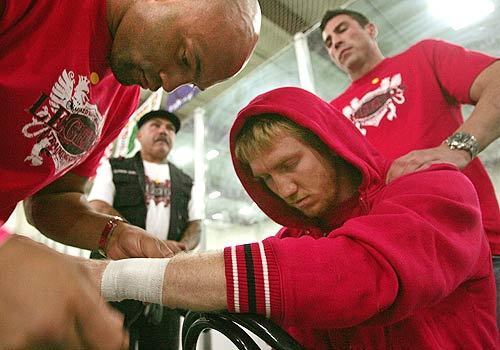 Toby "Tiger Heart" Grear has his hands taped before a California Extreme Fighting bout in Upland against Victor Valenzuela in October. Toby will earn $1,000, win or lose. He knows he has to win and win with style to move up to mixed martial art's dominant organization, the Ultimate Fighting Championship.
(Bryan Chan / LAT)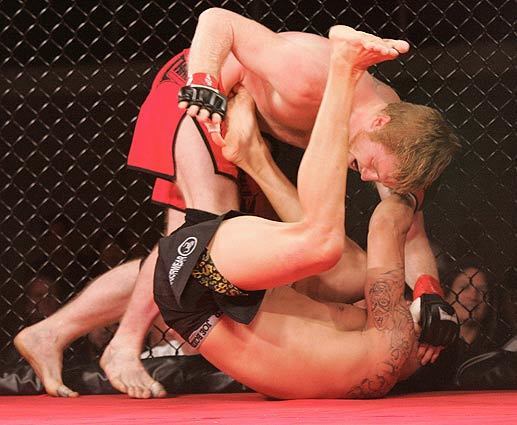 Toby has Valenzuela in a vulnerable position, on his back.
(Bryan Chan / LAT)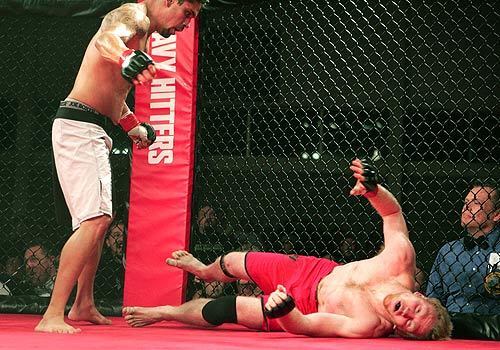 Valenzuela stands over Toby after knocking him out with a relentless flurry of punches at 2:46 of the first round. Toby's trainers cautioned him against trading punches with Valenzuela, who has a background as a boxer. "My girlfriend is still cuter than his girlfriend," Toby said afterward.
(Bryan Chan / LAT)