AIDS statements haunt Huckabee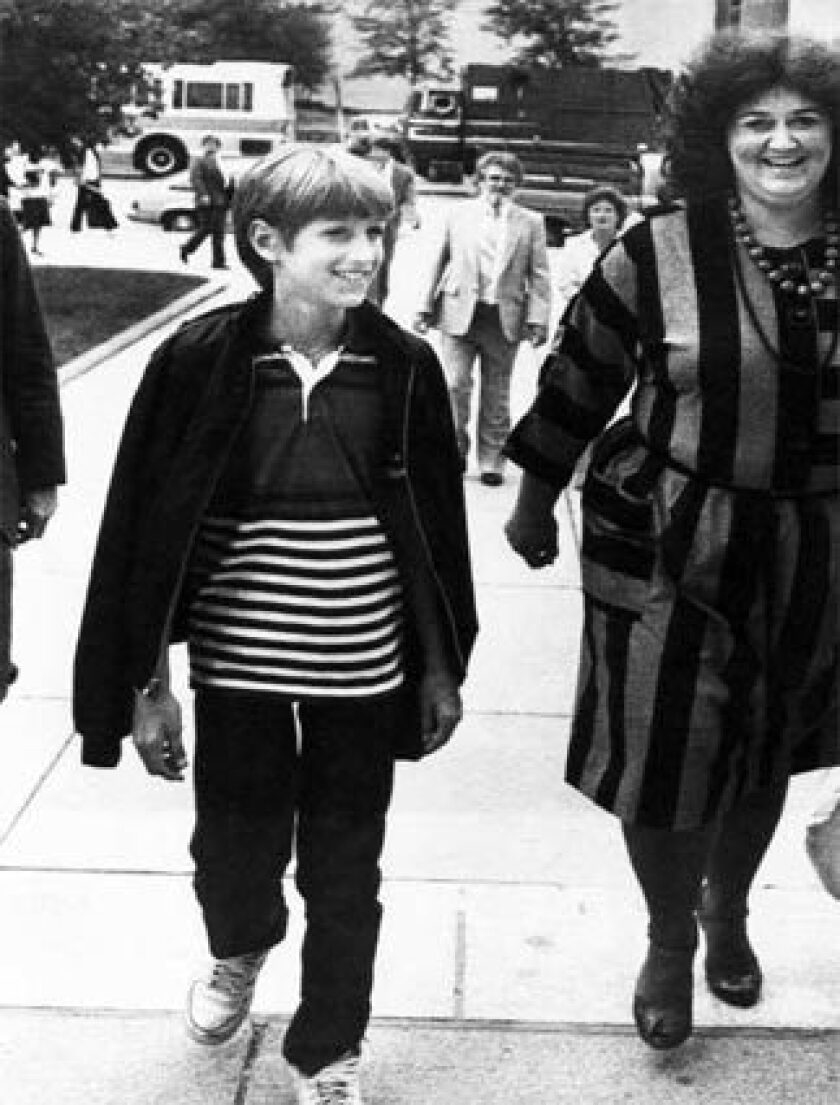 Los Angeles Times Staff Writer
VAN METER, IOWA —
Republican presidential candidate Mike Huckabee defended himself Tuesday against continuing criticism of statements he made about AIDS 15 years ago, when he called for isolating those stricken with the disease to prevent it from spreading.
Huckabee said his statements reflected the state of knowledge about AIDS at the time, even though the U.S. surgeon general had by then reported that the disease could not be spread through casual contact.
"Obviously, we know a lot more today. I'm glad we do," he said, while visiting Hall of Fame pitcher Bob Feller's baseball museum in this town of fewer than 900 people. "That was 1992."
Huckabee was challenged on the AIDS issue Tuesday by two advocacy groups, the Human Rights Campaign and the AIDS Institute. They called on Huckabee to meet with the family of Ryan White, the Indiana teen who was banned from school and ostracized in his hometown after being diagnosed with AIDS -- a disease he contracted during his treatment for hemophilia. He died in 1990 at age 18.
Jeanne White-Ginder, Ryan's mother, called Huckabee's recent remarks alarming.
"It's very important to me that we don't live in the darkness," she told the Associated Press. "We have to treat this disease like a disease, and like Ryan always said, not like a dirty word."
Huckabee replied Tuesday that he was "very willing" to meet with White's mother.
"I would tell them that we've come a long way in research and treatment, and I certainly never would want to say anything that would be hurtful to them or anybody else," he said at a morning news conference in Council Bluffs. Huckabee said he "would have great regret and anxiety if I thought my comments were hurtful or in any way added to the already incredible pain that families have felt, regardless of how they contracted AIDS."
Huckabee didn't comment on his current thinking concerning AIDS, but a statement issued by his campaign last month called for stepping up efforts to provide medical care, in this country and worldwide, for patients with the disease or the virus that causes it.
As Huckabee's underdog candidacy has had a surge in support -- he's now the leading Republican candidate among likely Iowa GOP caucus-goers -- the former Arkansas governor has faced new scrutiny, including his past comments on AIDS and homosexuality.
In 1992, Huckabee, in the midst of an unsuccessful run for the U.S. Senate, wrote in reply to an Associated Press questionnaire that steps ought to be taken to "isolate the carriers of this plague."
"It is the first time in the history of civilization in which the carriers of a genuine plague have not been isolated from the general population, and in which this deadly disease for which there is no cure is being treated as a civil rights issue instead of the true health crises it represents," Huckabee wrote.
Prominent conservative Tony Perkins, president of the Family Research Council, took to the Internet and the airwaves in recent days to defend Huckabee. Perkins said the candidate was being asked about long-ago statements about AIDS, homosexuality and morality because of his faith, and he predicted that more conservative religious voters would rally to Huckabee's side if the criticism continued.
"I predict that Bible-believing Christians will step over policy differences they have with Mike Huckabee to stand by and support a candidate who is being attacked because he believes, as they do, that their Christian faith should actually impact the way they live," Perkins wrote in his Internet newsletter.
Huckabee told reporters in Iowa on Tuesday that in 1992 even healthcare professionals were not certain how AIDS could be transmitted.
"We had a number of people contact us -- medical professionals, EMTs, paramedics and others -- who said in 1992 they were worried and they were told take all these precautions, because while officially we were told there's no indication of [transmission through] casual contact, there was a lot of fear and anxiety and there [were] still precautions being taken," Huckabee said. "And interestingly, a lot of people didn't trust the government then and don't trust the government now."
Huckabee said recent news accounts misconstrued his comments in 1992 by suggesting that he supported "locking people up."
Asked by reporters to explain the distinction between locking people up and "isolation," Huckabee said such decisions ought to be left to public health officials.
---
Life is stressful. Our weekly mental wellness newsletter can help.
You may occasionally receive promotional content from the Los Angeles Times.