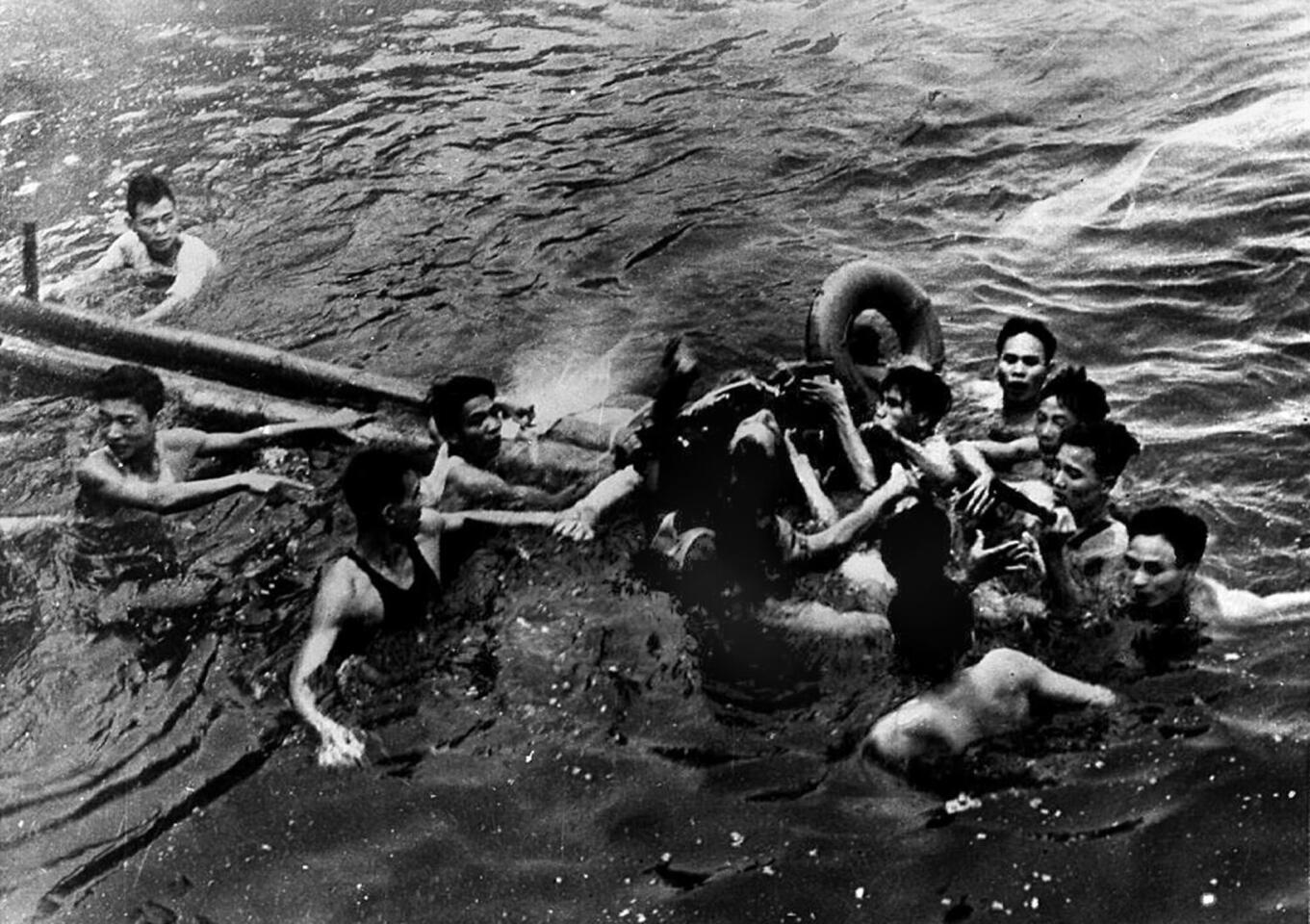 17 Images
John McCain: His journey in pictures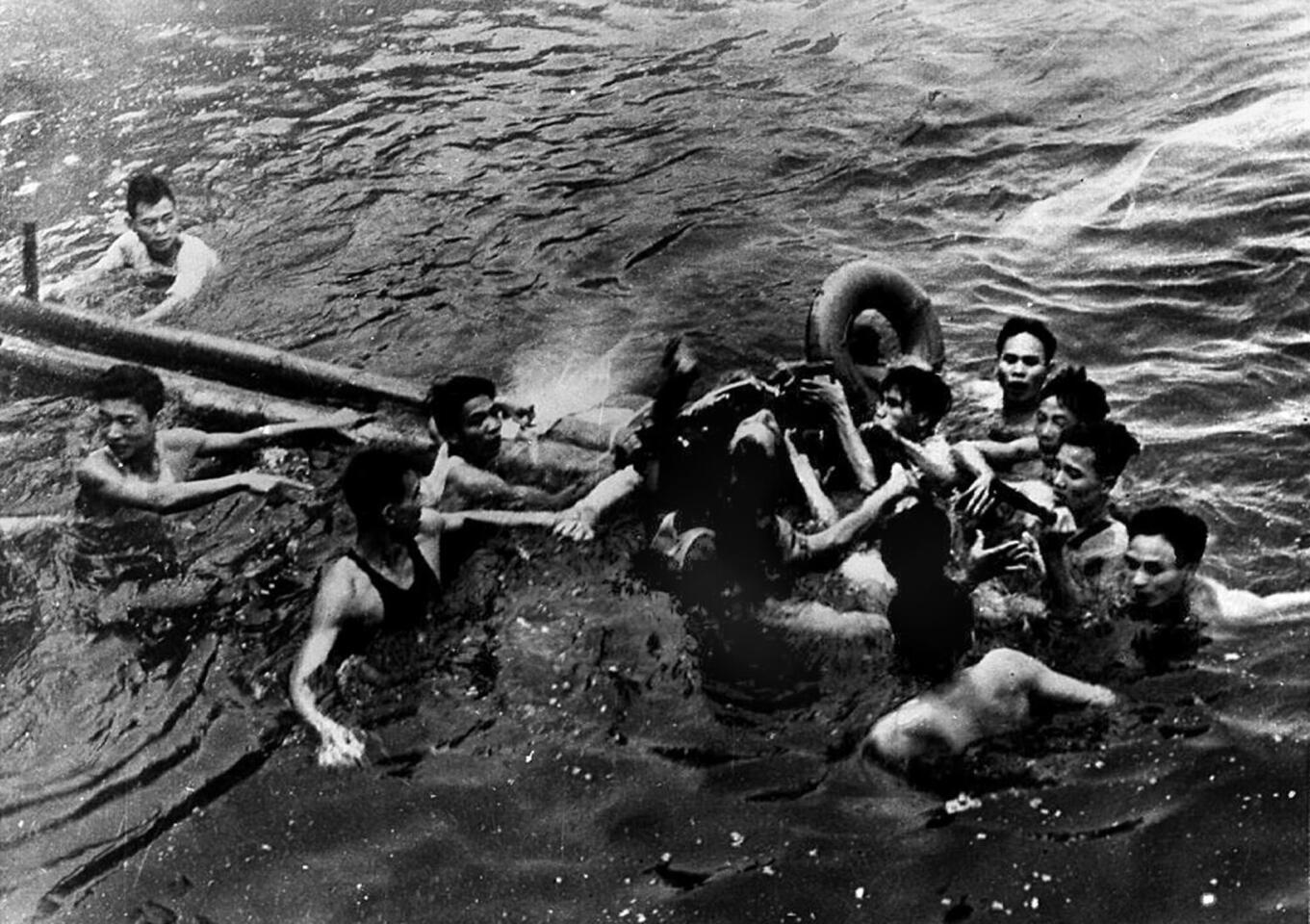 A photo taken October 26, 1967 shows U.S. Navy Airforce Major John McCain, center, being rescued from Hanoi's Truc Bach lake by several Hanoi residents after his Navy warplane was downed by the Northern Vietnamese army.
( AFP / Getty Images)
FILE - In this Lune 27, 2008 file photo, Hoa Lo Prison Historic Vestige is seen in Hanoi, Vietnam. John McCain was held in Hoa Lo Prison as a prisoner during the Vietnamese war. The war people in the United States simply call Vietnam and the Vietnamese refer to as their Resistance War Against America has been over for 40-plus years, yet it lingers in so many ways. That was apparent this week when Defense Secretary Jim Mattis dropped in for a couple of days of defense diplomacy with a former enemy. (AP Photo/Chitose Suzuki) (Chitose Suzuki / Associated Press)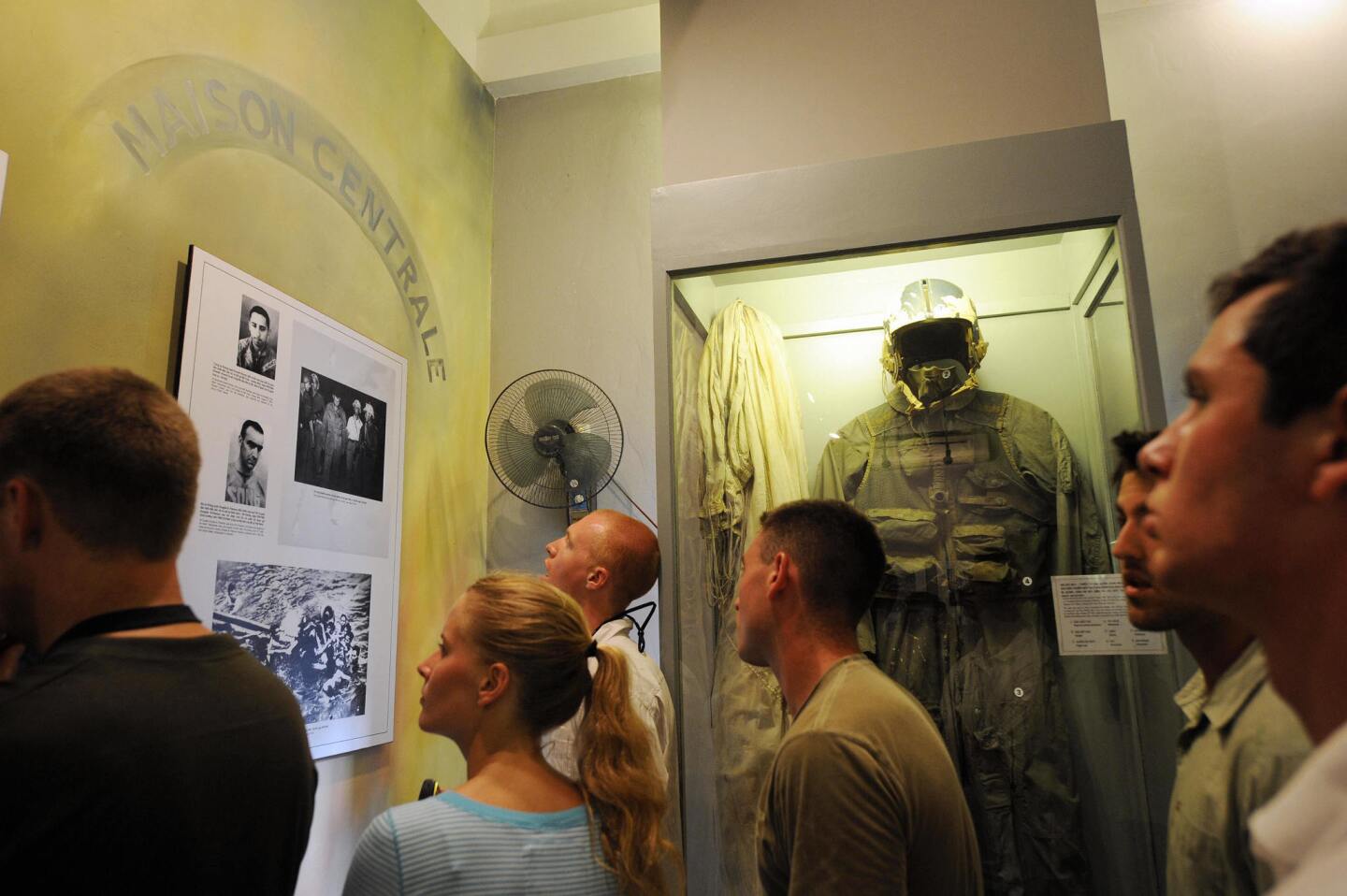 A group of US students look at photographs next to the flightsuit that the current US Republican presidential candidate then US Navy Lieutnant-commander pilot John McCain had used during the Vietnam War, inside a museum in Hanoi on June 6, 2008. McCain was shot down and captured on October 26, 1967 when he was flying an A4E Skyhaw jet over Hanoi. The museum was built at the place of the prison called then Hanoi Hilton where he spent five years in jail. AFP PHOTO/HOANG DINH Nam (Photo credit should read HOANG DINH NAM/AFP/Getty Images) (HOANG DINH NAM / AFP/Getty Images)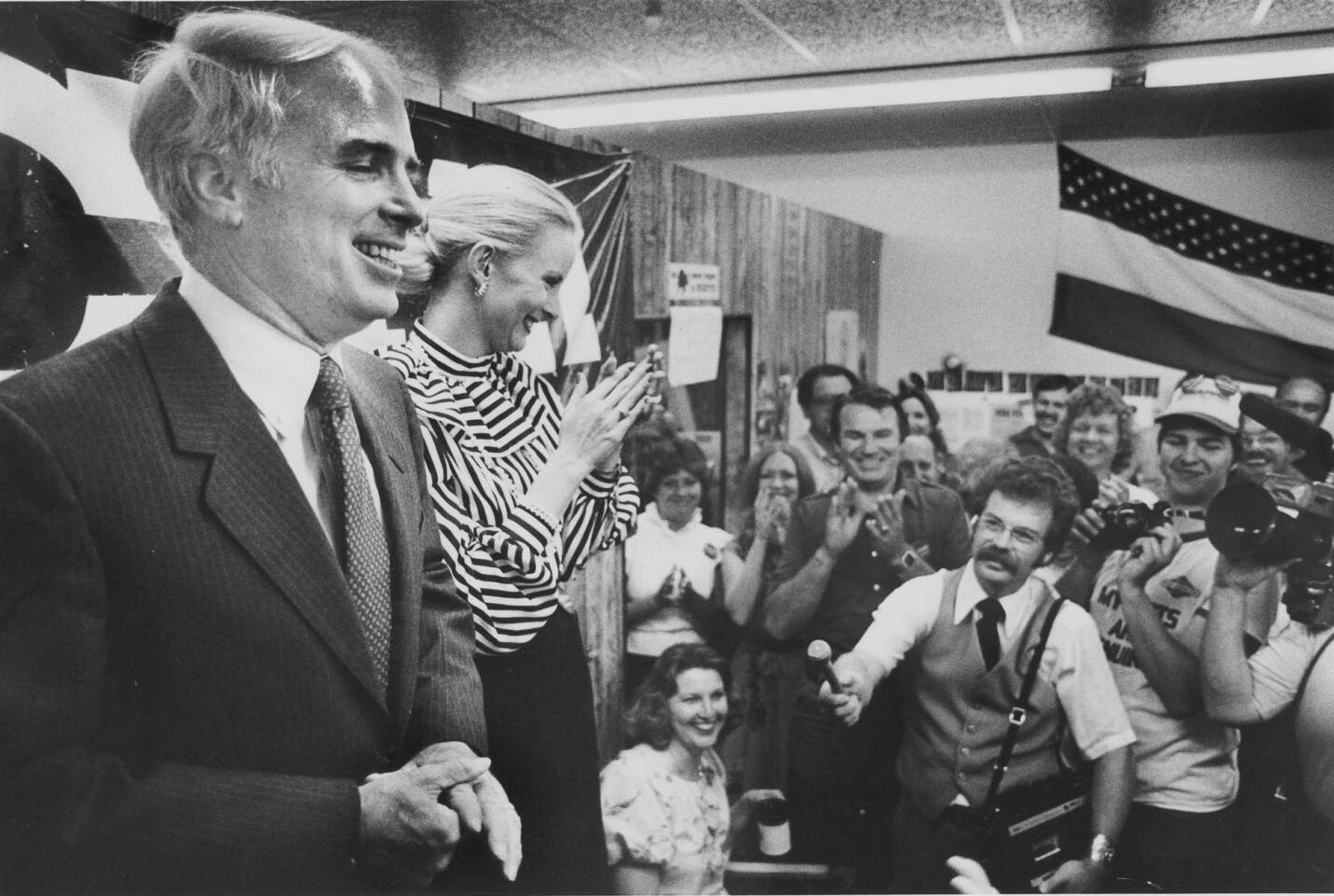 ** FILE ** In this Sept. 8, 1982 black-and-white file photo, John McCain and wife Cindy appear before media at McCain's campaign headquarters in Mesa, Ariz. McCain was elected to the U.S. House of Representatives from Arizona in 1982, the launch of his political career. Four years later he was elected to an open U.S. Senate seat. (AP Photo/Phoenix Gazette, Tom Tingle) **MARICOPA COUNTY OUT, MESA TRIBUNE OUT, MAGS OUT, NO SALES** ORG XMIT: WXSC308 (Tom Tingle / Associated Press)
Republican presidential hopeful Sen. John McCain, of Arizona, catches a nap as McCain 2000 political director John Weaver talks on his cell phone while traveling on McCain's campaign bus near Hilton Head, S.C., Saturday, Jan. 22, 2000. McCain is wrapping up a two day swing of the South Carolinabefore returning to New Hampshire. (AP Photo/Stephan Savoia) (Stephan Savoia / Associated Press)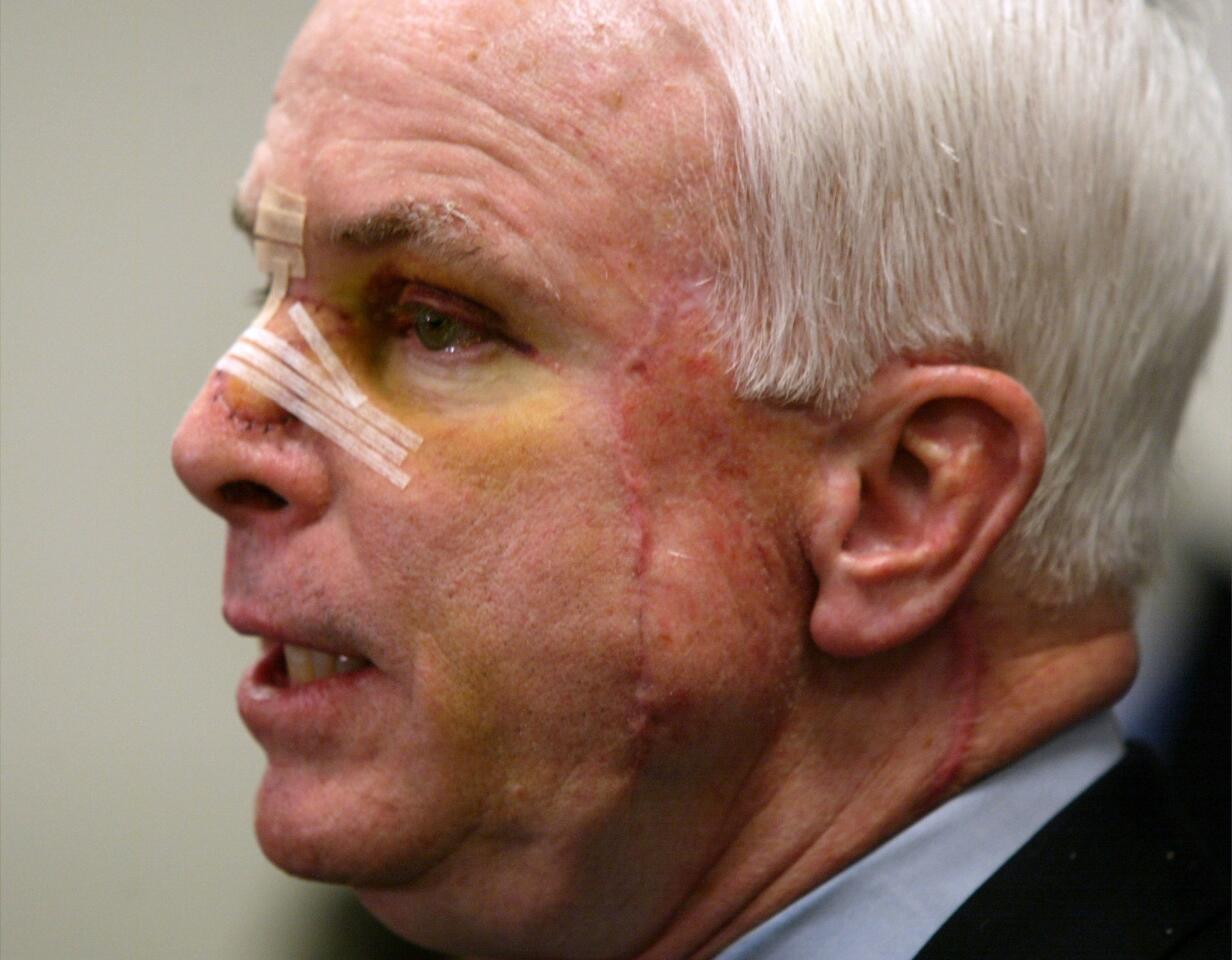 400886 03: Senator John McCain (R-AZ), wearing a bandage on his nose after skin cancer surgery, talks to reporters after meeting with business leaders about campaign finance reform February 11, 2002 in Washington, DC. The Senate will be voting on a new version of campaign finance reform later in the week. (Photo by Mark Wilson/Getty Images) (Mark Wilson / Getty Images)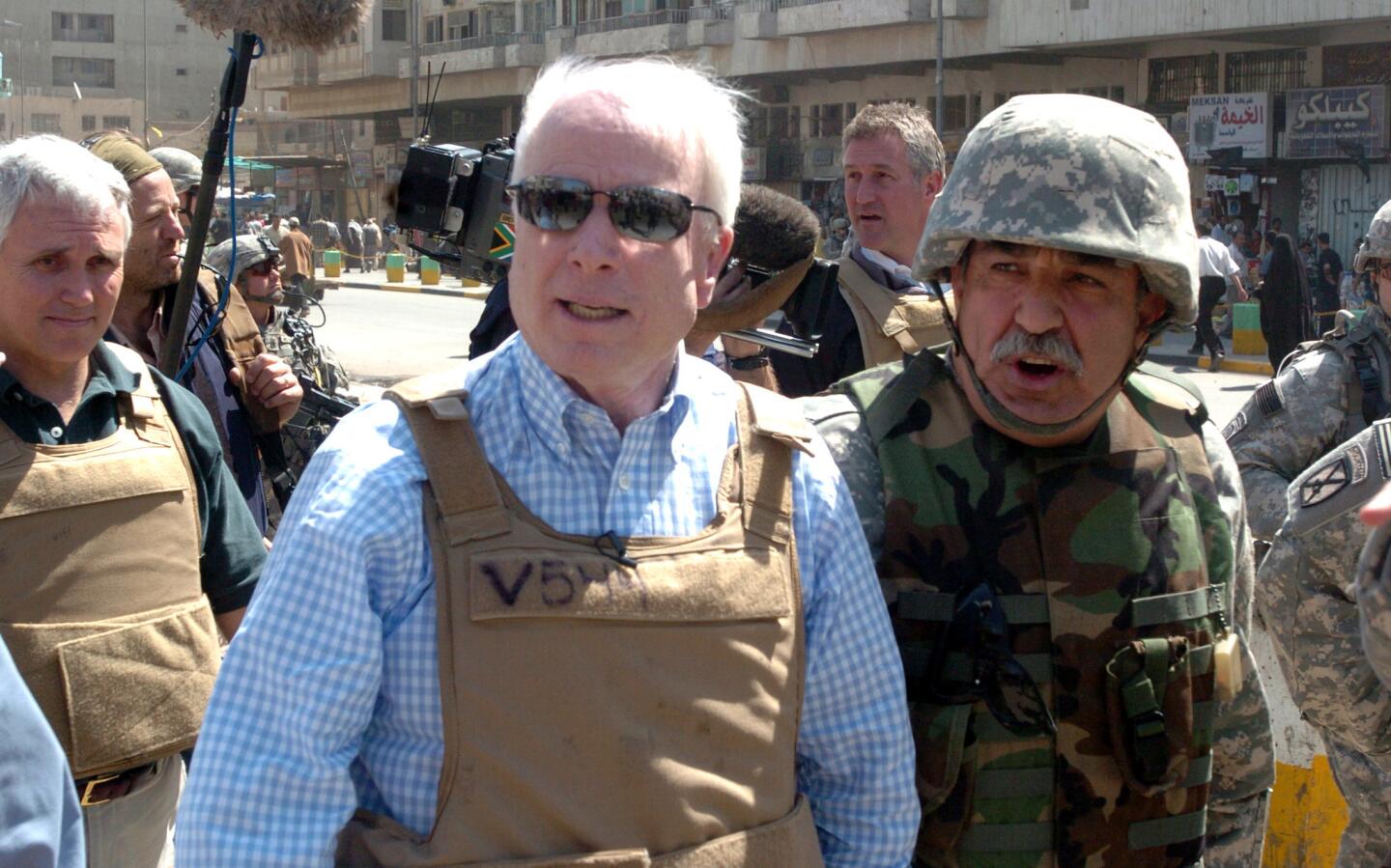 McCain visits Baghdad in April 2007, aiming to demonstrate that the security situation in Baghdad was improving.
(Sgt. Matthew Roe / Associated Press)
Boster, Mark –– – 126857.MN.0726.mccain.MJB–(Keene, New Hampshire)–Presidential hopeful Senator John McCain gets some quiet time in his hotel room to make phone calls while on the campaign trail in Keen, New Hampshire. July 25, 2007 (Mark Boster / Los Angeles Times)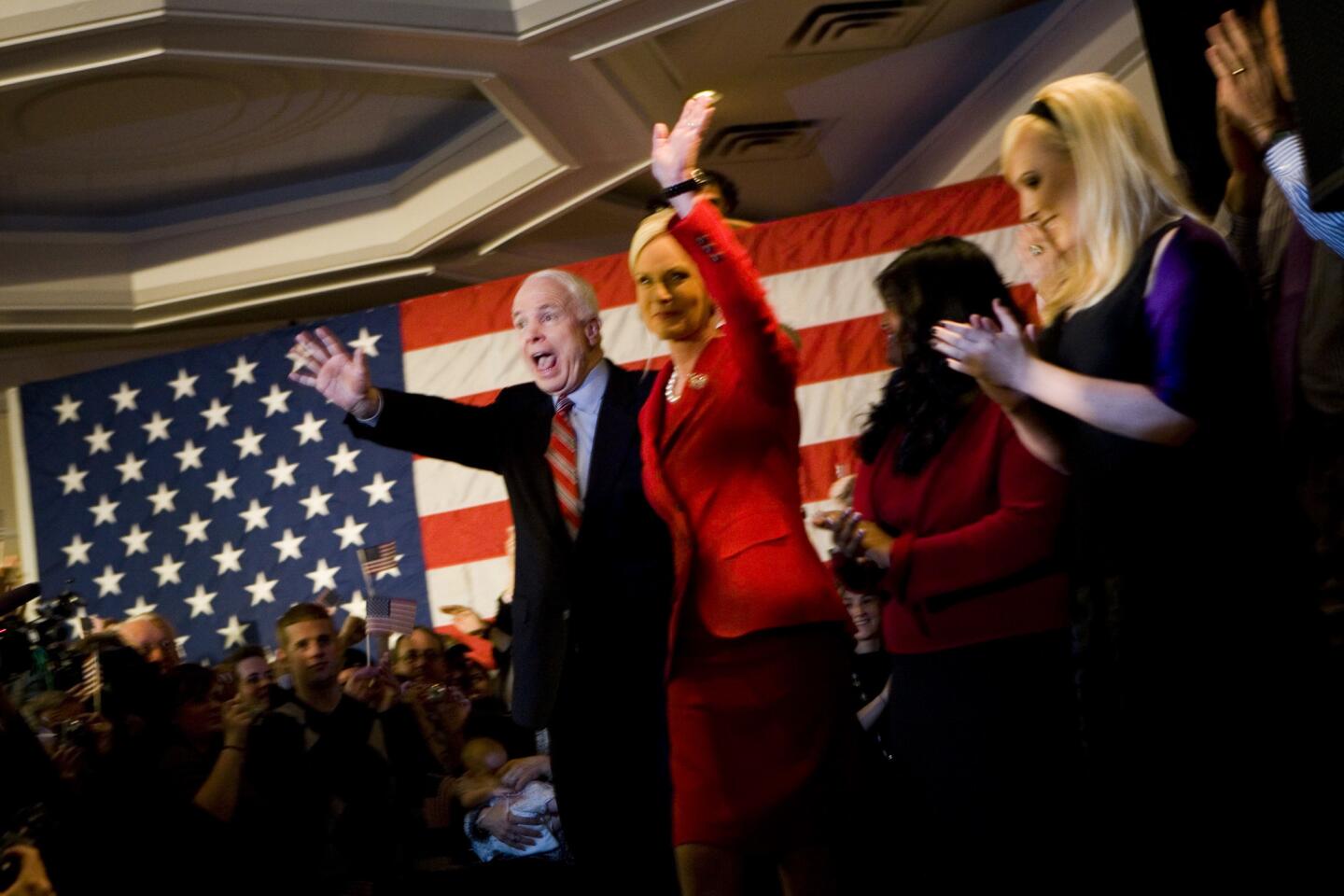 McCain and his family celebrate his New Hampshire victory in 2008.
(Jay L. Clendenin / Los Angeles Times)
John McCain makes his first appearance on the trail in since shaking up his presidential campaign by replacing his campaign manager and laying off several staffers in 2007. McCain spoke with followers at the Concord Chamber Of Commerce breakfast in Concord, New Hampshire.
(Mark Boster / Los Angeles Times)
BOCA RATON, FL – JANUARY 24: Republican presidential hopefuls (L–R) former Massachusetts Gov. Mitt Romney, Sen. John McCain (R–AZ), former New York City Mayor Rudy Giuliani, Rep. Ron Paul (R–TX) and former Arkansas Gov. Mike Huckabee participate in a televised debate at the Florida Atlantic University Kaye Performing Arts Auditorium January 24, 2008 in Boca Raton, Florida. The debate is the final Republican showdown before the Florida primary on January 29. (Photo by Joe Raedle/Getty Images) (Joe Raedle / Getty Images)
McCain walks down a hallway in his Phoenix home lined with photographs and news clippings from throughout his career. He spent Super Tuesday, Feb. 5, at home awaiting primary election returns.
(Stephan Savoia / Associated Press)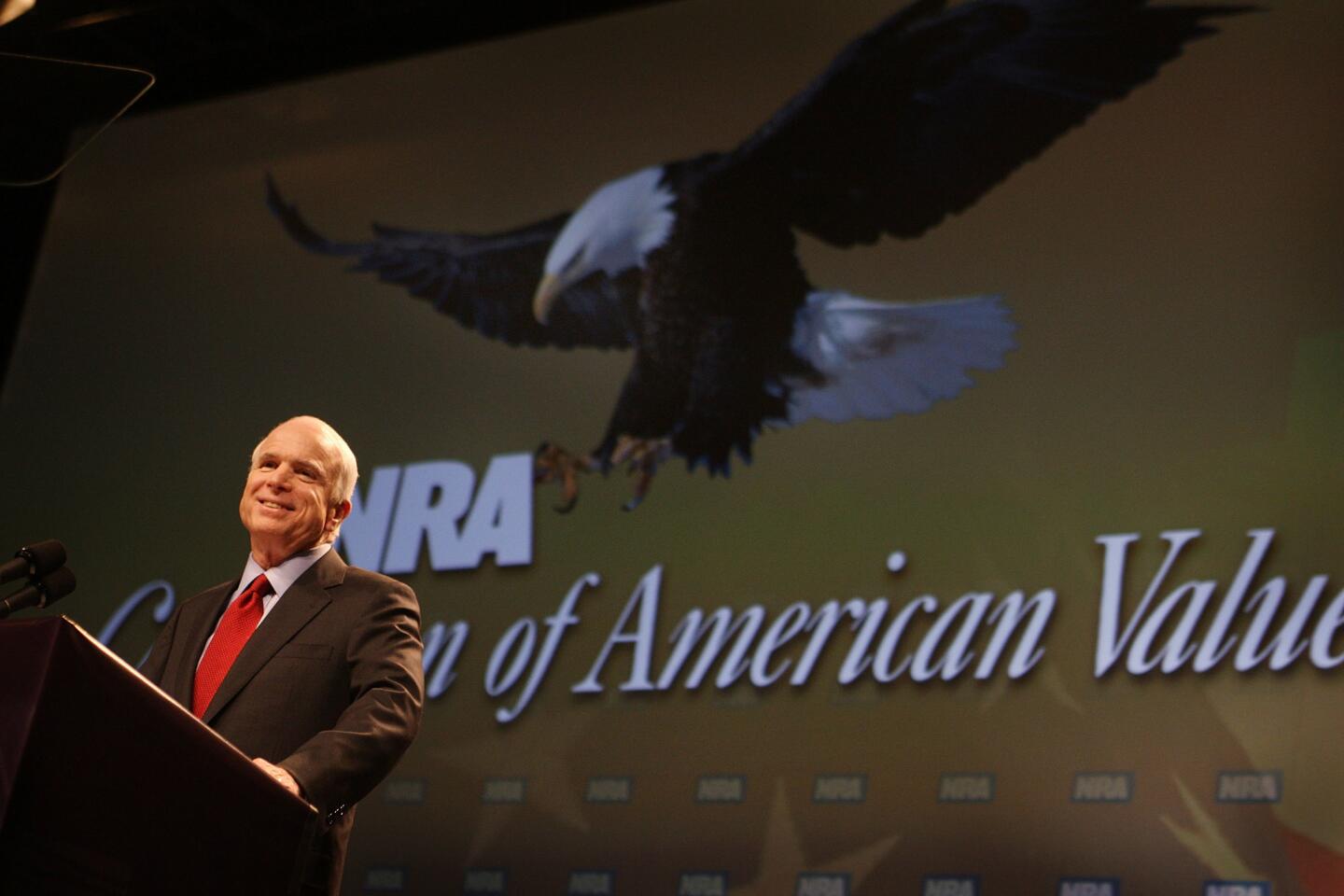 LOUISVILLE, KY - MAY 16: Republican presidential candidate Senator John McCain (R-AZ) addresses the National Rifle Association of America's annual meeting at the Kentucky Exposition Center May 16, 2008 in Louisville, Kentucky. The annual meeting and exhibits for the NRA, which boasts about 4 million members, will run through May 18. (Photo by Scott Olson/Getty Images) ORG XMIT: 81085407 (Scott Olson / Getty Images)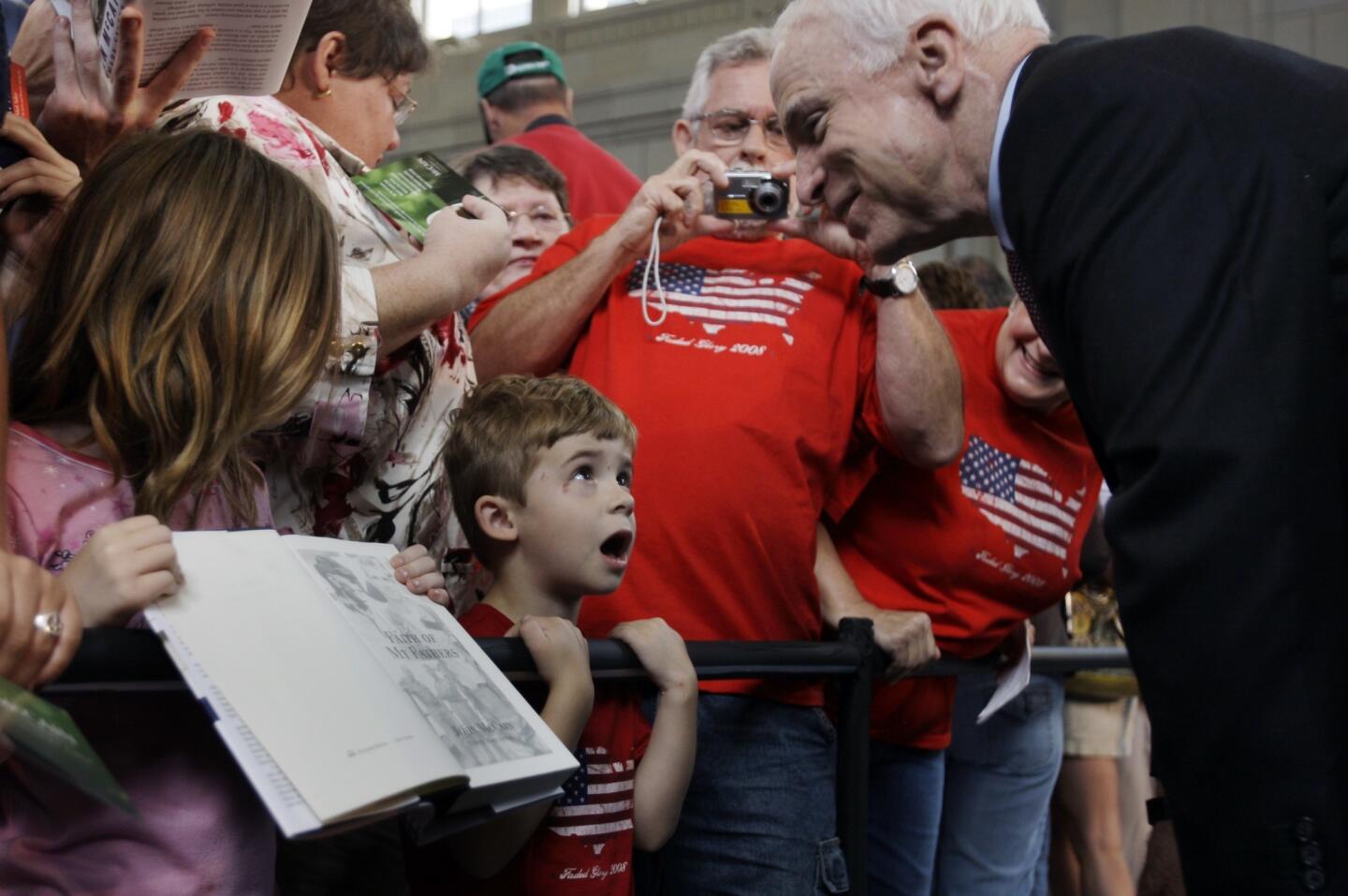 Republican presidential candidate Sen. John McCain, R–Ariz. talks with Lucak Wake, 5, as he greets supporters during a campaign stop at Union Station in Kansas City, Mo., Thursday, July 17, 2008. (AP Photo/Carolyn Kaster) (Carolyn Kaster / AP)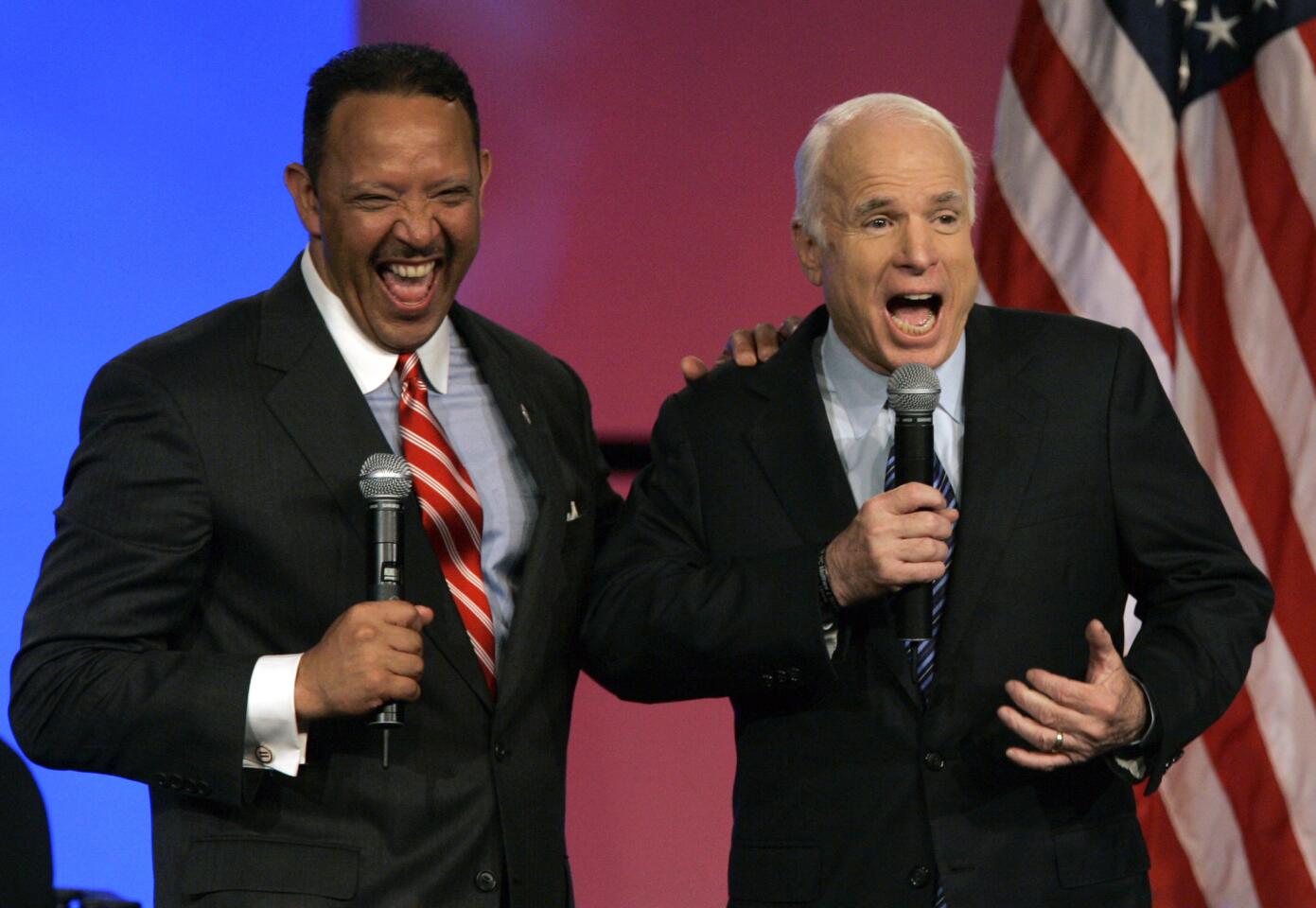 National Urban League President and Chief Executive Officer Marc Morial. left,jokes with Republican presidential candidate Sen. John McCain, R-Ariz., Friday, Aug. 1, 2008, at the National Urban League Conference in Orlando, Fla. (AP Photo/John Raoux) ORG XMIT: FLJR101 (John Raoux / Associated Press)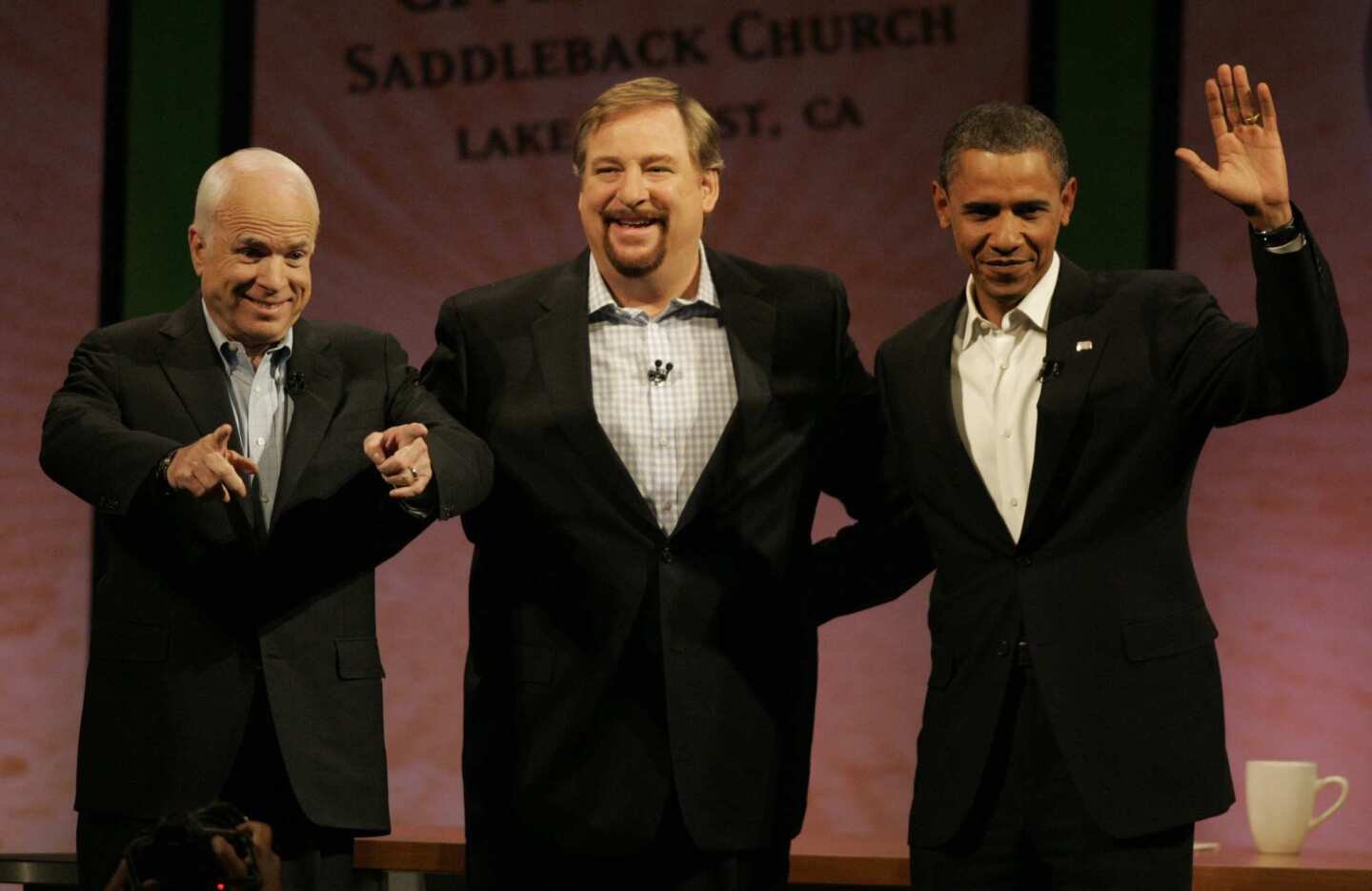 [LAKE FOREST, CA - AUGUST 16, 2008 -- Sen. John McCain, left, Dr. Rick Warren and Sen. Barack Obama, right, acknowledge the applause of the audience while making their first joint appearance of the 2008 campaign during the Saddleback Civil Forum at the Saddleback Church on August 16, 2008. Dr. Rick Warren is founding pastor of the church.] *** [] (Genaro Molina / Los Angeles Times)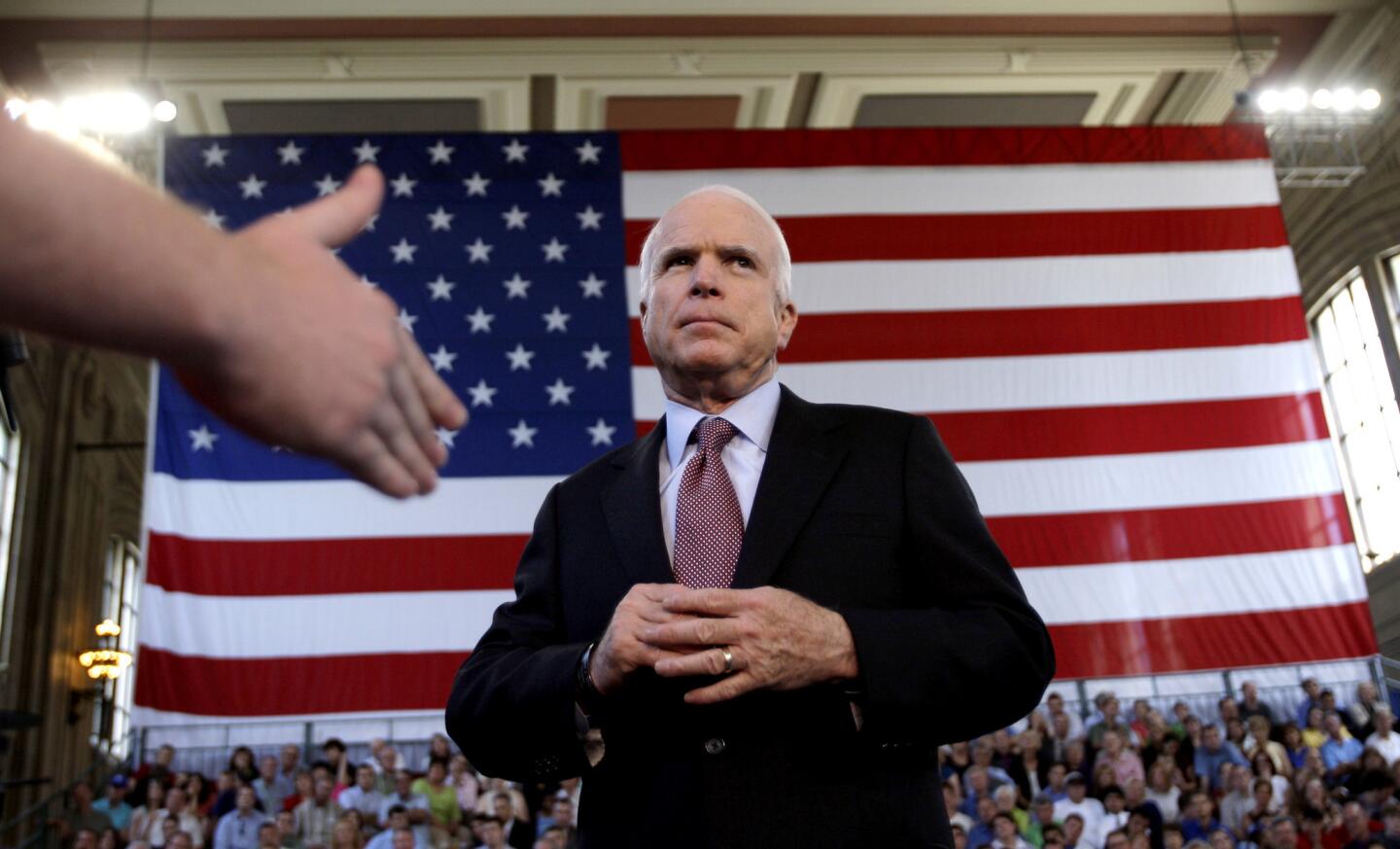 Republican presidential candidate Sen. John McCain, R-Ariz. listens to a question form Dan O'Connor, hand at right, Thursday, July 17, 2008, as he makes a campaign stop at Union Station in Kansas City, Mo. (AP Photo/Carolyn Kaster) (Carolyn Kaster / AP)