9 Images
Hawaii's Kilauea volcano erupts
Summit explosions, toxic fumes and partial closures? That's all part of the allure as visitors flock to
Hawaii Volcanoes National Park
. For others, though, it's all in a day's work -- here, two park rangers and a local photographer track the advance of lava through the Royal Gardens subdivision in Kalapana.
(Bruce Omori / EPA)
A cloud of sulfur dioxide gas and ash rises from Halemaumau Crater of Kilauea volcano in Hawaii Volcanoes National Park. Big Island Mayor Harry Kim says it may be necessary to evacuate some areas around the volcano because the daily release of 2,000 tons of toxic gas into the air is raising concerns about residents' health and safety.
(David Jordan / Associated Press)
Lava inches its way over what was once the main thoroughfare through the Royal Gardens subdivision in Kalapana, Hawaii. Many residents live with the boiling lava every day and revel in the notion that their homes and lives are subject to the whims of Earth's underground forces.
(Bruce Omori / EPA)
The advancing flow ignites the asphalt it covers in its path through Kalapana. An average of nearly 9,000 people a day are touring Hawaii Volcanoes National Park this year. That's up 2.5% from last year, when the volcano's 25-year eruption was much more peaceful, says Cindy Orlando, the park's superintendent.
(Bruce Omori / EPA)
A time-lapse photo shows lava flowing from Kilauea volcano into the ocean in Kalapana. Thousands of visitors a day venture to nearby Hawaii Volcanoes National Park to watch Kilauea erupt, something it has been doing for a quarter of a century.
(Marco Garcia / Associated Press)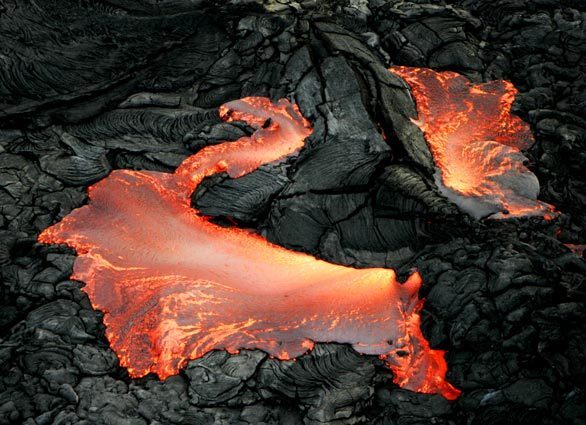 Kilauea has been erupting for 25 years. This image was captured by helicopter from 500 feet above a lava flow as it broke through the surface from the volcano's Pu'u 'O'o Crater.
(Mark Boster / Los Angeles Times)
Fire meets water, spectacularly, as lava from Kilauea reaches the cooling waves of the Pacific at dawn.
(David Jordan / Associated Press)
Lava pours into the Pacific during an especially active period for Kilauea.
(Associated Press / U.S. Geological Survey)
A large surface flow of lava from Kilauea heads for the ocean during an outpouring that may have stemmed from activity beneath neighboring Mauna Loa, reviving a decades-old debate over whether the two volcanic systems are connected.
(David Jordan / Associated Press)