la-spelling-j1ch5gnc
Legendary television producer Aaron Spelling and his daughter, actress Tori Spelling, stand onstage at the 2005 TV Land Awards. Spelling, who created vintage TV series such as "Dynasty," "Love Boat," "Fantasy Island" and "Beverly Hills 90210," died June 23 at his home in Los Angeles. He was 83.
(Getty)
la-spelling-dypvdhgw
Aaron Spelling produced over 140 television movies and numerous hit TV shows like "Beverly Hills 90210" and "Starsky & Hutch."
(Al Seib / LAT)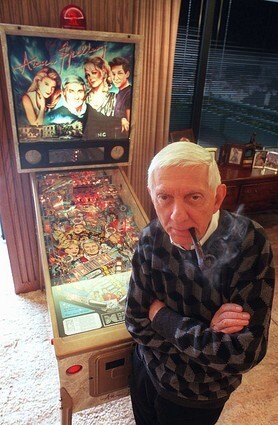 Pinball
This 1996 photo shows Spelling posing in front of a pinball machine adorned with characters from his television shows.
(Chris Pizzello / AP)
Dynasty
Spelling, center, poses with "Dynasty" actresses Linda Evans, left, and Joan Collins during a gathering of ABC executives and guests at the Beverly Wilshire Hotel in this file photo from June 18, 1984.
(Craig Mathew / AP)
la-spelling-eymswrgy
Ricardo Montalban, left, and Herve Villechaize on "Fantasy Island."
()
la-spelling-g1tmwdke
The cast of "Charlie's Angels," left, Cheryl Ladd, Farrah Fawcett, Jaclyn Smith, Shelley Hack and David Doyle.
---
FOR THE RECORD:
An initial version of this caption misidentified David Doyle as 'Tom Bosley'. The character Doyle plays in the show is named John Bosley.
()
la-spelling-h72hzmkf
The cast of "The Love Boat." From left, Fred Grandy, Patricia Klous, Ted McGinley, Gavin MacLeod, Bernie Kopell, Jill Whelan and Ted Lange pose in this June 1984 publicity photo for the ABC series.
(AP)
Beverly Hills, 90210
The cast of "Beverly Hills, 90210": Top Row L-R: Lindsay Price, Ian Ziering, Tiffani-Amber Thiessen, Vincent Young, Brian Austin Green. Bottom Row: Tori Spelling, Jason Priestley, Jennie Garth.
(Aaron Rapoport / Fox)
la-spelling-htr4mxn1
"Starsky & Hutch" stars David Soul, left, and Paul Michael Glaser.
(PRNewsFoto)
Star
Spelling poses with his wife, Candy, left, and comedian Red Buttons, right, at the unveiling ceremony of his star on the Hollywood Walk of Fame in Hollywood on Sept. 16, 1978.
(Associated Press)
Soap Opera
Spelling holds his Soap Opera Digest Award as his family joins him. From left, Randy, Candy and daughter Tori in this Friday, Feb. 28, 1997 photo at Universal Studios in Universal City, Calif. Spelling won the Editors' Choice award.
(Michael Tweed / AP)
Emmy
Spelling tackled HBO's "And the Band Played On" because "too many friends had died of AIDS," and won an Emmy for it.
(Patrick Downs / LAT)