9 Images
Road to Opportunity
At 6 a.m., after about 20 minutes of inspections, Walters writes up her report before she leaves the bus yard in Gardena to pick up her students in South L.A., bound for Crenshaw High School and Audubon Middle School.
(Annie Wells / LAT)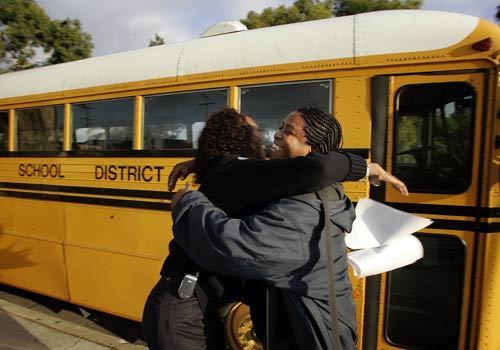 Walters hugs fellow driver Pat Borthwell on Walters' first day back to work after being out a month with a wrist injury. Gordon is among the LAUSD bus drivers helping Walters with her fledgling organization.
(Annie Wells / LAT)
On her first day on her new route, Walters lines up the students at Audubon and tells them the rules on her bus. She is tough but thinks it's an important way to show the kids that she cares.
(Annie Wells / LAT)
Walters watches as a Crenshaw High School girl who was caught chewing gum goes back to her seat after throwing it away.
(Annie Wells / LAT)
Kevin Cadet, here on his way to Audubon, is one of the students Walters loves. He's quiet and respectful of others, she says.
(Annie Wells / LAT)
Although Walters expects the students to be quiet and respectful on her bus, she often generates a little fun and excitement by quizzing them. Here students from Audubon try to name the 13 U.S. colonies.
(Annie Wells / LAT)
Crenshaw High School student Juanita Wells — among the students who will go on a Christmas Week tour bus trip to Phoenix, Dallas, New Orleans and San Antonio — is told what she needs to do to participate in the program. Students are supposed to take part in weekend service projects so they'll get to know each other before the trip.
(Annie Wells / LAT)
Walters, center, worships at Faithful Center Bible Church at the Forum in Inglewood with high school students Juanita Wells, left, and Melissa Mack. The coming Christmas Week trip will be a first for Juanita, but Melissa, of Davis S. Jordan High School in Long Beach, has been taking trips with Walters since she was 6.
(Annie Wells / LAT)
A catnap in her bus after lunch is in order for Walters, who's up at 4 a.m. and often in bed after 11 p.m. while planning for the trips.
(Annie Wells / LAT)