5 Images
Devastation in India
A day after her 9-year-old daughter Nirmala was washed out to sea by a tsunami wave, Thenmozhi, 26, wandered dazed through the southern India coastal town of Cuddalore wailing over and over, "Oh, what sin did I commit? Why did the Almighty take my daughter away?"
(Paul Watson / LAT)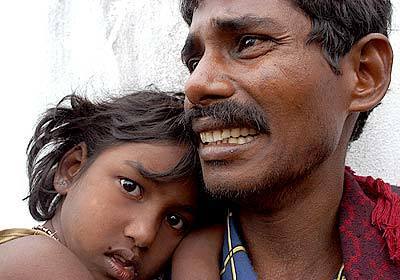 Swaminathan, 30, sobbed and clung tightly to his 6-year-old daughter Madhivadhani after burying her mother Mahalakshmi, 27, and little brother, Rahul, 4, in a mass grave in Thazanguda, India, after they were killed by Sunday's tsunami waves.
(Paul Watson / LAT)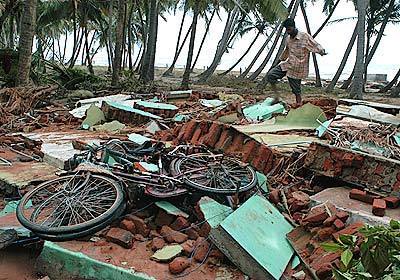 Survivors of Sunday's tsunami waves that killed more than 2,000 people in India's southern Tamil Nadu state walk through the rubble of a fisherman's beachfront home that was flattened by the surges.
(Paul Watson / LAT)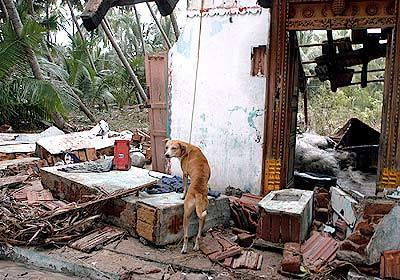 As emergency crews in southern India struggled to find the dead and feed the living, dogs in the devastated seaside fishing village of Thazanguda scavenged among rotting fish and livestock for their meals.
(Paul Watson / LAT)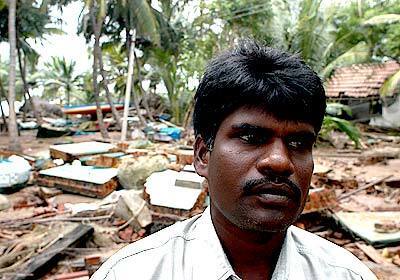 Kadhir Veerappan, 40, lost his mother Gandhimadhi in the tsunami waves that hammered the southern Indian fishing village of Thazanguda on Sunday, and would have lost his own life if he hadn't managed to ride out three waves up to 25-feet high.
(Paul Watson / LAT)