Newsletter: In the kitchen: Vegan tacos, Super Bowl recipes
The big game is this weekend. Have you figured out what you're serving at your Super Bowl party yet? From simple appetizers to tasty mains, hearty sides and nibbles, we have plenty of ideas to help you score big with the crowd.
First up? It's hard to keep up with Danny Trejo. The 72-year-old actor has appeared in more than 300 films, including three "From Dusk to Dawn" films. We recently tracked him down in the 400-square-foot kitchen of his Trejo's Cantina in Hollywood whipping up some of his famous cauliflower tacos. Don't worry. He shares the recipe.
TACOS A LA TREJO
So how did actor Danny Trejo get into the taco business? It's an interesting story. Food editor Amy Scattergood caught up with Trejo at his Hollywood restaurant, and was able to wrangle the restaurant's vegan — yes, vegan — cauliflower taco recipe.
Actor Danny Trejo's restaurant, Trejo's Cantina, serves up a healthful and tasty vegan taco -- roasted cauliflower and grilled corn with cashews.
VIDEOS: YOUR SUPER BOWL PARTY GUIDE
So how do you make your own Super Bowl stadium out of food? We show you how. We also share videos on how to make beer-battered mac 'n' cheese bites and a bacon-wrapped hot dog cart (complete with beer tap). Because: Can you ever be too prepared? And if you're craving more, we've pulled together some of our top favorite recipes.
The Los Angeles Times' Food section is here to help plan your Super Bowl party!
MAC 'N' CHEESE 20 WAYS
Does it get any better than mac 'n' cheese for dinner, lunch or any time? Probably not. Which is why it just might be the ultimate comfort food: You have a gooey dish of pasta, creamy cheese and a crunchy topping that usually includes more cheese. Here are some of our top recipes.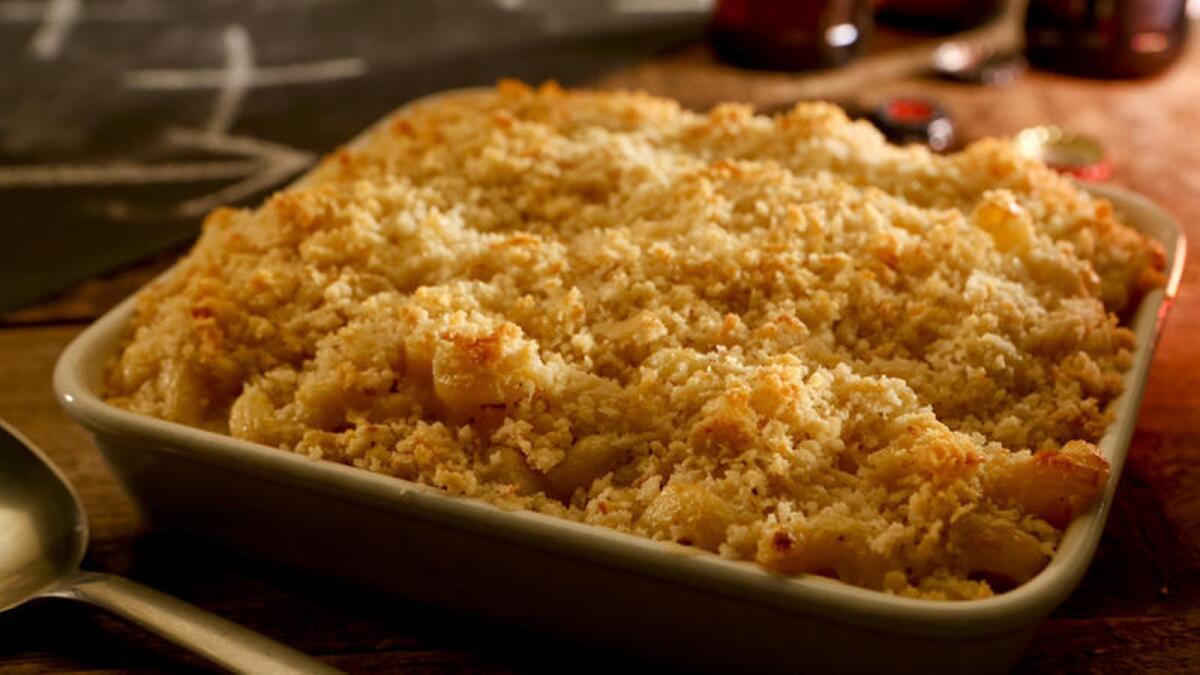 16 OF OUR FAVORITE GLUTEN-FREE DESSERTS
If you're gluten-intolerant, or are simply trying adjust your diet for a while, it can be hard to satisfy your sweet tooth with gluten-free options when the cravings start. We've compiled a list of 16 of our most popular gluten-free cookies, cakes, truffles and more desserts and sweet treats.
RECIPES FOR BLOOD ORANGES
If the rest of this newsletter has your arteries feeling a little clogged this week, let's check out the blood oranges that are in season now. Known for their crimson interiors and sweet-tart flavor, blood oranges are generally available during the late winter months. Here are some recipe ideas.
Love cooking as much as I do? Follow me @noellecarter
Check us out on Instagram @latimesfood
Counter Intelligence: Sign up for Jonathan Gold's weekly newsletter
Check out the thousands of recipes in our Recipe Database.
Feedback? We'd love to hear from you. Email us at food@latimes.com.