Newsletter: The cost of California's war on climate change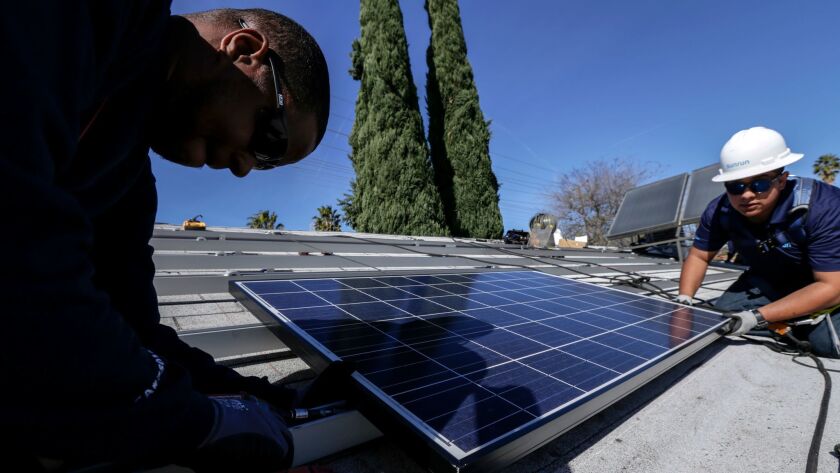 Good morning. It's Monday, Dec. 12, and here's what's going on around California:
TOP STORIES
The pain of going it alone
Californians are likely to pay more for gasoline, electricity, food and new homes — and to feel their lives jolted in myriad other ways — because their state broadly expanded its war on climate change this summer. But with Donald Trump headed for the White House, Californians may find themselves making sacrifices while the residents of other states are missing in action. Los Angeles Times
Death ship
An inside look at life at the Ghost Ship, the dilapidated Oakland warehouse where 36 people died in a fire a week ago. To some, it felt like a fantastical village, a child's dream with no adults to say no. But behind the youthful artistic whimsy lurked darkness, anger and grave danger. Los Angeles Times
Plus: As the Oakland fire draws attention to warehouses and other unconventional living spaces, some of their residents are facing eviction and anxious that a "witch hunt" will begin. Los Angeles Times
Dreams of fame
In an era of pervasive reality TV and social media when anyone thinks they can become a star, the modeling industry has seen an influx of businesses catering to people who dream of becoming the next Kendall Jenner or Gigi Hadid. Los Angeles Times
L.A. STORIES
Arts boom: Another mega-project is looking for approval in downtown L.A.'s Arts District, which is increasingly becoming one of the hottest neighborhoods in the city center (at least for developers). This one would include offices, apartments, hotels and shops. Los Angeles Times
Cat walk: In the hills of Malibu, a rancher and wildlife advocates are trying to protect helpless alpacas from a very hungry big cat. Will it work? Los Angeles Daily News
Pioneer honored: The African American architect behind the LAX Theme Building and many other L.A. classics finally gets his due. CityLab
Sichuan sidetrack: When it comes to spicy food, Valley Boulevard in the San Gabriel Valley is really "Little Sichuan." Los Angeles Times
Too fast: Authorities are stepping up patrols in a scenic and twisting stretch of road in the Palos Verdes Peninsula, where "Fast and Furious" wannabes are causing problems. Daily Breeze
POLITICS AND GOVERNMENT
Turnaround: During the presidential campaign, former Hewlett-Packard chief executive and then-GOP candidate Carly Fiorina had few kinds word for Donald Trump. But she's changed her tune ahead of a meeting about a possible post in his administration. Over the weekend, she called his Carrier deal "brilliant," adding: "One thing President-elect Trump clearly understands is this: that actually changing an ingrained, embedded status quo requires a major shock to the system." Washington Post
David vs. Trump: The San Diego attorneys who took on Donald Trump and won a settlement. San Diego Union-Tribune
More to come: Expect a lot more ideas and a lot more bills in Sacramento next year. Los Angeles Times
Housing help? Will tech firms and Silicon Valley cities finally get serious about the housing shortage caused by all those jobs? Facebook and Google are leading the way, but is it enough? San Francisco Chronicle
Sign of the times: California is in the process of changing its green freeway signs with high-tech models that won't require lighting. And that will save money. Mercury News
CRIME AND COURTS
Mosque attack: A Simi Valley man has been arrested and booked on suspicion of committing a hate crime after authorities say he stabbed an apparent worshiper near a mosque. Los Angeles Times
Church attack: Vandals spray-painted a Buena Park church with swastikas and other graffiti in what police said Saturday could be a hate crime. Los Angeles Times
Experiment failed? A Fresno high school created a "restorative justice" program to deal with discipline issues. But teachers say the experiment has left some parts of the school in chaos. Fresno Bee
DROUGHT AND CLIMATE
Down on the farm: California farmers scored a decisive victory with the federal water bill. It took years to happen. Sacramento Bee
Border preservation: Mexican President Enrique Peña Nieto established a new marine biosphere reserve covering the Coronado Islands near San Diego and Todos Santos Island, site of a famed surfing spot off the coast of Ensenada. San Diego Union-Tribune
CALIFORNIA CULTURE
Band aid: The irreverent Stanford band will be suspended through next spring after administrators found "a systemic cultural problem" in the student group that has "not been taken seriously by the band or its leadership." Los Angeles Times
Long drive: For a Stockton woman, driving for Uber changed her life in many ways, she says, for the better. But she still sleeps in her car when she's not driving people around. Vice
Dog video: The incredibly moving video of a dog offering one last goodbye to his owner at the hospital as the man was dying of a brain hemorrhage. Washington Post
Disney dispute: Some of Disneyland's neighbors don't like parts of the theme park's $1-billion expansions. They fear they will get negatives while others get the benefits. Orange County Register
Land of nod: Can Silicon Valley teach the world to sleep again? BuzzFeed News
CALIFORNIA ALMANAC
Los Angeles area: The week gets off to a cloudy start, with the likelihood of rain increasing toward Thursday; highs in the 60s. San Francisco and Sacramento: Cloudy with highs in the 50s, followed by rain on Tuesday.
AND FINALLY
This week's birthdays for notable Californians: gymnast-turned-actress Cathy Rigby (Dec. 12, 1952), Rep. Anna Eshoo (Dec. 13, 1942), L.A. City Councilman Curren D. Price Jr. (Dec. 16, 1950), Rep. Steve Knight (Dec. 17, 1966), baseball player Chase Utley (Dec. 17, 1978) and director Steven Spielberg (Dec. 18, 1946).
If you have a memory or story about the Golden State, share it with us. Send us an email to let us know what you love or fondly remember about our state. (Please keep your story to 100 words.)
Please let us know what we can do to make this newsletter more useful to you. Send comments, complaints and ideas to Shelby Grad.
---