Newsletter: Essential California: 'A tornado of fire' near Redding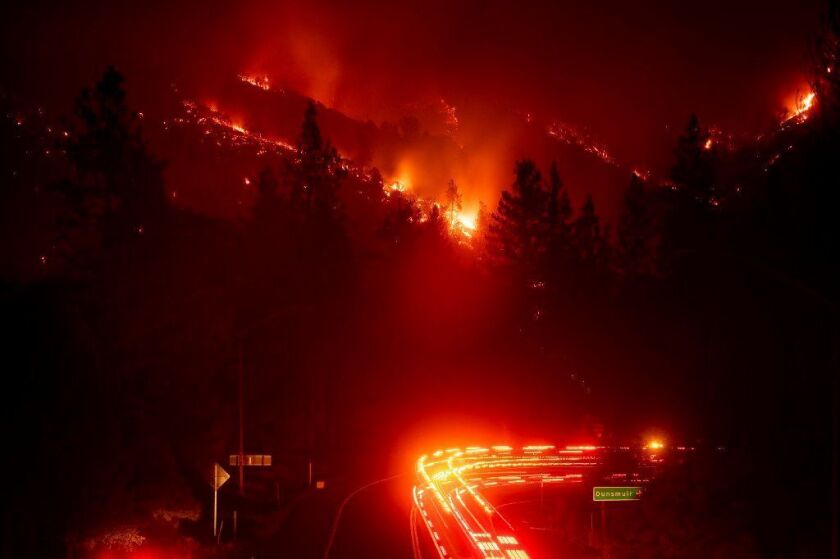 Good morning, and welcome to the Essential California newsletter. It's Friday, Sept. 7, and here's what's happening across California:
TOP STORIES
A fast-moving blaze north of Redding that closed a major highway indefinitely and forced the evacuation of several small mountain communities charred more than 15,000 acres in less than 24 hours, authorities said. By Thursday evening, it had scorched 22,000 acres and was 0% contained. "It was like a tornado of fire, and we were in the center of it," said one truck driver who was trapped on Interstate 5. Los Angeles Times
RIP
Burt Reynolds, who reigned as Hollywood's wisecracking, good ole-boy box-office champ in the late 1970s and early '80s in movies such as "Smokey and the Bandit" and "The Cannonball Run" and made pop-culture history as Cosmopolitan magazine's first nude male centerfold, has died. He was 82. For five years in a row — 1978 through 1982 — Reynolds was the No. 1 box-office star, in movies such as "Hooper," "Starting Over," "The End," "Sharky's Machine" and "The Best Little Whorehouse in Texas." Los Angeles Times
'Popular' is not so popular
Facing a backlash over its recent announcement of a new category for "best popular film," the Academy of Motion Picture Arts and Sciences said Thursday that it will not include the new award in the upcoming Oscars telecast and will "seek additional input" on how — or whether — to move forward with it. "There has been a wide range of reactions to the introduction of a new award, and we recognize the need for further discussion with our members," academy CEO Dawn Hudson said in a statement. Los Angeles Times
Get the Essential California newsletter »
L.A. STORIES
Remember that hack: The Justice Department has charged a North Korean national in the 2014 computer hack of Sony Pictures Entertainment and a massive ransomware assault that infected hundreds of thousands of computers across the globe. Los Angeles Times
Scoop: Twentieth Century Fox pulled a scene from "The Predator" after director Shane Black put his friend, who is a registered sex offender, in the movie. Los Angeles Times
On the stump: Statements about immigrants and the Holocaust have tripped up John Cox's campaign for California governor. Los Angeles Times
Mapping it out: Scientology's impressive L.A. real estate empire. Curbed LA
IMMIGRATION AND THE BORDER
The Flores agreement: The Trump administration filed papers Thursday saying it wants to modify a landmark agreement that limits the detention of immigrant children. The move comes two months after a federal judge in Los Angeles rejected the White House's attempt to indefinitely detain immigrant children caught crossing the border illegally with their parents. Los Angeles Times
POLITICS AND GOVERNMENT
The big picture: Trump's first midterm pits a booming economy against one of history's most unpopular presidents. Los Angeles Times
Plus: Will California flip the House? The key races to watch. Los Angeles Times
Impact! A political action committee created by L.A. Mayor Eric Garcetti will reimburse the city for the travel costs of the mayor's security team on political trips, a Garcetti advisor said Wednesday. Los Angeles Times
Dispute: The California Occupational Safety and Health Administration in March cited Disneyland and fined it more than $33,000 for failing to properly clean cooling equipment linked to a Legionnaires' disease outbreak last year and for other related violations. Disneyland officials said the source of the outbreak could have been elsewhere in Anaheim and have appealed the citation. Los Angeles Times
Nice: California just forced equal pay for female surfers. Could that change other games? CALmatters
CRIME AND COURTS
Another suit: California Atty. Gen. Xavier Becerra has filed a lawsuit against the Trump administration, alleging that the federal government violated the Clean Water Act by allowing, in recent years, millions of gallons of raw sewage, heavy metals and other contamination to routinely spill from Tijuana into San Diego. Los Angeles Times
Looking for help: The United States is turning to China for help fighting the opioid epidemic. BuzzFeed
Now that marijuana is legal: California's illegal weed industry is doing better than ever. Vice News
THE ENVIRONMENT
Tragic death: A teenager visiting Yosemite National Park from Jerusalem plunged to his death this week while reportedly trying to take a selfie at the park's popular Nevada Fall. Los Angeles Times
Historical perspective: "As another deadly fire season grips the state, here's a look back at what ignited some of the most devastating disasters of the past 30 years." San Francisco Chronicle
Plus: "Residents and business owners have filed more than $845 million in insurance claims as a result of this summer's Carr and Mendocino Complex wildfires, the first data on what's likely to be massive bill from a series of fires that have hit the state this year." Mercury News
CALIFORNIA CULTURE
Mending fences: CBS Corp. board members and controlling shareholder Shari Redstone have engaged in on-again, off-again settlement talks in recent weeks to resolve a nasty legal dispute and pave the way for the departure of longtime Chief Executive Leslie Moonves, according to several knowledgeable people. Los Angeles Times
At the cinema: Alfonso Cuarón delves into his childhood for "Roma" and already talk turns to Oscars. Los Angeles Times
What if?! The Rams offered a package for Khalil Mack, but the Raiders believed the draft pick would be too low in 2019. Los Angeles Times
Happy new year! "Why you might see soggy bread on the beach on Rosh Hashanah." LAist
Interesting question: "Can the 'Murphy Brown' reboot succeed amid the media chaos of 2018?" Vanity Fair
CALIFORNIA ALMANAC
Los Angeles area: partly cloudy, 83, Friday; sunny, 89, Saturday. San Diego: partly cloudy, 79, Friday; sunny, 86, Saturday. San Francisco area: sunny, 66, Friday; sunny, 70, Saturday. San Jose: sunny, 84, Friday; sunny, 83, Saturday. Sacramento: sunny, 96, Friday; sunny, 93, Saturday. More weather is here.
AND FINALLY
Today's California memory comes from Douglas Girard:
"Ah, the '60s … high school punks in the suburbs of Sacramento. I would tell my dad I was sleeping at my buddy's house, he would tell his dad the same; and off to San Francisco we would go, to catch a show at the Avalon Ballroom or Fillmore West. Memorable musical memories? How about Elton John when he was the opening act for the Kinks and it cost $3 to get in! How about Peter Frampton as the opener, with Loggins & Messina to follow, and Johnny Winter to close! The Allman Brothers prior to Duane's and bassist Berry Oakley's deaths. B.B. King at the Circle Star Theatre. Gladys Knight & the Pips too. And, so many more: Cream, Jimi Hendrix, Jethro Tull, Quicksilver Messenger Service. Man, those were good times; there was promise in the air, carried forth by sublime musical notes, all taken in by young minds searching for adventure. Adventure will always be a thing to pursue. My next California story would be about those magical Sierra Nevada mountains."
If you have a memory or story about the Golden State, share it with us. Send us an email to let us know what you love or fondly remember about our state. (Please keep your story to 100 words.)
Please let us know what we can do to make this newsletter more useful to you. Send comments, complaints and ideas to Benjamin Oreskes and Shelby Grad. Also follow them on Twitter @boreskes and @shelbygrad.
---