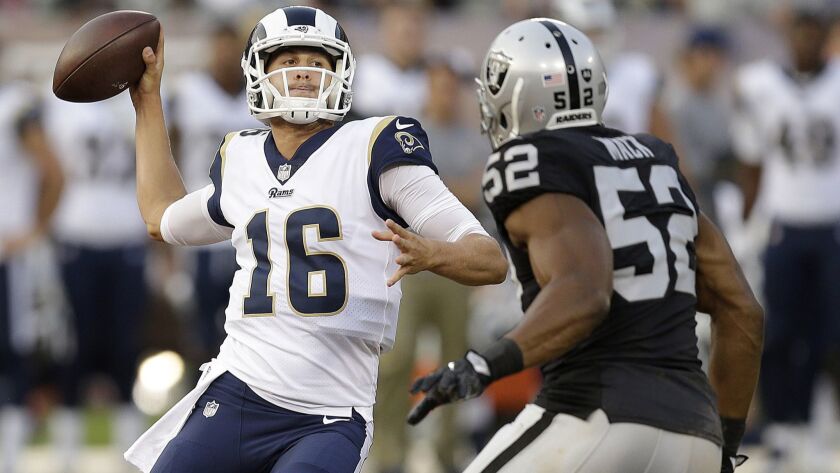 The Rams defense is a star-laden unit that features defensive linemen Aaron Donald and Ndamukong Suh among others.
And as they prepared for Monday night's season opener against the Oakland Raiders, the Rams were working last week to add another piece: Khalil Mack.
Kevin Demoff, the Rams' executive vice president of football operations, said Wednesday that the Rams made inquiries with the Raiders about trading for Mack, the star outside linebacker who was dealt to the Chicago Bears on Saturday for two first-round draft picks, a third-round pick and a sixth-round pick.
Demoff declined to specify what the Rams offered the Raiders for the 2016 NFL defensive player of the year, who signed a $141-million extension with the Bears the day after Donald signed a $135-million extension with the Rams.
"We offered a pretty aggressive package and they came back and said, 'We just think you're going to pick too low,' " Demoff said about the Rams' potential pick in the 2019 draft.
The Raiders also might have been wary of facing Mack in the season opener before a fan base angry about the team's decision to trade a star who had held out for an extension.
The Rams finished 11-5 last season. They had the No. 23 pick in the 2018 draft before trading it to the New England Patriots for receiver Brandin Cooks.
The Rams are regarded as one of the Super Bowl favorites. A deep run into the playoffs might leave them picking in the high 20s or 30s in the first round of the 2019 draft.
Raiders coach Jon Gruden, in his second stint with the franchise, said trading Mack and "everything we do here" was for the "betterment" of the Raiders.
"No decisions are ever easy — that was a tough one," Gruden said during a teleconference with reporters. "We didn't want to lose him, but we had our reasons."
Gruden coached the Raiders from 1998 to 2001. He is coaching for the first time since he was fired by the Tampa Bay Buccaneers after the 2008 season.
"We've got to turn this team around," Gruden said. "We've got to get this team built back to where we can compete for championships.
"It was that way in 1998 and it's that way 20 years later. We've got to put this train back on the track and we've tried to assemble the right guys to get us started. We'll see where we are on Monday night."
Etc.
The Rams waived safety Isaiah Johnson, who had moved from the practice squad to the roster several times since signing with the team as an undrafted free agent in 2016. … The Rams resume practice Thursday.
Follow Gary Klein on Twitter @latimesklein
---