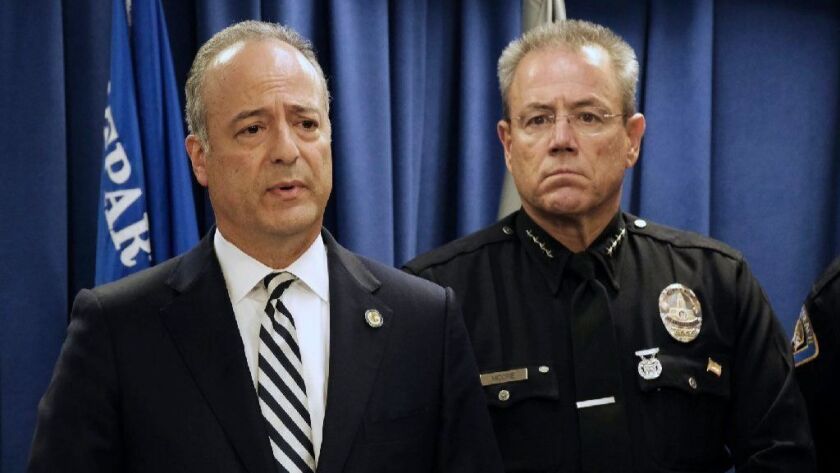 Good morning, and welcome to the Essential California newsletter. It's Tuesday, April 30, and I'm writing from Los Angeles.
Yesterday, we shelved a planned welcome letter for a dispatch from Poway, Calif., but I still wanted to take a quick moment to introduce myself and tell you a little about my plans for the newsletter.
I'm thrilled to be joining the Los Angeles Times and even more excited to get to tell California stories every day. I was born here and have spent the better part of my life studying, exploring and writing about the state in various capacities. I was previously the editor in chief of LAist, a scrappy local website, and have written for most of the local papers in L.A. County.
California, as they say, is where the future happens first. The state has led the nation on everything from air pollution standards to paid family leave, to say nothing of our now prophetic penchant for electing celebrity chief executives. This is where culture is created and exported to the rest of the world. It's also the world's fifth-largest economy, and home to nearly 40 million people — believe it or not, there are more Californians than Canadians.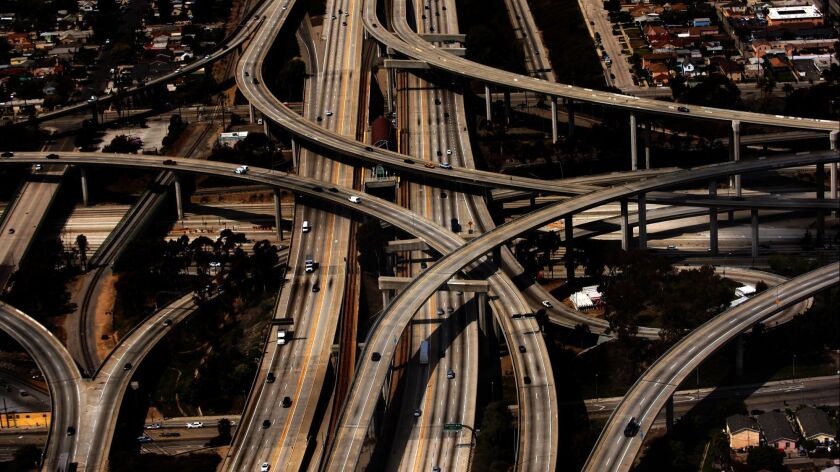 One could argue that there is nowhere more interesting in the world. California, as the late historian (and my former professor) Kevin Starr put it, is "either utopia or dystopia, a dream or nightmare, a hope or a broken promise — and too infrequently anything in between."
We're most interested in that in-between, where myth meets reality and most Californians do their daily living.
You may notice a few changes in this newsletter over the coming weeks. We'll strive to bring you more original reporting, more context in our aggregated links and a few new recurring features, like a weekly recommendation from across the state.
You'll also occasionally see a dateline at the top of the newsletter: When major news breaks in California, we'll be there, giving readers a behind-the-curtain look at what's going on. We'll also be sporadically setting up shop in different counties around the state for a few days at a time, engaging with readers and trying to bring you different, specific pieces of the California story.
And now, here's what's happening across the state:
TOP STORIES
A domestic terror plot aimed at "multiple targets" in Southern California was thwarted by federal and local law enforcement agencies, as revealed to the public on Monday. Authorities say a U.S. Army veteran who wanted revenge for attacks on Muslims around the globe had planned to detonate a bomb at a Long Beach rally over the weekend before he was intercepted by law enforcement officials.
The news came just two days after a lethal shooting at a Southern California synagogue, and less than a week after a driver in Northern California intentionally smashed his car into a group of pedestrians while allegedly targeting a family he believed to be Muslim. Los Angeles Times
Filmmaker John Singleton has died at 51, 13 days after suffering a stroke. Few captured the Los Angeles experience — and, more specifically, life on the streets of South L.A. — more powerfully than Singleton, who wrote his 1991 debut film, "Boyz n the Hood," during a few short weeks while he was a senior at USC. Los Angeles Times
(See also: IndieWire's piece on how Singleton made history as the African American nominated for a best directing Academy Award, and broke down barriers for other black filmmakers.)
The chief of San Francisco's troubled Muni system will step down in August after a series of recent mishaps for the transit agency, including a 10-hour meltdown that choked the city on Friday. San Francisco Chronicle
Your support helps us deliver the news that matters most. Subscribe to the Los Angeles Times.
L.A. STORIES
Mayor Eric Garcetti's "Green New Deal" plan for L.A. was unveiled Monday. The sweeping sustainability plan imagines a city where 80% of cars run on electricity or zero-emission fuel and 80% of the electricity comes from renewable sources by the mid-2030s. "Even though Garcetti won't be able to do all this stuff himself, I think the plan is pretty significant," energy reporter Sammy Roth, who wrote the story, told me.
"These are some of the most ambitious climate goals I've seen from a big city, especially on transportation and zero-emission buildings," he continued. Of course, none of that matters if we don't meet the goals, "but California as a whole has a good track record of setting aggressive climate targets and following through," Roth said. Los Angeles Times
William "Rick" Singer is at the center of the college admissions scandal as the admitted mastermind of brazen schemes to get children of the rich and powerful into top universities. Interviews with people who partnered with Singer and internal documents reviewed by The Times show he harbored ambitions for businesses that went far beyond college admissions. Los Angeles Times
On the 27th anniversary of the start of the L.A. riots, Rodney King's daughter is fighting to keep his memory alive and cement a different kind of legacy for her father. Los Angeles Times
POLITICS AND GOVERNMENT
After the deadly Poway synagogue shooting, Gov. Gavin Newsom has proposed to significantly increase funds for security at synagogues, mosques and other religious institutions in California that face threats of hate-motivated violence. Los Angeles Times
The California Democratic Party has been hit with a third lawsuit alleging misconduct by former chairman Eric Bauman. Los Angeles Times
CRIME AND COURTS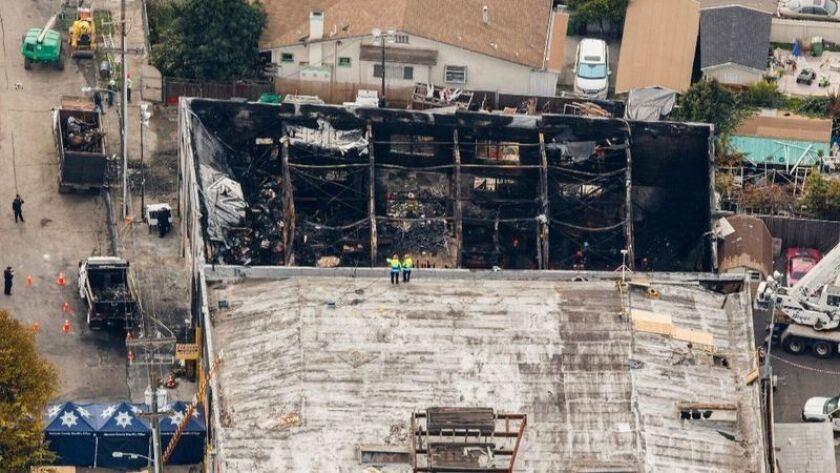 The Ghost Ship warehouse fire trial is set to finally begin, with opening statements on Tuesday. Derick Almena, 49, and Max Harris, 29, are each facing 36 counts of involuntary manslaughter stemming from the deadly Oakland blaze two and a half years ago. East Bay Times
(See also: "He Helped Build an Artists' Utopia. Now He Faces Trial for 36 Deaths," Elizabeth Weil's haunting New York Times Magazine profile of Max Harris from December.)
CALIFORNIA CULTURE
In the Bay Area's intensifying housing crisis, even politicians aren't safe from displacement. A councilman in Silicon Valley was recently evicted from his rental home. San Jose Spotlight
The Writers Guild of America West has released its first-ever inclusion report card and, suffice it to say, the results are not great. Stunningly bad might be a better way of putting it, though that categorization would also require some measure of surprise about the lack of diversity in Hollywood. Here are the big takeaways from the TV data: 88% of showrunners are white, only 36% of staffed writers are women, and people of color make up a mere 27% of writers rooms. The Hollywood Reporter
Wolfgang Puck has inked a big new deal to open a slew of restaurants in a new West Hollywood hotel. Eater LA
Get the Essential California newsletter »
CALIFORNIA ALMANAC
Los Angeles: Morning clouds, afternoon sun. 65. San Diego: Morning showers, 66. San Francisco: Sunny, 59. San Jose: Partly cloudy, 69. Sacramento: Partly cloudy, 71. More weather is here.
AND FINALLY
Today's California memory comes from Joyce Stringer:
"I'm 75 years old. My parents took me to Lake Arrowhead when I was 6 or 7. In those days, the public was allowed to sit on the lake beach and swim in the lake. Today, lake access is only for residents. However, before the fires, and the restrictions, Lake Arrowhead was quaint and beautiful and special and full of trees and the most wonderful place my 6-year-old self had ever seen. Sixty years later, I returned to the lake and, although the town had grown and things had changed in many ways, I was still enchanted by its beauty."
If you have a memory or story about the Golden State, share it with us. (Please keep your story to 100 words.)
Please let us know what we can do to make this newsletter more useful to you. Send comments, complaints, ideas and unrelated book recommendations to Julia Wick. Follow her on Twitter @Sherlyholmes.
---