Newsletter: Essential California: In Poway, people of faith grapple with fear
Good morning, and welcome to the Essential California newsletter. It's Monday, April 29. I had planned a very different letter of introduction for my first newsletter. That was before the aftermath of a deadly hate crime brought me to Poway, Calif.
On Sunday morning, the Rev. Mark McKone-Sweet looked at the Rev. Mary Lynn Coulson just before their 8 a.m. service. He had concerns about the morning's planned Bible reading.
Less than 24 hours earlier, a gunman had opened fire in a Southern California synagogue a mile from their church, killing a 60-year-old woman and wounding three others, including Rabbi Yisroel Goldstein, who had founded Chabad of Poway more than three decades earlier.
The reading planned for that morning's service at St. Bartholomew's Episcopal Church, from the Book of John, included a passage about Jesus' disciples gathered together, with their doors locked "for fear of the Jews."
"I'm going to take that out of the reading. It's uncomfortable for me to say," Coulson recalled the fellow priest telling her. But Coulson told him to let the uncomfortable words remain. She planned to preach about them, not gloss over them.
Get the Essential California newsletter »
In the midst of tragedy and a national moment of growing extremism, she wanted her flock to clearly examine the troublesome, centuries-old phrasing in John 20:19-31.
"It's our responsibility to acknowledge that we stand in a tradition that has contributed to anti-Semitic ideas," Coulson told her congregation, while wearing a bright orange stole inspired by a gun violence awareness campaign over her white robes. "Ideas that have driven acts of violence and general hatred toward a certain group of people — toward Jewish people. Acts of violence that are clearly still real today."
All around Poway, people of faith are grappling with what happened and why. They are also grappling with fear.
Six months before Saturday's shooting, to the day, a gunman opened fire during Shabbat services in a Pittsburgh synagogue, killing 11 people in the deadliest act of anti-Semitic violence in modern U.S. history. In 2017, the Anti-Defamation League saw a 57% rise in anti-Semitic incidents over the previous year, the single largest jump since the civil rights group began tracking incidents four decades ago. Just a few months ago in Poway, a Jewish home was spray-painted with a swastika during Hanukkah.
From violent acts to conversational asides, ugly bursts of anti-Semitism are increasingly a part of American public life.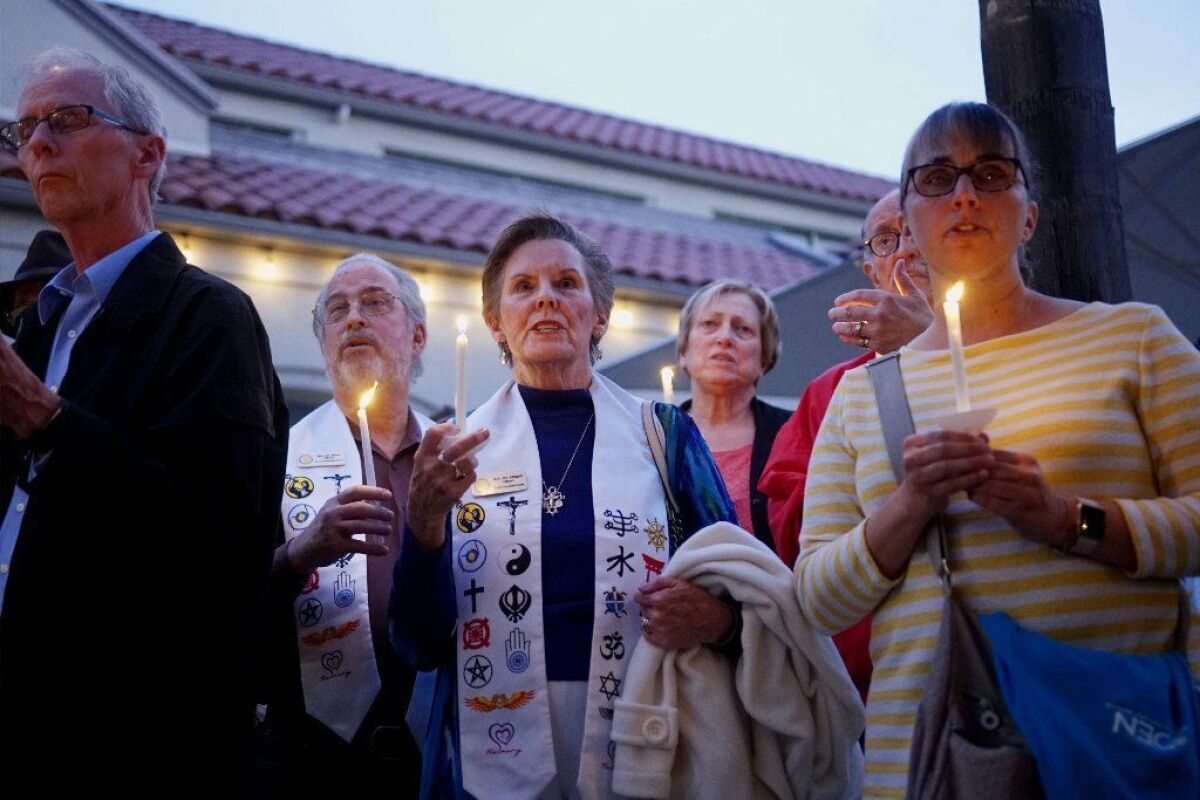 Less than eight hours after the shooting on Saturday, Susan Lipson, 57, had closed her eyes during a period of silent prayer at an interfaith vigil just down Rancho Bernardo Road from the Chabad.
"I thought about what a luxury it is to be able to close your eyes and feel total peace and know that someone is not going to run in and possibly shoot you," Lipson said as she stood amid hundreds of community members holding candles in a church courtyard.
Lipson attends Adat Shalom, a Reform Jewish synagogue that — along with the Chabad — is one of three Jewish congregations in Poway. "Last night, someone came in late to our services, and it immediately took me out," she said, describing how vulnerable she felt at Friday night services at her shul, even before the shooting.
She and her husband, Barry Lipson, 58, were eating scrambled eggs at their kitchen table when they heard the sound of bullets being fired on Saturday morning.
They immediately thought of the Chabad, just down the street from their house. Poway, where the children's book author and her ophthalmologist husband have lived for 29 years, is not a place where one typically hears the pop-pop-pop of gunfire. It is an affluent suburb, where red tile roofs peek out over the barrier walls that separate big, tree-lined boulevards from the cul-de-sacs. There are American flags and rose bushes and residential streets calm enough to keep your free-standing basketball hoop stationed at the edge of the driveway, ready for kids to play in the road. It is the safest city in San Diego County, a place with good people and good schools, according to residents. "We always thought we were so hidden back here," Lori Frank, the cantor at Adat Shalom, said of the suburb.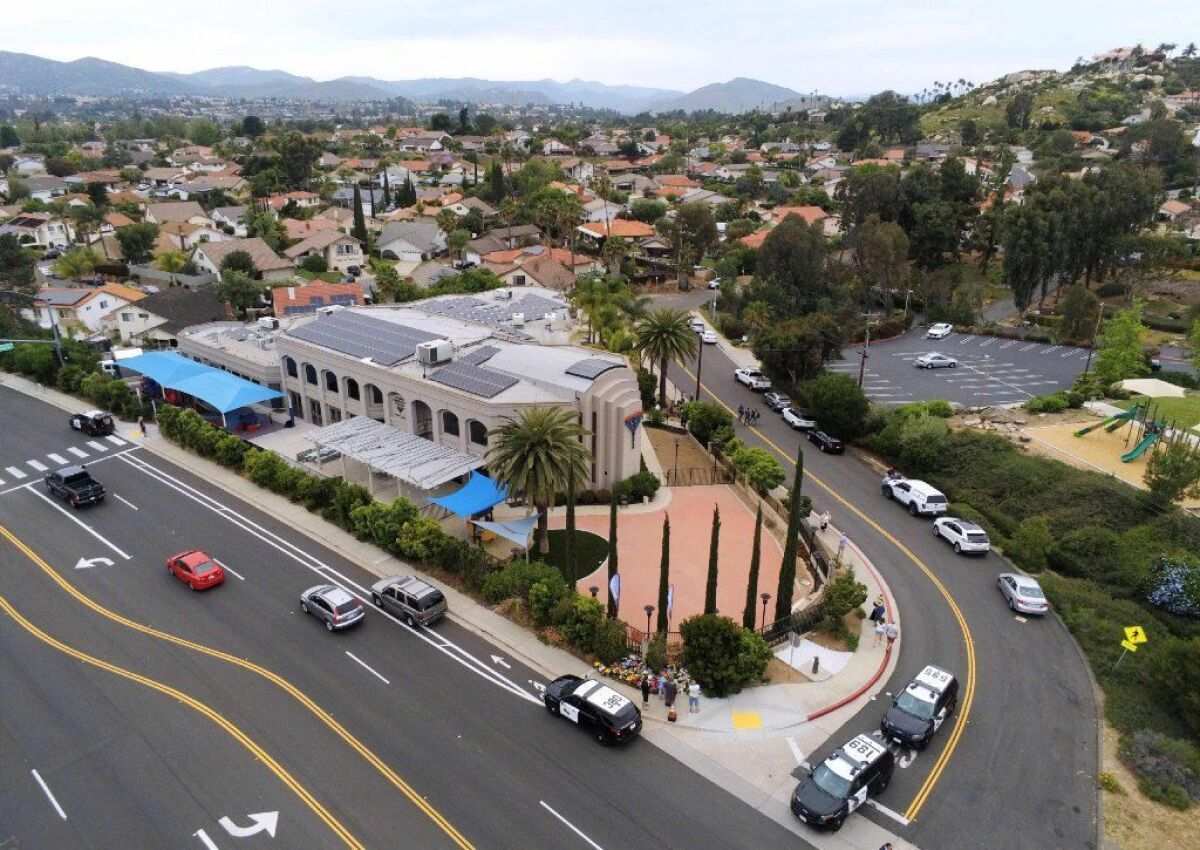 Poway is predominantly white, but it's a community where Kashifa Vellore, an 11-year-old wearing a white linen hijab printed with tiny gold pineapples, says she has rarely felt ostracized despite being the only girl in her sixth-grade class who wears a Muslim head covering. Members of other minority groups describe the suburb as welcoming and surprisingly diverse. It seemed like the last place for an act so hateful that soon the city's name will be synonymous with it.
Now, what should be sacred is imbued with fear. "It's kind of scary because our holy month of Ramadan is next month," Vellore said, anxious about what might happen.
Standing outside of Chabad of Poway with both hands bandaged on Sunday afternoon, Rabbi Yisroel Goldstein said that the support from so many other religious groups, across faiths, was "absolutely the warmest hug we could have ever gotten."
He urged Jews everywhere to attend services next weekend to show that terrorism will not prevail. "Let's fill up the synagogues," he said. "Let's stand tall. Let's dance together," he said.
More from Poway:
Chabad of Poway's Rabbi Yisroel Goldstein said he feared the gunman would target more people but "miraculously, the gun jammed." Los Angeles Times
Shooting victim Lori Gilbert-Kaye is remembered as a generous friend who was deeply protective of her faith. San Diego Union-Tribune
TOP STORIES
In a single year, nearly 1,200 Americans 18 and younger were victims of gun violence. At Palisades Charter High School, a small group of students wanted to do something about that rather than stand idly by. So they joined a nationwide team of young journalists documenting the violence, as columnist Steve Lopez explains. Los Angeles Times
How much have superhero movies taken over Hollywood? Consider this: "Avengers: Endgame" just became the first movie in history to surpass $1 billion in its opening weekend. Los Angeles Times
Your support helps us deliver the news that matters most. Subscribe to the Los Angeles Times.
L.A. STORIES
Many at the L.A. elementary school attended by Michael Jackson were disturbed by the molestation allegations made in "Finding Neverland." But they refused to remove his name from the school's auditorium, in part because the King of Pop can't defend himself. Los Angeles Times
"I miss Jonathan every day. It's like a phantom limb — I think he's still here." — Laurie Ochoa, accepting a posthumous James Beard award on behalf of her husband, the late Los Angeles Times restaurant critic Jonathan Gold. Los Angeles Times
IMMIGRATION AND THE BORDER
Two dueling groups of protesters with opposing views on immigration clashed in Orange County on Saturday. Five arrests were made. Orange County Register
POLITICS AND GOVERNMENT
L.A. City Councilman Curren Price has repeatedly cast votes that affected clients of his wife's consulting company. Los Angeles Times
CRIME AND COURTS
What do San Francisco police do with someone who might become a mass shooter one day? San Francisco Chronicle
CALIFORNIA CULTURE
A spectacular series of maps and data visualizations show how the Bay Area became so unaffordable, and how the housing crisis is transforming the region these families call home. Mercury News / East Bay Times
The strange story of what happened when SunMaid tried to market raisins to millennials. New York Times
Her high school counselor said she would not get into college. Now this Cal State Fresno senior has the last laugh, mailing the counselor an invitation to her graduation ceremony. Fresno Bee
More than 2,000 people traveled to Manzanar on Saturday during an annual pilgrimage to the wartime internment camp. Among the visitors were a sizable contingent of Japanese tourists, for whom Manzanar has become somewhat of an unlikely tourist destination. Los Angeles Times
CALIFORNIA ALMANAC
Los Angeles area: Cloudy, 66. San Diego: morning showers, 65. San Francisco area: Sunny, 63. San Jose: Sunny, 72. Sacramento: Sunny, 78. More weather is here.
AND FINALLY
Your unshaded eyes dilate at the spectacle. / You take trips to contain the mystery.
— Poet Al Young, writing about California
If you have a memory or story about the Golden State, share it with us. (Please keep your story to 100 words.)
Please let us know what we can do to make this newsletter more useful to you. Send comments, complaints, ideas and unrelated book recommendations to Julia Wick. Follow her on Twitter @Sherlyholmes.
The stories shaping California
Get up to speed with our Essential California newsletter, sent six days a week.
You may occasionally receive promotional content from the Los Angeles Times.