Newsletter: Today: Standing by Their Man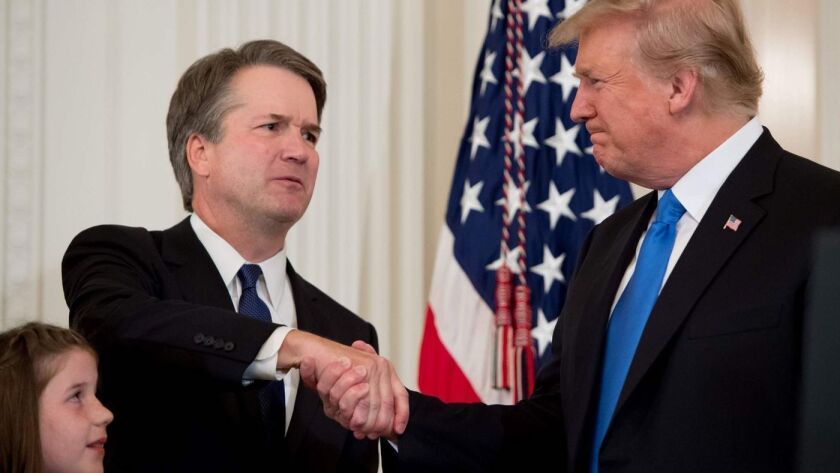 President Trump and members of the GOP are continuing their forceful defense of Supreme Court nominee Brett M. Kavanaugh.
TOP STORIES
Standing by Their Man
Supreme Court nominees don't usually give TV interviews during the confirmation process. But with President Trump continuing to stand by Brett M. Kavanaugh and disparaging the allegations by two women from the judge's past as "totally political," Kavanaugh and his wife appeared on Fox News to defend himself and ask for "a fair process." (Fair to whom? Columnist Robin Abcarian has some thoughts.) Meanwhile, as part of a Republican strategy to tamp down speculation surrounding Kavanaugh's viability, Senate Majority Leader Mitch McConnell vowed that the full Senate would vote to confirm him "in the near future."
Divining Rod's Fate
Deputy Atty. Gen. Rod Rosenstein was convinced he was about to be fired Monday, days after a report that he had suggested secretly recording Trump or finding a way to remove him from office last year. But Rosenstein, who has adamantly denied the report, wasn't fired and didn't quit. Instead, the White House said he will meet with Trump on Thursday, the same day as the Kavanaugh hearing. What happens if the man who supervises the high-stakes Russia investigation departs? It could open the door for Trump to eventually limit or end the probe.
The 'Terrific' Chairman Kim
What a difference a year makes. Last year, Trump mocked Kim Jong Un as "Rocket Man" during his address to the U.N. General Assembly. On Monday, the president lavished praise on the North Korean dictator and insisted nuclear talks are "making tremendous progress," despite signs they have stalled. Today, Trump will be back at the U.N. lectern and is expected to emphasize "American sovereignty" and denounce what one aide called Iran's "global torrent of destructive activity."
More Politics
-- As hefty additional tariffs went into effect, there was no sign of an end to the U.S.-China trade war.
-- Trump declared himself an "absolute no" on statehood for Puerto Rico as long as critics such as San Juan's mayor remain in office.
-- A federal judge cast doubt on a defamation claim that Stormy Daniels filed against Trump for a tweet questioning the credibility of the adult-film actress.
Cross-Campus Rivalry
In Boyle Heights, Sunrise Elementary and Excelencia Charter Academy are each trying to attract enough students to survive. It's a competition between a public school and a charter school made all the more fierce because they share the same campus. With enrollment in the L.A. Unified School District dropping, it's also a symbol of a larger struggle.
Sign up to get Today's Headlines delivered to your inbox. »
MUST-WATCH VIDEO
-- An outdoor dance club in post-hurricane Puerto Rico helps the healing: "A little beer. Some dancing. You get distracted."
CALIFORNIA
-- Backers of an initiative to repeal the gas-tax increase say they will also ask voters to approve a measure two years from now that would stop the state's high-speed rail project and provide funds to fix roads.
-- Fears over Santa Ana winds are running high as Southern California enters its most destructive fire season.
-- A man suspected of pummeling homeless men with a baseball bat in downtown L.A. last week, leaving two dead and a third critically injured, was captured by police in Santa Monica.
-- Attorneys and judges are scrambling to finalize a flood of accelerated divorces prompted by new federal tax laws.
HOLLYWOOD AND THE ARTS
-- The drama "New Amsterdam" and the Ken Burns documentary "The Mayo Clinic: Faith – Hope – Science" are two new TV shows that spend some time in the hospital.
-- From 125th Street in Harlem, Thelma Golden, director of the Studio Museum, has changed the face of art all over the U.S.
-- The performance piece "Nightwalk in the Chinese Garden" is a nocturnal journey at the Huntington that blurs the line between reality and illusion.
-- A 50th anniversary remix of the Beatles' "White Album" and an expanded box set are coming out Nov. 9.
CLASSIC HOLLYWOOD
Christopher Reeve became a household name playing the Man of Steel in the 1970s and 1980s "Superman" movies. He rose to even greater fame as an advocate for the disabled after he was paralyzed from the neck down in a 1995 horseback riding accident. Reeve was born on this date in 1952 and died in 2004.
NATION-WORLD
-- Ten days after Florence came ashore, rivers in South Carolina are still rising and thousands more people were told to be ready to evacuate.
-- Bill Cosby is expected to be sentenced today. Prosecutors have argued he deserves up to 10 years in prison.
-- A white police officer accused of fatally shooting her black neighbor in his own Dallas apartment has been dismissed.
-- The authoritarian leader of the Maldives, whose eager embrace of Chinese loans threatened to sink his island nation in debt, has conceded election defeat.
BUSINESS
-- The founders of Instagram have announced in a surprise move they are leaving Facebook Inc. "to explore our curiosity and creativity again."
-- With Charlie Rose and "60 Minutes" executive producer Jeff Fager gone, CBS News is trying to repair the damage from its sexual harassment scandals.
SPORTS
-- LeBron James' first public appearance in a Lakers uniform was exciting, columnist Bill Plaschke writes, to everyone but LeBron.
-- The Dodgers rallied in the seventh inning of last night's game against the Arizona Diamondbacks to move one game closer to the postseason.
OPINION
-- From The Times' Editorial Board: Delay Kavanaugh's hearing while the FBI investigates the allegations against him. From columnist Jonah Goldberg: The hearing has become a "witch hunt."
-- The Screen Time app is a good start to curbing our smartphone addiction, but Apple needs to do more.
WHAT OUR EDITORS ARE READING
-- Russia is now the world's wheat king. (Wall Street Journal)
-- Time for a maximum wage for CEOs? This academic makes the case. (Aeon)
-- In search of the perfect sentence, with help from some celebrated writers. (The Guardian)
ONLY IN L.A.
For 621 hours this summer, L.A. artist EJ Hill stood quietly on a winner's podium inside a gallery at the Hammer Museum — for every hour the museum was open. Some visitors were moved to tears at the sight of him in his installation titled "Excellentia, Mollitia, Victoria." Others, not so much. "One older couple came in and the guy was like, 'Do you get it?' and she's like, 'No!' So they leave," he recalls. "They were there for like 10 seconds max. That was so funny to me."
If you like this newsletter, please share it with friends. Comments or ideas? Email us at headlines@latimes.com.
---