Burt Bacharach, songwriter who was 'synonym for pop-music success,' dies at 94
(John Salangsang / Associated Press)
(Luca Bruno / Associated Press)
(Michael Montfort/Getty Images)
(Paul Morse/Los Angeles Times)
(Alejandro Tamayo/San Diego Union-Tribune)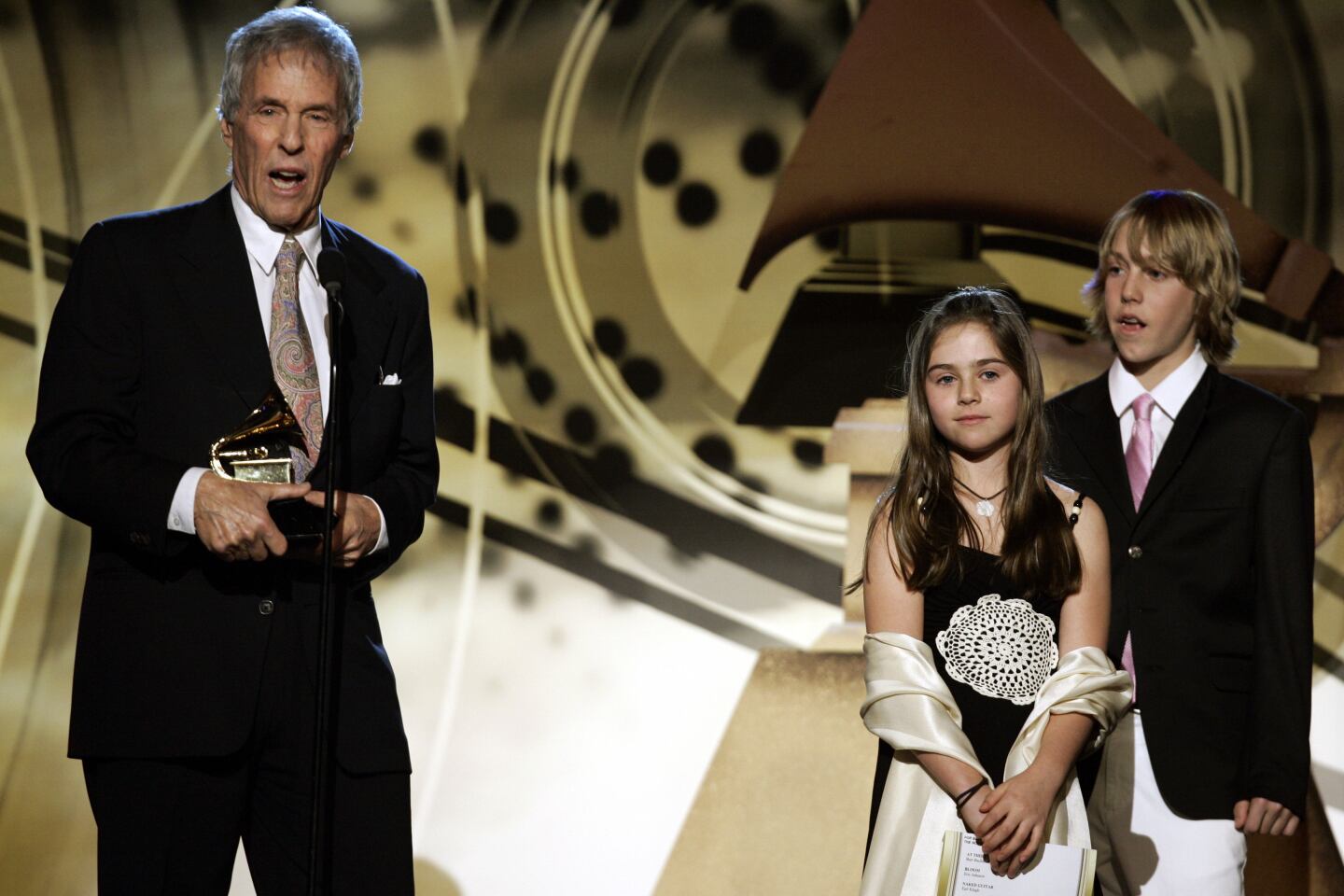 (Timothy A. Clary/AFP/Getty Images)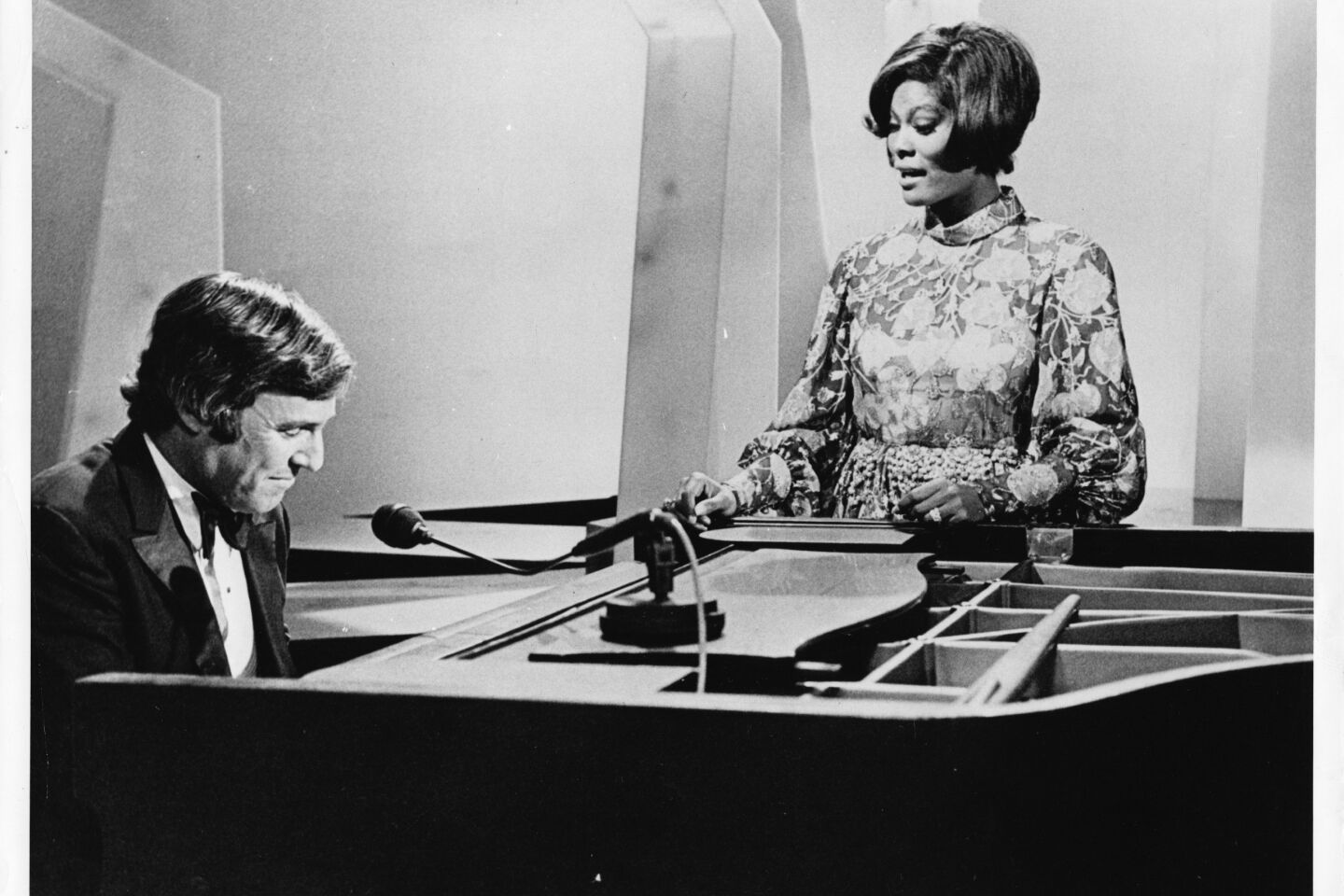 (Gilles Petard / Redferns)
At the Brill Building, the legendary songwriters' mecca on Broadway in New York City, composer Burt Bacharach first teamed with lyricist Hal David in 1956. Over the next decade, the two helped define the broad reaches of popular music with a run of hit songs that poured from the radio, added depth and emotion to films and evoked memories with listeners.
Through their collaboration, Bacharach emerged as a commanding figure in popular music as a composer, arranger and record producer whose musically sophisticated songs had cross-generational appeal.
A multiple Grammy and Oscar winner, Bacharach died of natural causes Wednesday at home in Los Angeles with his family by his side, his publicist Tina Brausam confirmed to The Times on Thursday.
"Burt Bacharach. The very name is a synonym for pop-music success in the 1960s," wrote Leonard Feather, The Times' former jazz critic.
Composer Paul Williams said Bacharach set a high bar for songwriters like himself.
"It was complex, yet elegant — a combination that produced hit after hit. The iconic songs he wrote with lyricist Hal David and others are an indelible part of our culture."
From swinging '60s sophistication to proto-yacht-rock to adult-contemporary elegance, the Bacharach songbook is sui generis in the annals of popular music.
The beneficiaries of the Bacharach-David partnership were simply staggering: Gene Pitney ("Only Love Can Break a Heart," "Twenty Four Hours From Tulsa"), Jerry Butler ("Make It Easy on Yourself"), Bobby Vinton ("Blue on Blue"), Jack Jones ("Wives and Lovers"), Tom Jones ("What's New, Pussycat?"), Dusty Springfield ("The Look of Love," "Wishin' and Hopin'"), Herb Alpert ("This Guy's in Love With You"), Jackie DeShannon ("What the World Needs Now Is Love") and B.J. Thomas ("Raindrops Keep Falling on My Head"), among others.
But Bacharach and David are most closely associated with Dionne Warwick, a talented young backup singer whom they initially enlisted to sing on their demo records.
Legendary songwriter Burt Bacharach just signed a new publishing deal.
Beginning with "Don't Make Me Over" in late 1962, Warwick scored with a slew of Bacharach-David songs, including "Walk on By," "You'll Never Get to Heaven (If You Break My Heart)," "Anyone Who Had a Heart," "I Say a Little Prayer," "Do You Know the Way to San Jose," "Alfie," "Promises, Promises," "I'll Never Fall in Love Again," "Message to Michael" and "Trains and Boats and Planes."
"We were lucky," Bacharach told the Chicago Tribune in 1987. "It was a case of all the right people in the right place at the right time. Hal and I found the perfect partnership, and Dionne was the perfect voice for our songs."
Singer and music historian Michael Feinstein told The Times in 2011 that Bacharach and David were "absolutely the greatest songwriters of their generation," standing shoulder to shoulder with the most treasured American composers.
Music historian and journalist Paul Grein said Bacharach, the winner of three Oscars and six Grammys, was "one of the greatest composers in pop music history." (Bacharach was also given the Recording Academy's 2008 Lifetime Achievement Award, the 1997 Grammys Trustees Award and was presented with the Gershwin Prize by President Obama.)
Bacharach and David "are, in some ways, the bridge between the Great American Songbook writers from the 1930s and the contemporary writers from the rock era," Grein said.
And in the 1960s, when there were two distinct markets — "music for kids and music for adults" — Bacharach and David uniquely appealed to both, Grein said.
Unlike most songwriters who are not recognized in public, Bacharach became a well-known performer and recording artist in his own right.
As a piano-playing singer, he appeared in sold-out concerts and starred in his own TV specials, including the Emmy Award-winning "Singer Presents Burt Bacharach" in 1971.
"He was not a great singer, but he was a charming performer," Feinstein said. "He knew how to put an entertaining show together. With backup singers, great orchestration, it was a great theatrical show. So he compensated for his own vocal shortcomings by creating a very entertaining, musically rich concert."
The boyishly handsome Bacharach, whose aura of glamour benefited from his 1965 marriage to actress Angie Dickinson, continued to tour in concert well into his later years.
During their '60s heyday, Bacharach and David also worked in film and shared Academy Award nominations for the title songs "What's New, Pussycat?" and "Alfie" and for the song "The Look of Love" from "Casino Royale."
In 1970, Bacharach won an Oscar for his score for "Butch Cassidy and the Sundance Kid," shared another with David for their hit song from that film, "Raindrops Keep Falling on My Head," and won a third for "Best That You Can Do" from the 1981 Dudley Moore comedy "Arthur."
The duo also worked on Broadway, writing the music and lyrics for "Promises, Promises," the long-running 1968 hit musical comedy whose book was written by Neil Simon.
In 1970, the Carpenters scored a No. 1 hit with Bacharach and David's "(They Long to Be) Close to You" and the 5th Dimension had a No. 2 hit with "One Less Bell to Answer."
But the celebrated songwriting team broke up after collaborating on the 1973 musical remake of "Lost Horizon."
After that critically drubbed box-office failure, Bacharach recalled in a 2003 Associated Press interview, "I didn't want to write with Hal or anybody. It became a problem because we had a commitment to record Dionne for her next album. I didn't feel like doing it, and that's wrong.
"Dionne didn't get recorded, and she sued us. And Hal, to protect himself, sued me. It was just ugly and stupid on my part."
The lawsuits were settled and all three later reunited. David died at 91 in 2012.
In partnership with Kacey Musgraves' producer Daniel Tashian, the legendary songwriter is releasing his first new music in 15 years.
Bacharach's post-David collaborators included lyricist Carole Bayer Sager, whom he married in 1982 after he and Dickinson divorced.
Among Bacharach and Sager's hits are the Oscar-winning "Best That You Can Do," which they co-wrote with Christopher Cross and Peter Allen for "Arthur."
The couple also wrote "That's What Friends Are For," a 1982 song for the film "Night Shift" that was introduced by Rod Stewart. A 1985 cover version of the song recorded by Warwick and "Friends" — Elton John, Gladys Knight and Stevie Wonder — benefited the American Foundation for AIDS Research and became a No. 1 hit.
"Burt Bacharach was one of the greatest songwriters of our time, a true legend," Sager said in a statement to The Times. "The originality of his rhythms, the greatness of his melodies are brilliant and unique. It was an honor for me to write the songs I did with Burt."
Bacharach and Sager, who later divorced, also wrote the 1982 single "Heartlight" with Neil Diamond, and they collaborated with Bruce Roberts on "Making Love," the title track of the 1982 film, which became a hit for Roberta Flack.
Bacharach, who by then owned a stable of racehorses, underwent a renaissance in the 1990s, a time in which the hit movie "My Best Friend's Wedding" featured a rousing rendition of "I Say a Little Prayer" in a restaurant scene.
He also teamed with singer-songwriter Elvis Costello on the 1998 album "Painted From Memory," which resulted in the duo winning the Grammy for pop collaboration with vocals for their song "I Still Have That Other Girl." A box set, "The Songs of Bacharach & Costello," is due to be released March 3.
In "Austin Powers: International Man of Mystery" in 1997, Bacharach made the first of three cameo appearances in actor-comedian Mike Myers' 1960s spy-movie spoofs.
An only child, Burt Freeman Bacharach was born May 12, 1928, in Kansas City, Mo. His father, Bert, was a department store clothing buyer who later became a syndicated newspaper columnist; his mother, Irma, was a painter and occasional songwriter.
In 1932, the family moved to Kew Gardens in Queens, N.Y., where Burt began taking piano lessons in elementary school.
"People always think I was this child prodigy on the piano, that I just couldn't wait to sit down and practice," Bacharach said. "But you want to know the truth? I hated it. In fact, I only did it to please my mother. She was the one who encouraged me."
In high school, Bacharach and some friends formed a 10-piece band that played at parties and local dances.
After graduating from Forest Hills High School, he studied music at McGill University in Montreal. He later studied under French classical composer Darius Milhaud at the Mannes School of Music in New York.
After a stint in the Army, Bacharach played piano in nightclubs in and around New York and became an accompanist and arranger for singers such as Vic Damone, the Ames Brothers, Polly Bergen and Paula Stewart, who became his first wife in 1953.
After he turned to songwriting, Bacharach and David had their first hit together in 1957 with Marty Robbins' recording of "The Story of My Life," which was followed by a 1958 hit for Perry Como, "Magic Moments."
Before he and David began writing songs together exclusively, Bacharach teamed with other lyricists, including Bob Hilliard ("Any Day Now," "Tower of Strength") and David's brother Mack and Barney Williams ("Baby, It's You").
For a few years beginning in 1958, Bacharach also toured with legendary German-born actress and singer Marlene Dietrich as her conductor, arranger and pianist.
"We traveled the world together," he told the Times of London in 2000. "And though she could be hard on those who worked for her, she was very generous to me."
Though his songs helped form the soundtrack of a tumultuous era, Bacharach's music was largely apolitical until late in life, when his songs began touching on school shootings, the 9/11 terror attack and racial intolerance. He said as he looked backward, he realized that some of his earlier songs — "What the World Needs Now" and "The Windows of the World," to name two — were likely a response to the Vietnam War.
In 2016, Bacharach wrote "Dancing With Your Shadow," a tribute to his daughter Nikki, who struggled with Asperger's syndrome and took her own life in 2007. The song was recorded by Sheryl Crow. That same year, Bacharach scored the soundtrack of the award-winning film "A Boy Called Po," the story of an overworked father trying to care for a son who has autism.
In 2018, Bacharach and Cuban musician Rudy Perez wrote and recorded "Live to See Another Day," which raised money for the Sandy Hook Promise, a nonprofit that works to protect children from gun violence. The next year, he released "Blue Umbrella," a five-song collaboration with Grammy-winning writer Daniel Tashian.
His projects with Tashian and Steven Sater earned him additional Grammy nominations in 2021 and 2022, respectively.
Bacharach is survived by his fourth wife, Jane Hansen, and their children, Oliver and Raleigh, and son Cristopher from his marriage to Sager.
McLellan is a former Times staff writer.
Get our L.A. Goes Out newsletter, with the week's best events, to help you explore and experience our city.
You may occasionally receive promotional content from the Los Angeles Times.