6 Images
'Idol' super achievers
Simon Cowell
Simon Cowell has his fingers in a seemingly endless stream of pots filled with gold. In addition to playing bad cop judge on "American Idol" he continues to work as an A&R rep for Sony BMG in the UK, and is an executive producer of "American Inventor," "Celebrity Duets, " and "America's Got Talent" in the US. In the UK he produces and judges on "The X Factor," and he was the brains behind and executive producer of "Grease is the Word" the search to find the next stars of the musical "Grease." He also put together the international best selling recording group Il Divo (three opera singers and a pop star) as well as a little kid version of the same called Angelis.
(Michael Buckner / Getty Images)
Nigel Lythgoe
The executive producer of "American Idol" and the original mean judge, Lythgoe will be working on this year's 59th Annual Emmy's. He's president of 19 Entertainment, the production company founded by Simon Fuller and while working on "Idol" has also managed to judge and produce the Fox show "So You Think You Can Dance."
(Frederick M. Brown / Getty Images)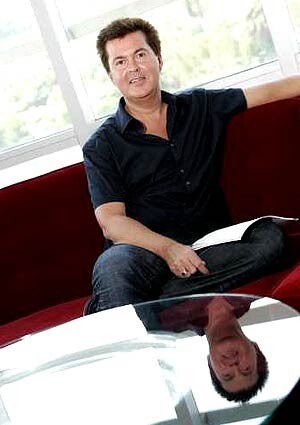 Simon Fuller
Former A&R executive and manager of The Spice Girls, Fuller Created the "Idol" franchise in England in 2001(calling it "Pop Idol") and is currently attached to 50 other versions of the show including "Australian Idol," "Malaysian Idol," and "World Idol." He recently finished developing a pilot for Fox called "Born in the USA," based on the British hit "East Enders," and he's currently developing a show for HBO based on another English fave, "Little Britain." As of last year he was also developing a fashion show starring Victoria Beckham.
(Bryan Chan / LAT)
Ryan Seacrest
This God/workhorse of a man is the host of the KIIS Radio Show "On Air With Ryan Seacrest," the co-host of "Dick Clark's New Year's Rocking Eve," an occasional guest host for "Larry King Live," a host and producer on "E!" the host of Casey Kasem's former radio show "American Top 40," and of course, the host of "American Idol." Seacrest helps produce all that stuff too as well as owning a stake in most of it.
(Frederick M. Brown / Getty Images)
Ken Warwick
Another British member of the "Idol" super team, Warwick, left, with Nigel Lythgoe, produces "America's Got Talent" and will be executive producing the 59th Emmy Awards in addition to his duties as executive producer of "American Idol."
(Frederick M. Brown / Getty Images)