Op-Ed: One reason for the high cost of housing in California may surprise you — overregulation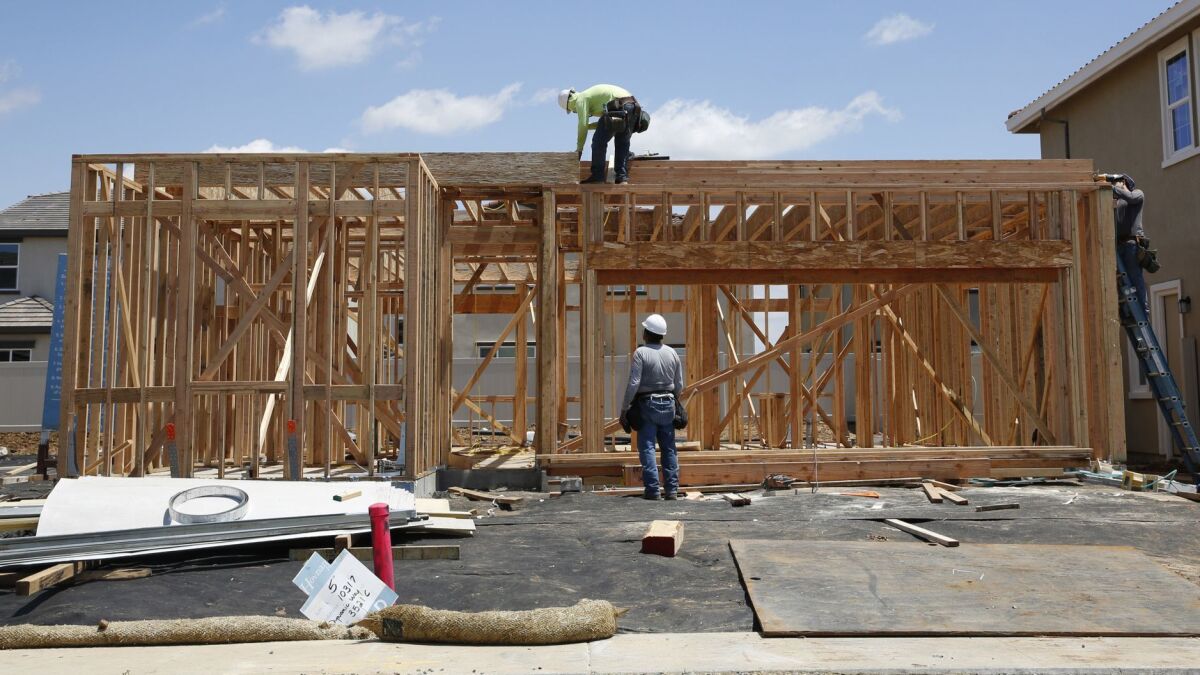 Shocking almost no one, nine of the 15 most expensive metropolitan areas in the United States are in California, according to the Bureau of Economic Analysis. But one major reason for this may surprise you: The state has an overregulation problem that's contributing to the housing affordability crisis.
In response to this crisis, Gov. Gavin Newsom announced a plan to build 3.5 million new homes by 2025, and state legislators introduced several high-profile housing reform bills in the 2019 legislative session. SB 50, kicked to the 2020 session, would have preempted some local land use regulations that block new housing construction, and AB 1482 is an anti-rent-gouging bill that's been watered down from its original form. These efforts have fallen short of housing activists' hopes.
The sponsors of SB 50 seem to recognize that the state's housing problems are at least partially man-made. Indeed, California is a leader in regulating just about everything — including insurance carriers, public utilities and housing construction. If California's regulatory code underwent some serious spring cleaning, it could help the state at least make a dent in its housing affordability crisis.
The residential housing subsection alone has nearly 24,000 restrictions.
The California Code of Regulations — the compilation of the state's administrative rules — contains more than 21 million words. If reading it was a 40-hour-a-week job, it would take more than six months to get through it, and understanding all that legalese is another matter entirely.
Included in the code are more than 395,000 restrictive terms such as "shall," "must" and "required," a good gauge of how many actual requirements exist. This is by far the most regulation of any state in the country, according to a new database maintained by the Mercatus Center, a research institute at George Mason University. The average state has about 137,000 restrictive terms in its code, or roughly one-third as many as California. Alaska and Montana are among the states with as few as 60,000.
Local zoning codes justifiably receive a lot of blame for the state's high housing costs. They restrict new home creation — particularly multifamily homes, from duplexes to large apartment buildings. There's no doubt that zoning rules are a key driver of California's sky-high housing costs, as economists have found extensive evidence that regions where land-use regulations stand in the way of new housing supply suffer from high house prices and rents.
But California's state building code is also especially restrictive and deserves scrutiny from policymakers concerned about housing affordability. By itself, this section of the Code of Regulations contains more restrictive terms — more than 75,700 — than some states' entire codes. The residential housing subsection alone has nearly 24,000 restrictions.
Some of these requirements make sense. The code includes internationally accepted safety requirements and seismic standards to improve earthquake safety. California is also well known for its aggressive environmental and energy standards. Homes built in 2019 are required to meet energy standards that are 50% more stringent than the 2016 standards.
These energy rules reflect an important priority for Californians, but they contribute to staggering construction costs and, in turn, higher house prices. Affordable housing builders spend $400,000 per unit, on average, for new housing in Los Angeles, more than any other city in the country. State energy standards contribute to this cost.
Permitting more housing — especially relatively economical and much in-demand multifamily housing — that keeps Californians in the Golden State would also promote energy efficiency. Exorbitant housing costs push Californians to less-expensive states such as Nevada, Arizona and Texas, where per capita emissions are much higher due in large part to those states' less temperate climates.
Enter the Fray: First takes on the news of the minute »
Rather than ratcheting up energy standards that raise the cost of housing construction, California policymakers at the state and local levels should focus on reforming rules that block multifamily housing. Apartment-dwelling families on average use less than half the energy to heat and cool their residences than single-family home dwellers.
Cutting red tape is a bipartisan issue. Democrats and Republicans recognize that a periodic cleanup of rules is just good governance. Republican governors in Idaho, Missouri and Kentucky have prioritized decluttering regulatory codes in recent years. In California, Democrats in the Legislature have led efforts to reduce regulatory barriers to housing construction. In 2011, President Obama issued an executive order aimed at finding rules "that may be outmoded, ineffective, insufficient, or excessively burdensome." The Democratic-dominated Rhode Island government recently eliminated more than 30% of its rule volume by setting an expiration date for its entire regulatory code, forcing state agencies to start fresh.
To effectively rein in California's oversized housing costs, both local zoning rules and the state's enormous regulatory code deserve a careful going-over. Justified rules should stay. Rules that are counterproductive for housing affordability and the environment deserve to be scrapped.
James Broughel is a senior research fellow and Emily Hamilton is a research fellow at the Mercatus Center at George Mason University.
Our six-week newsletter will help you make the right decision for you and your property.
You may occasionally receive promotional content from the Los Angeles Times.