Opinion: What is a mass shooting, really? And when do we care about them?
When we report on shootings, what are we really reporting on? The definition of a "mass shooting" has yet to be agreed on by anyone. The metric used by most media and academics that collect and report on shootings comes from the FBI — which defines a mass shooting as when four or more people are killed in one area at one time, excluding the perpetrator. Mass Shooting Tracker, however, a new, highly cited aggregator of shooting data, says a mass shooting is an incident in which four or more people are killed or injured by gunfire.
See the most-read stories this hour >>
A piece by Christopher Ingraham in the Washington Post on Thursday called for a broad definition of a "mass shooting," similar to Mass Shooting Tracker's. Mother Jones national affairs editor Mark Follman, on the other hand, writing in the New York Times, favored a hyper-narrow definition that specifically differentiates between violent crime, slaughter in public venues and mass shootings in order to separate every contributing factor that led to the attack, from intention to action.
In the wake of shootings at a Colorado Springs, Colo., Planned Parenthood and in San Bernardino, multiple news reports claimed that the U.S. averaged at least one mass shooting per day this year. Yet the number of shootings for 2015 is in contest; Mass Shooting Tracker says 355, Rolling Stone says 353, U.S. Rep. Debbie Wasserman Schultz (D-Fla.) claims 294. Follman argued there have been only four, including San Bernardino.
FULL COVERAGE: San Bernardino shooting | Live updates
Data can tell a story, but only if we are all counting and reporting on the same thing. Is a workplace mass shooting different from a school shooting or gang violence? San Bernardino was reported as a mass shooting and made it to the front page of the Los Angeles Times. A shooting involving four people in Savannah, Ga., the same day, did not.
If we are all reporting on violent attacks with guns that affect multiple people, but consider these events differently, what attacks are we paying attention to and what are we leaving out?
Here are some of the shootings in 2015 that made it onto the front page of The Times. And some that didn't.
Dec. 3: 'Rampage kills 14'
On Dec. 2, two heavily armed individuals opened fire during a holiday party at the Inland Regional Center in San Bernardino. Dead: 14. Injured: 21.
Nov. 28: No mention of the shooting that occurred the prior day in Colorado Springs, Colo.
On Nov. 27, a gunman entered a Planned Parenthood clinic in Colorado Springs, Colo., and began shooting. Dead: 3. Injured: 9.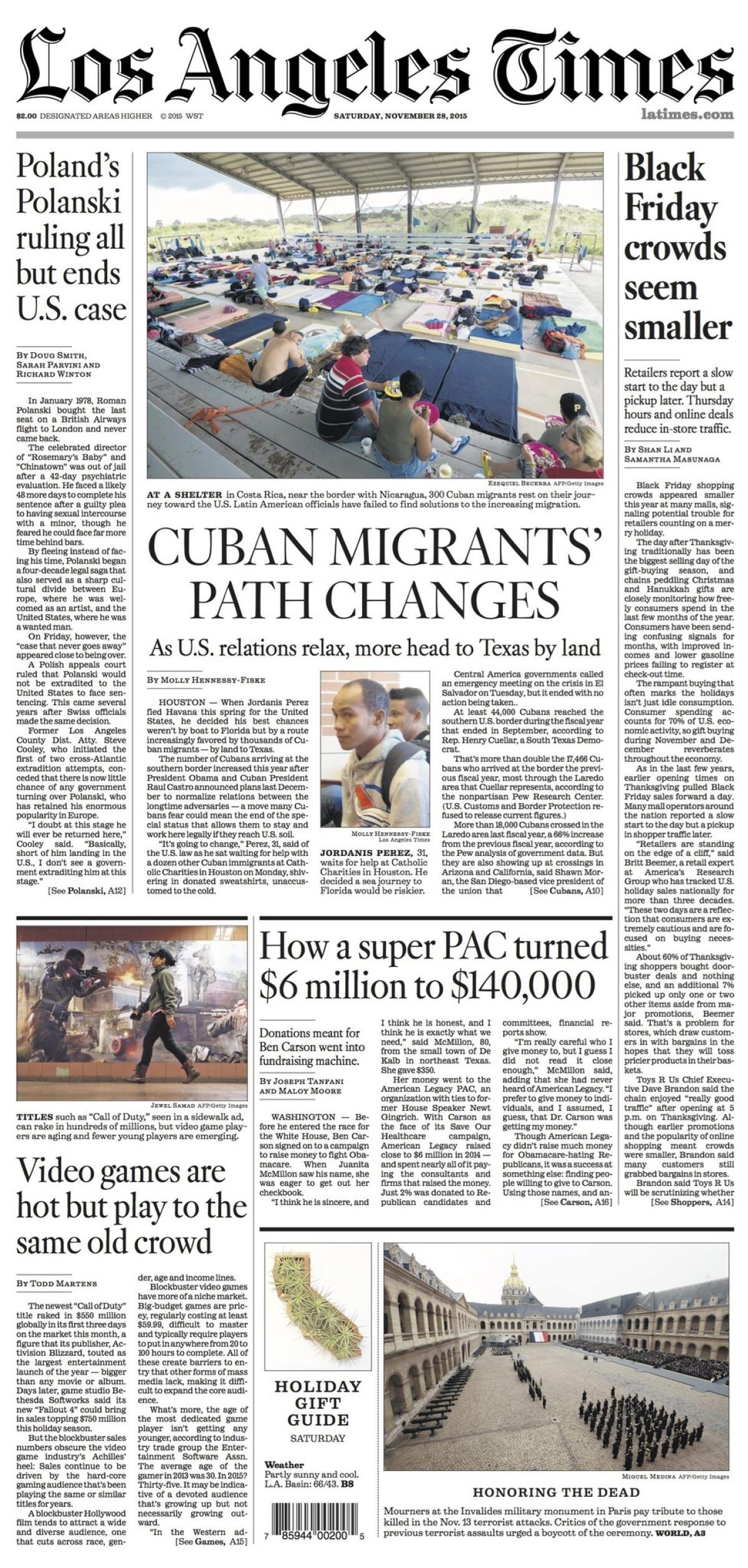 Oct. 3: 'Second chances, new hopes crushed'
On Oct. 1, Chris Harper-Mercer, a community college student in Roseburg, Ore., opened fire in a classroom at Umpqua Community College. Dead: 9. Injured: 9.
Sept. 30: '19 shootings, a call for help'
The Times reported on Sept. 30 about a weekend of violence in the city and the increase in homicides this year in L.A. Nineteen people were shot over the weekend, five fatally, according to the article.
Aug. 27: 'Virginia shooting: Did you watch?'
Vester Lee Flanagan shot and killed two journalists during a live TV broadcast on Aug. 26 in Roanoke, Va. Shortly after, he killed himself. Dead, including the shooter: 3.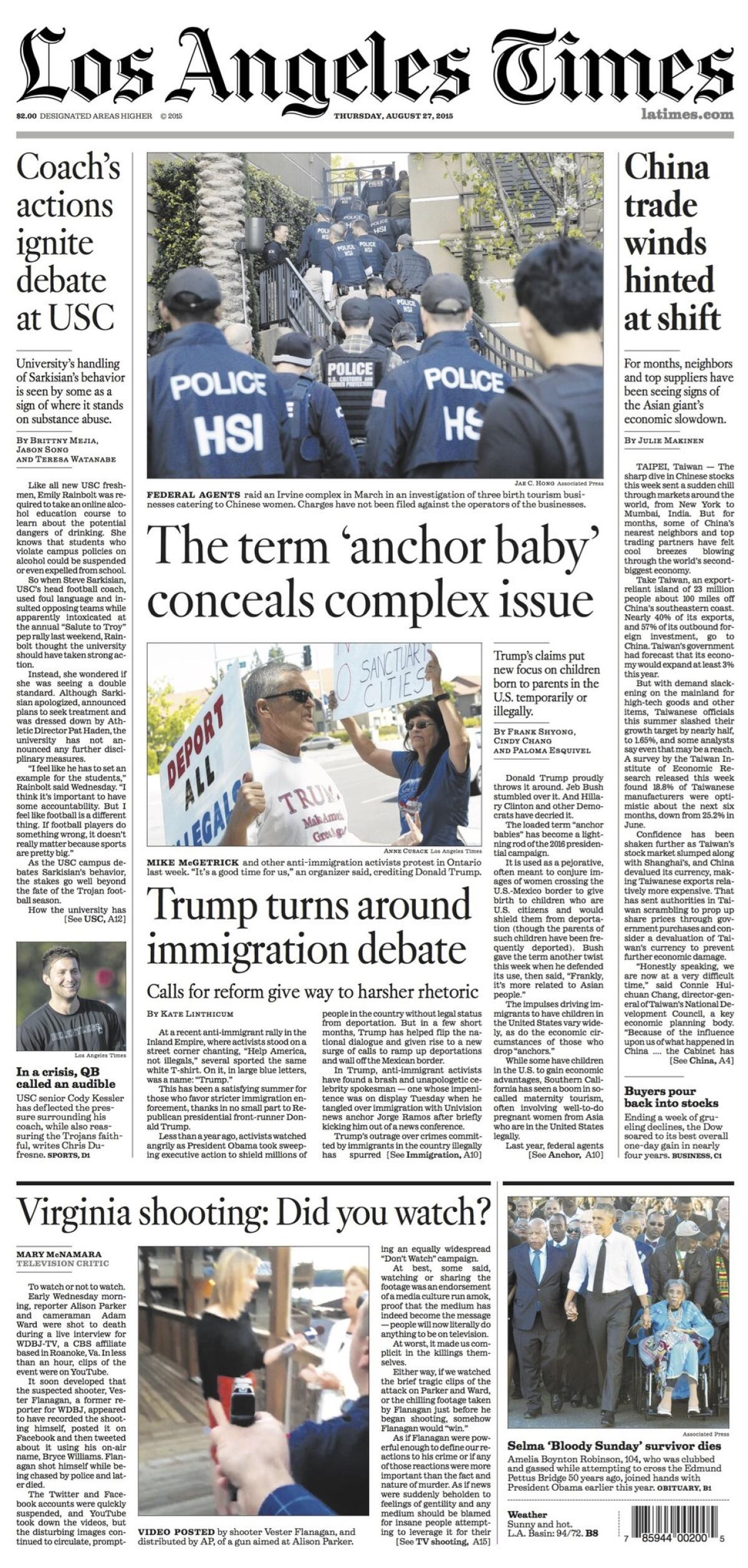 July 27: 'Gang attacks spark jitters'
On July 27, the city was left with one dead and 11 wounded after a weekend of gang violence in South L.A.
July 25: 'Theater shooting renews security debate'
On July 25, The Times reported on the July 23 movie theater shooting in Lafayette, La. During a showing at the Grand 16 movie theater, a gunman, John Russell Houser, shot and killed two people and injured nine before killing himself. Dead, including the shooter: 3. Injured: 9.
July 17: '4 marines killed in shootings at military facilities'
On July 16, Mohammod Abdulazeez opened fire at two separate military facilities in Chattanooga, Tenn. Total dead: 5, including a sailor who died later from his injuries. Injured: 3.
July 7: 'At odds on immigrants'
On July 1, police say an undocumented immigrant shot and killed a woman in San Francisco. The man said he fired the gun accidentally, but because he was an immigrant, the case sparked debate.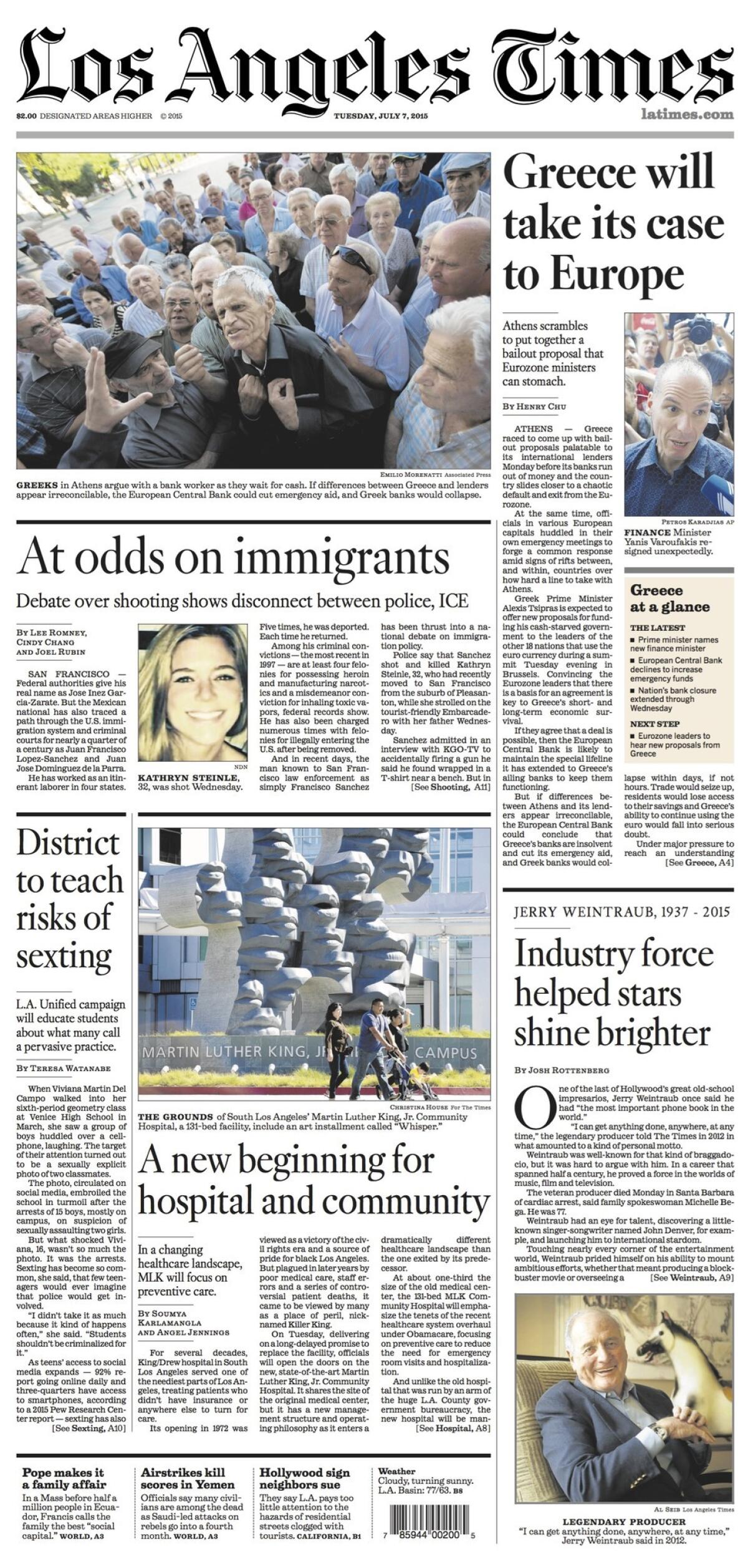 June 19: 'Anger, sadness and resolve'
At a historic black church in Charleston, S.C., on June 17, a shooter later identified as Dylann Storm Roof opened fire, killing nine, and fled before being arrested in North Carolina. Dead: 9.
Follow the Opinion section on Twitter @latimesopinion and Facebook
A cure for the common opinion
Get thought-provoking perspectives with our weekly newsletter.
You may occasionally receive promotional content from the Los Angeles Times.