Opinion: Our vulgar president: Remember when it was Trump's Twitter meltdowns that enraged readers?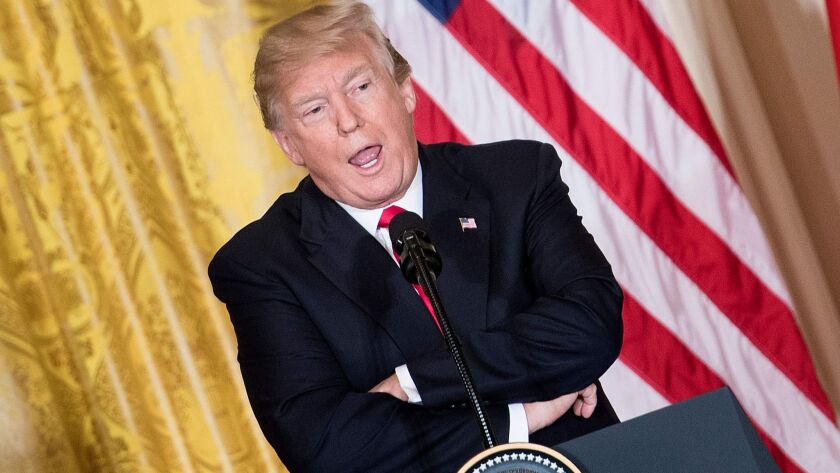 Last week, I noted that Donald Trump's erratic behavior, especially on Twitter, had prompted our letter writers to take a more strident tone than usual in their criticism of the president. Several said Trump's outbursts posed a grave threat to our country, and they demanded his removal from office.
But as he tends to do, Trump outdid himself by reportedly designating residents of Haiti and the countries of Africa as sewer inhabitants and wondering why more immigrants from Norway, whose prime minister he had recently met, do not come to the United States. The reaction from our letter writers was swift and harsh, and much of it repeated the vulgarity used by Trump.
Speaking of vulgarities, readers will find language in the letters below that is normally not published in family newspapers. Complaints can be sent to the White House.
Encinitas resident Jeff Skiljan warns of worse language to come:
The latest manifestation of this president's racism is not at all surprising, in light of his past comments regarding President Obama's alleged birthplace, Mexican immigrants being rapists and drug dealers, the benign motivations of many of the Nazi marchers at Charlottesville, and the nationality of the judge who presided over the Trump University litigation.
Those who paid attention to the campaign and the first year in office cannot be surprised by anything Trump says or does. He will not change.
Daleen Larkin, Altadena
It's just a matter of time before Trump slips and uses the n-word, finally resolving any doubts about his true nature and thus where the real "shithole" of the planet lies: in the mind of the occupant of the Oval Office.
Altadena resident Daleen Larkin makes a similar point:
Those who paid attention to the campaign and the first year in office cannot be surprised by anything Trump says or does. He will not change.
Stephen McCarthy of Monrovia reminds Trump why many immigrants come here:
I am proud of the Irish shithole my ancestors came from. They came here because it was a shithole — beset by famine, poverty and political oppression — just like almost every other immigrant who has come here.
That's why they come here. That's why they work hard to make a better life here. That's why they all made this country great.
Rich people like Trump only reap the rewards of immigrants without lifting a finger to do honest work.
Edward Drenner of Palmdale says Americans bear collective responsibility:
The longer we, the people and our representatives, allow this president to use vulgarity to express ignorance of our values as Americans without censure, we are saying it is OK.
Shame on all of us. Shame on America.
Chet Chebegia of San Marcos suggests a punishment:
The president should be more than criticized. He should be taken out back of the White House to a wood pile, paddled and then put in the corner for an hourlong timeout.
Trump needs a good fifth-grade teacher at the White House, and I'm willing to volunteer.
Reggie Kenner repeats a mother's warning:
Yup, there he is again, cranky Grandpa, a few generations removed from reality. You remember — Mom told you to just ignore Grandpa and, whatever you do, not to argue with him.
Think he's alone in his opinion? He was elected.
Follow the Opinion section on Twitter @latimesopinion and Facebook
---
A cure for the common opinion
Get thought-provoking perspectives with our weekly newsletter.
You may occasionally receive promotional content from the Los Angeles Times.