Opinion: DeSantis' defunding of diversity programs threatens college life as we know it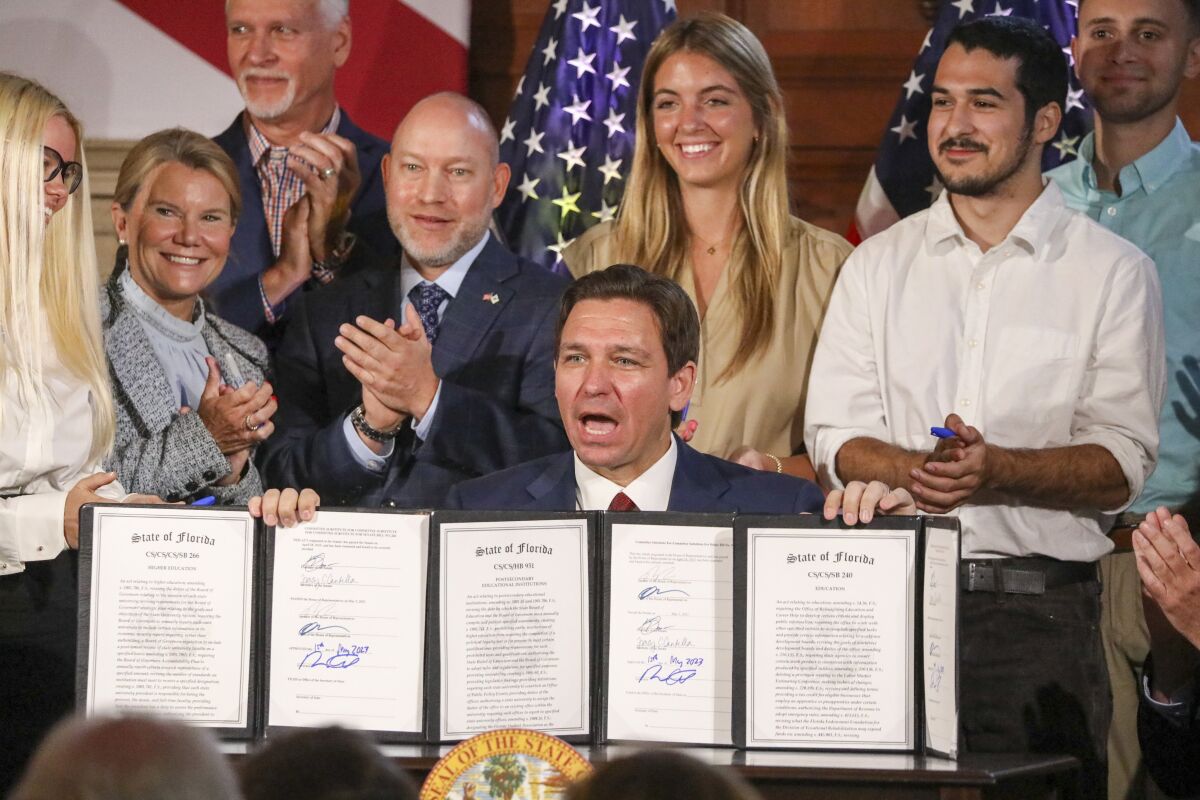 Florida Gov. Ron DeSantis signed a bill Monday that promises to defund diversity, equity and inclusion programs at public colleges throughout the state. The bill has drawn criticism from policymakers and free speech advocates, and it also raises concern from higher education administrators like me. Without these programs, graduates will be less prepared to enter the workforce.
DeSantis, Rep. Carl Tepper (R-Texas) and Missouri state Rep. Doug Richey are just some of the conservative politicians targeting academic programs and support at college campuses. Education is a common political battleground. But politics and partisanship aside, this bill will have a troubling effect on the quality of higher education that we can deliver to today's students.
A bill like this new one in Florida is particularly challenging for college leaders because what it means by "diversity, equity and inclusion" programs lacks meaningful definition. This isn't surprising since the purpose of the bill is entirely political, having nothing to with actual educational aims. Worse, it's likely to threaten all kinds of programs that have been pillars of academic and student life.
The Florida governor wants AP African American studies taught his way. But that's a very bad idea.
Campus groups have long received administrative funding support for things such as events celebrating Latino Heritage Month or guest speakers discussing how women can protect themselves from sexual assault. Administrators will now question whether they can continue to financially support events of this type because it is unclear if they might fall under prohibited diversity initiatives.
The DeSantis bill and other attacks like it come at a time when American higher education is already facing significant challenges. There has been a sharp decline in college-eligible individuals who believe that attending college is "worth it." Two and a half million fewer Americans are enrolled in universities today than were enrolled a decade ago. In Los Angeles, the number of students who start college but do not graduate has been steadily increasing for the last five years.
The number of adults in the U.S. who believe that higher education is important has fallen sharply in just a few years. More than 70% of Americans in 2013 thought higher education was "very important," but by 2020, that number was 51%, according to Gallup. And the rate of college attendance for American high school graduates dropped to 61% in 2021 from 70% in 2016.
Add to this data the looming demographic cliff, which will result in a significant drop in the traditional age group to enter college, putting America at a historical first: This decade will be the first time in American history that the generation entering the workforce will be less educated than those who came before them.
As a college provost, when I ask potential students why they question the value proposition of college, their responses often center on the belief that higher education is not meeting the needs of the changing demographics of our college students or our country. One of the major needs these young people articulate is literacy and engagement with diverse subjects and people.
Students graduating from college need to be prepared to enter one of the most diverse workforces of our time. To do this, we cannot ignore what our world actually looks like. In states such as Florida and California, populations previously classified as underrepresented minorities are now the majority.
Research shows that for most people, admission to the most selective colleges has no significant effect on achieving their dreams.
Defunding diversity programs for students, faculty and staff, as required by the new DeSantis bill, is the equivalent of asking higher education leaders to close down a quantitative skills or career readiness center.
Schools without diversity programs put students at a disadvantage. If one of the goals of higher education is to prepare students to enter and develop the workforce — a goal lauded by politicians on both sides of the aisle — colleges must teach them the skills to engage with diversity work. Many of the companies that would one day hire those students value inclusion highly within their organizations.
Support services outside the classroom, in areas such as student groups and student advising, are aimed at improving retention rates for underrepresented groups. If institutions of higher learning don't want to lag behind in attainment and retention, we need to increase rather than decrease those efforts.
Political attacks on educational programs such as this new bill in Florida weaken institutions' ability to provide what students need and can only contribute to a decline in higher education at large.
Pardis Mahdavi is the provost and executive vice president at the University of Montana.
Our six-week newsletter will help you make the right decision for you and your property.
You may occasionally receive promotional content from the Los Angeles Times.