Live
An illustrated visit to Trump Nation
The people who have flocked to Donald Trump's rallies, given him their votes and put him within striking distance of the Republican Party nomination are one of the biggest stories of the 2016 election.
How do you feel about Trump? Let us know >>
They have been characterized and caricatured as "low-information voters," angry blue collar white guys, authoritarian-loving neo-fascists, and barely closeted racists. But Trump is finding favor with a broad cross section of the conservative-leaning electorate.
While thousands of Trump fans waited to hear from their candidate recently in a city park in Fountain Hills, Ariz., we spent time with several of them to find out why they were attracted to Trump. They offered a variety of reasons, but one concern, in particular, cropped up again and again: They are sick and tired of professional politicians who do nothing but sustain the status quo.
Horsey, a two-time Pulitzer Prize-winning editorial cartoonist, is a political commentator for the Los Angeles Times.
She admires Trump's 'down-to-earth' family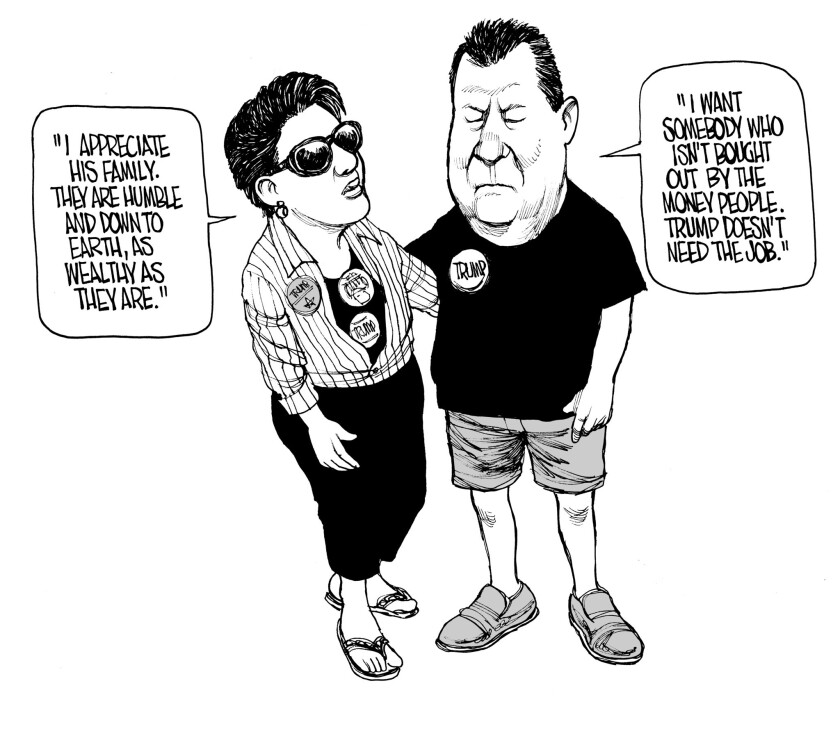 Theresa Hernandez offered a novel reason to support Trump: his attractive wife and kids. George Corcodel, a military veteran and the son of European immigrants, said Trump may not deport all 11 million migrants in the country illegally, but he will get rid of the bad ones and seal the border. Both Hernandez and Corcodel are from Surprise, Ariz.