Column: No, CNN, Rep. Ilhan Omar did not minimize 9/11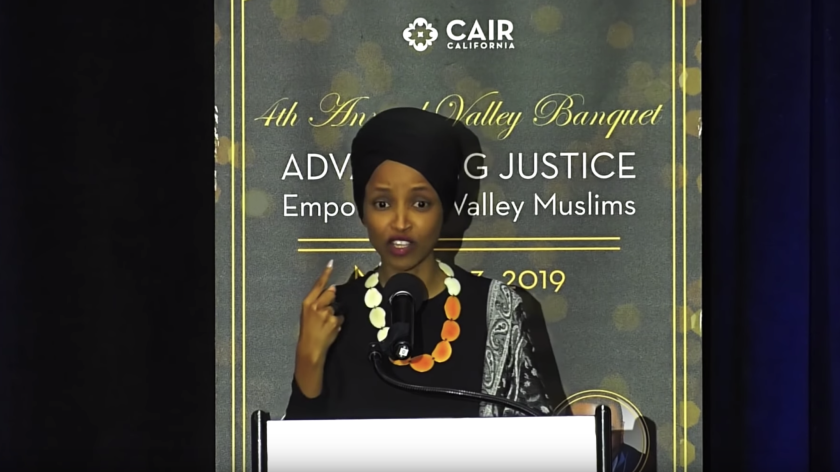 In our national politics, in which lies and distortions are the coins of the realm, the news media bear a heavy responsibility to avoid their propagation. That's especially true of cable news networks, whose schedules seem to be filled almost exclusively with partisans determined to misrepresent what viewers should be able to see with their own eyes.
That brings us to CNN and a debate the network staged Monday evening as a segment on "CNN Tonight With Don Lemon." The topic was a speech given March 23 in California by Rep. Ilhan Omar (D-Minn.) in which she made a reference to the 9/11 attacks that Republicans and right-wingers have grossly distorted so that she seemed to be minimizing the gravity of the event.
CNN did almost nothing to correct that misimpression. Indeed, it allowed two of its debaters to exploit and magnify the distortion. Anyone with expectations that the cable network will play a useful role in the coming election had to come away with those hopes dashed.
Let's examine the context, followed by Omar's actual words, followed by how they were twisted on the air.
When Islam is mentioned, we are only talking about terrorists.
— Rep. Ilhan Omar (D-Minn.)
Omar, plainly, has become a favorite target of President Trump and his fellow Republicans. They're trying to paint her as an anti-Semitic weight around the neck of the Democratic Party by demanding that Democrats disavow every word she says critical of Israel and its supporters.
Omar, a Somali refugee, has not always expressed herself succinctly and clearly; she has apologized for some statements that she says have been misinterpreted, which is more than Donald Trump has ever done. Let's be clear: It is not anti-Semitic, as such, to be critical of Israel's politics vis-a-vis its Palestinian neighbors and Palestinians in Israel. Many American Jews consider Israeli policies objectionable and obstacles to peace; so do many Israelis. Nor is it anti-Semitic, as such, to raise questions about the influence that Israel has on American politics.
As for the notion that Omar is fomenting religious conflict and hatred, no one has done more to elevate ethnic hatred and racism to the level of a political instrument in the United States than Donald Trump. Nevertheless, Trump and his minions are determined to turn Omar into the face of the Democratic Party. Their goal is nakedly partisan, and truth is the first casualty.
Now to Omar's words about 9/11. They came late in a 20-minute speech she gave at banquet of CAIR California, the state branch of the Council on American-Islamic Relations.
Any viewer of the entire talk, which is available via YouTube, will know that Omar's core theme was that Muslims in America have been the targets of systematic discrimination, tied to political efforts to depict them as terrorists and murderers. "When Islam is mentioned," she said, "we are only talking about terrorists." That's not so of any other religion, she observed. She urged her listeners to stand up for their rights and to resist discrimination and efforts to minimize their standing in America.
Omar spent considerable time discussing the manifestations of Islamophobic hatred and discrimination — not only in the U.S. but around the world — culminating in the attacks on Muslim worshipers one month ago in Christchurch, New Zealand, which took the lives of 50 people and wounded 50 others.
She observed that whenever an act of violence is committed by Muslims, the entire Muslim community faces the consequences in terms of public reaction. That brought her to 9/11. She mentioned, erroneously, that CAIR was founded in the wake of the attack (it actually dates to 1994), but that was merely her way of making her point about how all Muslims have carried the stain of 9/11.
CAIR recognized, she said, "that some people did something, and that all of us were starting to lose access to our civil liberties."
Omar plainly was making a distinction between an act perpetrated by "some" Muslims, and the public and official response that unjustly punished "all of us" — all Muslims — for the act.
Omar is not at all wrong. The 9/11 attack has been exploited for nearly two decades to stir up anti-Muslim sentiment. One doesn't have to go further than Trump's travel ban to see this process in action, since it was manifestly directed at purported Muslim terrorism.
But for anti-Muslim right-wingers, this was the money shot. They extracted Omar's reference to 9/11 as an episode in which "some people did something" to claim that she was minimizing 9/11 as just "something." She did nothing of the kind.
Trump tweeted a video mixing footage of 9/11 with her truncated comments, which is as close to an open incitement to violence against her as one would hope to emanate from the White House. Omar has said she is facing an increase in death threats since Trump's tweet.
To chew over this moment, CNN's Lemon hosted Alice Stewart, a former campaign aide to failed GOP presidential candidates Mike Huckabee and Ted Cruz, and Max Boot, a conservative commentator on national security and foreign affairs. Sandwiched between them was Wajahat Ali, a progressive op-ed writer at the New York Times.
Just before a commercial, Lemon aired the 23-second excerpt in which Omar mentioned 9/11. After the break, he brought on the debaters.
CNN's format allowed Stewart to pretend that the excerpt represented the entirety of Omar's comments. "I mean, 9/11 is the worst terror attack in the world and she calls it, as you said, something that someone did," Stewart said.
Stewart was challenged by Ali, who called her remarks "shameful .… You know this is wrong. You've seen the video. You know it's taken out of context."
"Look," Stewart replied, "it's hard to take something out on context when we played it from start to finish. We heard the words out from her mouth, so it's just disingenuous to say that it was taken out of context."
If Stewart actually watched the entire video — that is, the entire speech — she was either lying to say it was played "from start to finish," or deliberately distorting the case for partisan gain. Either way, this is not a good look for CNN.
Boot, to his credit, did not go as far as Stewart, but his gloss on the episode was almost as bad. "In this particular case," he said, "I don't think that [Omar] was justifying or defending 9/11, but she was certainly describing it in a way that is very peculiarly [sic], saying some people did something. That is not the right way to describe one of the worst days in American history."
Boot seemed to be suggesting that every reference to 9/11 should include some ritual acknowledgment of its grievousness and gravity, and failing to label it thusly is a disqualification for participation in political debate. The horror of 9/11 is inescapable, but demanding that it be explicitly mentioned at every turn is a childish way to conduct national politics.
Boot at least observed that Trump was "politicizing 9/11, which should be a sacred day in our history. It's disgusting the way he's trying to use it for political advantage." But he went on to argue that, by not bowing to Trump's demand that they in effect excommunicate Omar, "they play into Donald Trump's hands and let her define the party."
Boot tried to have it both ways — to condemn Trump for his bigotry and crassness, but suggest that the Democrats give in to it. This is why so many CNN panel debates have the sound of a truck spinning its wheels.
CNN in this segment fed the fire of bigotry. No one really needed to hear Alice Stewart, Max Boot, and Wajahat Ali masticate Ilhan Omar's words, especially when they were discussing a few seconds of a 20-minute speech. CNN's duty was to air enough of the speech to give its viewers the true flavor of Omar's remarks.
Omar closed her speech by reminding her audience of Islam's true nature and its consonance with the principles of liberty and justice that are essential to America.
"Regardless of how hard Washington might get for me or your neighborhoods might get for you," she said, "you have to always remember that we have a mission as humans to love one another, to care for our neighbors, to raise compassionate children and to fully every single day show up and make sure that we are furthering justice."
Would anyone gain that sense of Omar's point from the 23 seconds aired by CNN? Of course not. CNN's responsibility as a news organization is to inform and educate its viewers, not give them fuel for their misconceptions and make them worse. Will the network learn in time to play a constructive role in the presidential campaign? One can only hope.
---
Life is stressful. Our weekly mental wellness newsletter can help.
You may occasionally receive promotional content from the Los Angeles Times.