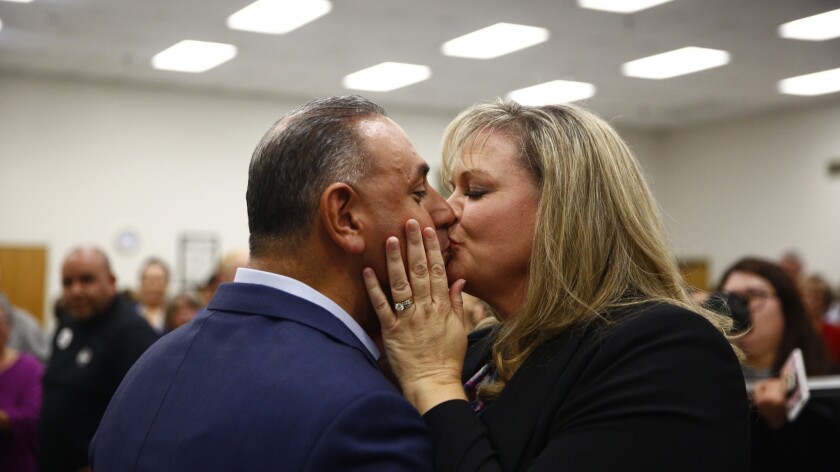 As cameras flashed Monday, Gil Cisneros glided into the union hall in Buena Park, accompanied by his twin sons and wife, feted with cheers and rows of exuberant faces after days of uncertainty.
"I am so humbled and honored," the congressman-elect for California's 39th District told the shouting crowd nearly two weeks after election day. "This is only the beginning of the hard work. You will definitely have access to me. We're going to do town halls. We're going to be out there, everywhere."
The Navy veteran said his top three job priorities are healthcare, "common sense" gun legislation and immigration reform.
His win cemented a Democratic sweep across the longtime conservative stronghold of Orange County, with the 39th the last of the four Republican-held congressional districts to fall in the county after close ballot counting prolonged the drama.
He will succeed retiring 12-term Republican Rep. Ed Royce in the district that straddles Orange, San Bernardino and Los Angeles counties.
Cisneros' remarks capped an intense post-election period during which he and supporters monitored the vote count day by day.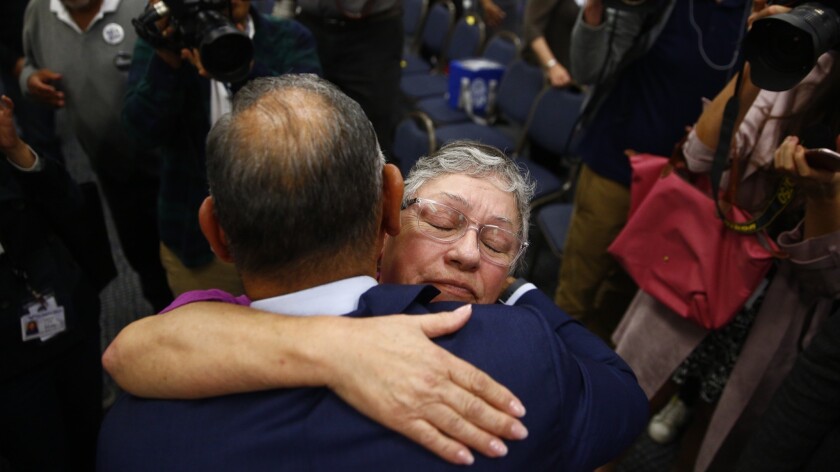 He had been locked in battle with Republican Young Kim, a former assemblywoman and liaison to the Asian American community for Royce. Cisneros and his team focused heavily on grass-roots outreach to Asian Americans in the district, in which Asians and Latinos make up about two-thirds of the population.
Cisneros, who became a philanthropist after winning the California lottery, also spent more than $9 million on his campaign.
His father, Gilbert Cisneros Sr., said that when the victory was confirmed on Saturday, he started texting family and friends "with the amazing news."
"Imagine me, a son of farm laborers, now having a son as a congressman," he said. "There are really no words to describe this feeling."
Andrea Guzman, president of College Democrats at Cal State Fullerton, said she and fellow supporters zeroed in on "the potential of Cisneros months ago. … He really understands going to the people and not special interests."
A junior, the political science major wore brand-new "Gil's on the Hill" buttons as she circled the room cradling a puppy named Booster. Near Guzman at the union office, a line formed for photos with the new lawmaker. Yards away, his wife, Jacki Cisneros, and his 4-year-old boys, Alex and Christopher embraced more supporters eager to videotape the crowd of about 150.
Before he left the stage, Cisneros thanked the crowd for having faith and working for his election.
"All that you did," he told them, allows him "to go to Washington to serve you. Sí, se puede."
anh.do@latimes.com
---