Clinton to unveil new gun measures, sharpening contrast with Sanders and GOP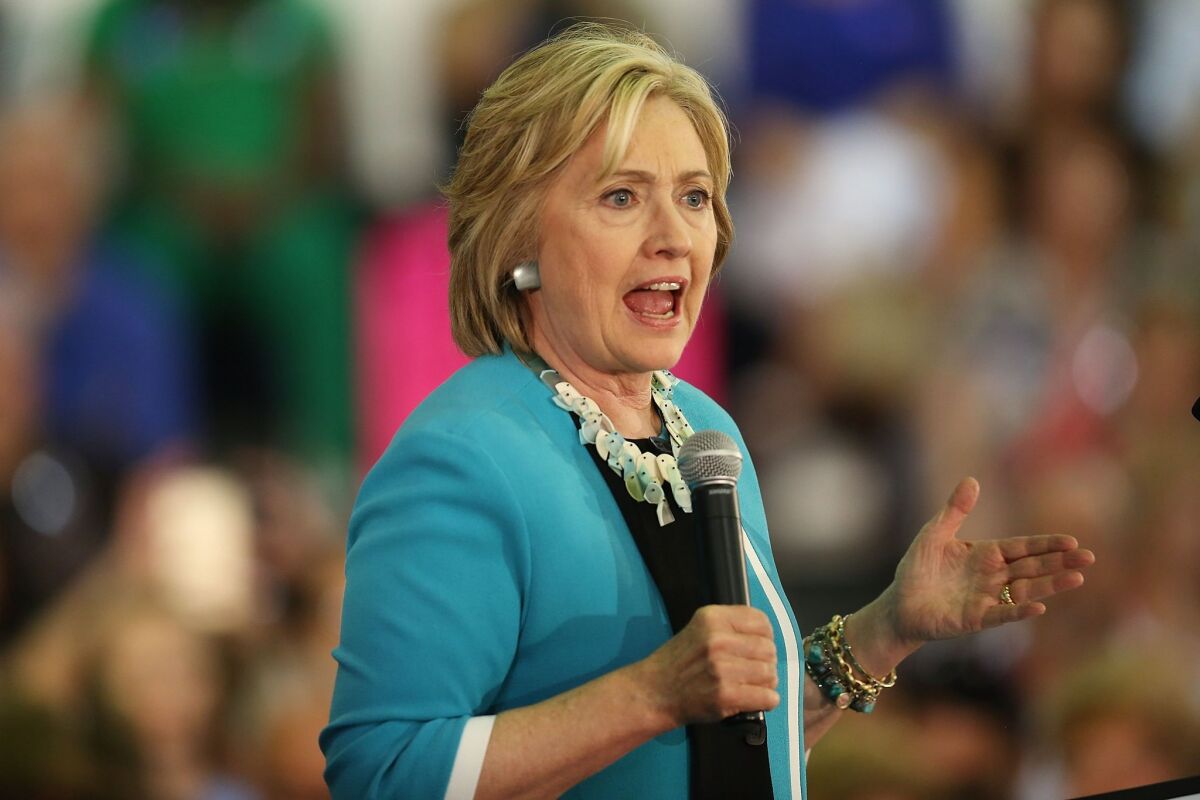 Reporting from Washington —
With another mass shooting renewing debate over gun laws, Hillary Rodham Clinton will make a new push to tighten restrictions on gun sales, one that aims to sharpen a contrast with Republicans as well as her leading challenger for the Democratic nomination.
The move by the former secretary of State represents a calculated risk on an issue that has proven troublesome for her party in the past. The Clinton campaign believes the issue could serve her immediate political interests as she seeks to counter the summer-long surge by Vermont Sen. Bernie Sanders.
Sanders has gained among Democratic voters on the strength of a left-leaning economic message. But his record on guns – including a vote against the 1993 Brady Bill that created the background check system – has already been the subject of an attack by backers of another Democratic hopeful, former Maryland Gov. Martin O'Malley.
Clinton has not directly criticized Sanders, but by highlighting the gun issue, she may put him at a disadvantage with many of the college-educated, liberal voters who are his core supporters.
The proposals, which Clinton plans to announce Monday in New Hampshire, include a mix of executive and legislative attempts to tighten restrictions on gun ownership.
According to campaign officials, Clinton will call on Congress to close what's become known as the "Charleston loophole," a provision in the law that allows a gun sale to go forward if a background check cannot be completed within three days.
Dylann Roof, who has been charged with killing nine people at the Emanuel AME Church in Charleston, S.C., this year, purchased a gun when his background check could not be resolved by that deadline, law enforcement officials have said. Because Roof had a previous conviction on his record, he might have been barred from buying the weapon if the check had been completed on time.
TRAIL GUIDE: All the latest news on the 2016 presidential campaign >>
According to a Clinton campaign aide, 2,500 individuals who should have been barred from buying a gun were able to do so last year because of the loophole.
Clinton will repeat support for legislation that would expand background checks to cover most gun purchases, including those at gun shows. She also plans to propose an executive work-around if Congress again deadlocks on such a plan.
Under that plan, the government would declare that any person who sells a significant number of guns would be deemed to be "in the business" of selling firearms. Such a designation would mean those sellers would have to comply with the same requirements imposed on federally licensed gun stores.
Clinton will also seek to expand a prohibition on domestic abusers purchasing guns. Her proposal would ban sales to include people involved in abusive dating relationships or convicted stalkers.
Finally, Clinton will call for repealing a 2005 law that protects gun dealers or manufacturers from being held liable for damages when weapons they make or sell are used in criminal acts. A fact sheet distributed by the campaign noted that Clinton had voted against the law when she served in the Senate. It did not note that Sanders, then a member of the House, supported passage of the law, which was backed by major gun companies.
Debate over gun laws has been renewed by Thursday's shooting rampage at an Oregon community college that left eight students and a teacher dead, as well as the gunman. Within hours of the killings, President Obama voiced his frustration over lawmakers' failure to take any action that would place new limits on gun ownership. He vowed a new commitment to keep the issue at the forefront of the political debate.
Clinton has already been a vocal backer of new gun laws in her campaign. And in an interview with a Boston television station Thursday, she said she was not intimidated by the powerful gun lobby.
"My husband beat them, and he got an assault weapons ban which lasted for 10 years and did have a positive effect," Clinton told Boston's WCVB-TV, referring to passage in 1994 of a major gun control measure backed by President Bill Clinton.
"I think that what we need is a national movement. When gun control issues are put on national or put on state or local ballots for referendum, they pass in many instances. So we're going to go at this from the top down," she said.
Clinton has two town hall meetings scheduled in New Hampshire Monday, including one scheduled to be broadcast nationally on NBC's "Today" show.
A new NBC News/Wall Street Journal poll released Sunday showed Sanders leading Clinton in New Hampshire, the first-in-the-nation primary state, 48%-39%. If Vice President Joe Biden were in the race, Sanders would lead 42% to 28%, with Biden at 18%.
Nationwide, most polls show Clinton with roughly a 15- to 20-point lead over Sanders, with Biden, who has not yet announced his intentions, drawing a bit less than one-fifth of the vote, largely at Clinton's expense.
SIGN UP for the free Essential Politics newsletter >>
Follow @mikememoli for more news on the 2016 campaign.
ALSO
Racial profiling bill draws praise from activists, criticism from police
Brown signs bills on human trafficking, elephant ivory, butterflies and DNA collection
Angry and frustrated, Obama condemns latest mass shooting in U.S.
---
Life is stressful. Our weekly mental wellness newsletter can help.
You may occasionally receive promotional content from the Los Angeles Times.