'Black lives matter!' chants erupt as Mothers of the Movement take the stage at the DNC
As the "Mothers of the Movement" came on stage to talk about the deaths of their children and endorse Hillary Clinton at the Democratic National Convention, chants emerged from the crowd: "Black lives matter!"
Geneva Reed-Veal, standing in a half circle with eight other black mothers, attempted to quiet the audience.
"Give me two moments to tell you how good God is. Give me a moment to say thank you," said Reed-Veal, whose 28-year-old daughter, Sandra Bland, died in jail after being pulled over for a traffic stop in 2015. "We are not standing here because he's not good. We are standing here because he's great."
What followed was one of the most powerful moments of Tuesday's convention, as the mothers held back tears to speak about the deaths that ignited a national debate about police reform and race relations.
"So many of our children gone but not forgotten," Reed-Veal said. "I'm here with Hillary Clinton because she is a leader and a mother who will say our children's names. Hillary knows that when a young black life is cut short, it's not just a personal loss. It is a national loss. It is a loss that diminishes all of us."
The short speeches, which followed a video of Hillary Clinton meeting and praying with the mothers, who have joined her at campaign events across the country, gave the Black Lives Matter movement one of its highest-profile moments. Officially, Black Lives Matter has not endorsed a presidential candidate, but the women are among the movement's best-known names.
The deaths have spurred hundreds of demonstrations across the U.S. over the last four years and raised the pressure on both major political parties to deal with the issue of gun violence and racial disparities.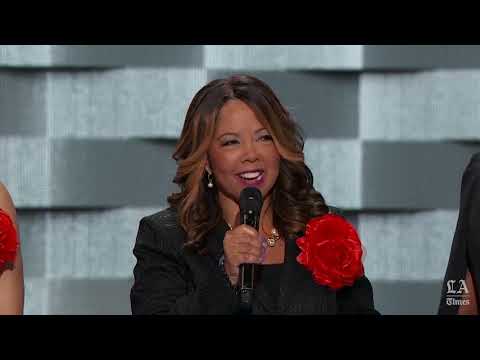 Mothers of African Americans killed by gun violence speak at the Democratic National Convention. More coverage at latimes.com/trailguide
"You don't stop being a parent when your child dies," said Lucia McBath, whose 17-year-old son, Jordan Davis, was shot and killed in Jacksonville, Fla., in 2012. "I am still Jordan Davis' mother. His life ended the day he was shot and killed for playing loud music. But my job as his mother didn't."
"Hillary Clinton isn't afraid to say black lives matter," she said. "She isn't afraid to sit at a table with grieving mothers and bear the full force of our anguish. She doesn't build walls around her heart. Not only did she listen to our problems, she invited us to become part of the solution."
The segment provided a window into how the Clinton campaign is responding to pressure to address race relations and police reform while acknowledging the dangers police officers face after a series of deadly shootings around the country.
Pittsburgh Police Chief Cameron McLay, who has been praised for his handling of protests in his city, introduced the mothers after saying Americans should "respect and support our police officers while at the same time pushing for these important criminal justice reforms."
Sybrina Fulton, the mother of Trayvon Martin, said that while she "didn't want this spotlight" she would do everything she could "to focus some of that light on a path out of this darkness."
Fulton praised Clinton for having "courage to lead the fight for common-sense gun legislation" and a "plan to repair the divide that so often exists between law enforcement and the communities they serve."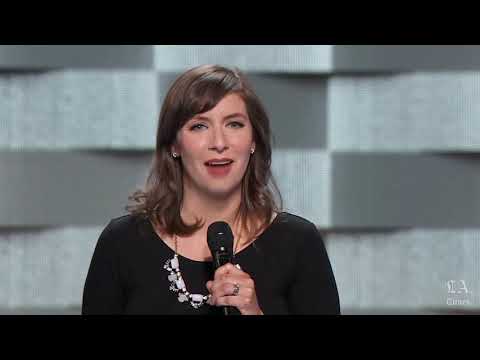 Day Two of the Democratic National Convention in less than 3 minutes. Full coverage at latimes.com/trailguide
The speakers included:
Fulton, the mother of 17-year-old Martin, who died after being shot by neighborhood watch volunteer George Zimmerman on Feb. 26, 2012, in Sanford, Fla. A jury acquitted Zimmerman of all charges related to Martin's death on July 13, 2013.
Lezley McSpadden, the mother of 18-year-old Michael Brown, who was shot by Darren Wilson, a white Ferguson, Mo., police officer on Aug. 9, 2014. The shooting caused days of unrest in the St. Louis suburb, raising questions about police use of military equipment and bringing scrutiny to the issue of racial disparities between police and the communities where they work. On November 21, 2014, a grand jury decided not to indict Wilson in Brown's death.
See the most-read stories in National News this hour >>
Gwen Carr, the mother of 43-year-old Eric Garner, who died after a police officer put him a chokehold in Staten Island, N.Y., on July 17, 2014. In a bystander video that went viral, Garner can be heard repeatedly saying, "I can't breathe," while being restrained by police. The phrase became a protest mantra, especially after a jury decided to not indict the officer, Daniel Pantaleo, on Dec. 13, 2014. The Department of Justice is currently investigating the case.
Reed-Veal, the mother of 28-year-old Bland, who was found hanged with a trash bag in a Waller County, Texas, jail on July 13, 2015. Three days before, Bland was stopped for a traffic violation and got into an argument with the state trooper who stopped her, resulting in her arrest. After a dash-cam video was released, a Bland family lawyer argued that the officer did not have probable cause for the stop. Family members disputed a medical examiner's ruling that her death was a suicide. In December 2015, a grand jury decided not to indict her jailers in connection with Bland's death. The trooper is facing a misdemeanor charge.
Lucia McBath, mother of 17-year-old Jordan Davis, who was shot by Michael Dunn in Jacksonville, Fla., on Nov. 12, 2012. The shooting occurred after Dunn, who is white, complained that the music Davis and his friends were playing in their car was too loud, and an argument ensued. After a first trial ended in a mistrial, Dunn, a software developer, was found guilty of first-degree murder.
Maria Hamilton, the mother of Dontré Hamilton, who was fatally shot by a white police officer in Milwaukee on April 30, 2014. Protests ensued after charges were not brought against the officer, Christopher Manney.
Cleopatra Pendleton-Cowley, the mother of 15-year-old Hadiya Pendleton, who was shot by two gang members in a Chicago park on Jan. 29, 2013. The shooters were arrested and charged with first-degree murder, and First Lady Michelle Obama attended Pendleton's funeral.
Annette Nance-Holt, the mother of 16-year-old Blair Holt, who died on a Chicago Transit Authority bus in May 2007 after trying to shield a friend from a gang member's shots.
Wanda Johnson, the mother of 22-year-old Oscar Grant, who died after being shot by a white Bay Area Rapid Transit officer on New Year's Day in 2009. The officer, Johannes Mehserle, was convicted of involuntary manslaughter and sentenced to two years in prison in 2010. Mehserle received credit for time already served and was released on June 13, 2011.
Notably absent was Samaria Rice, the mother of 12-year-old Tamir Rice, who died in November 2014 after being shot by police in Cleveland while he played in a park with a replica pellet gun. Rice has declined to endorse Clinton or Trump.
No candidate is "speaking my language about police reform," Samaria Rice recently told Fusion, saying she wants "a lot on the table, not a little bit of talk, a lot of talk about police brutality, police accountability, making new policies, taking some away, and just reforming the whole system."
She has also been critical of President Obama.
"He may mention something about it, but he's not really going to go into details about it and hold the government responsible for killing innocent people," she said in the same interview, echoing similar criticisms from some activists.
Even before their speeches, the appearance of the Mothers of the Movement had caused controversy. The Philadelphia Fraternal Order of Police said its members were "shocked and saddened" that widows of fallen police officers were not included in the lineup.
"It is sad that to win an election, Mrs. Clinton must pander to the interests of people who do not know all the facts, while the men and women they seek to destroy are outside protecting the political institutions of this country," the police group said in a statement.
The mothers aren't strangers to the campaign trail. Several have been featured in a Clinton TV ad that aired in Chicago and St. Louis and the campaign has also covered their airfares to Democratic debates.
Not all the family members of black Americans who have died in high-profile police-involved incidents have been Clinton supporters. Erica Garner, the daughter of Eric Garner, has been a strong supporter of U.S. Sen. Bernie Sanders.
Still, Tuesday's group represented one of the strongest lineups of black activists involved in any recent presidential campaign campaign.
"We must bring awareness.… Don't wait until tragedy knocks on your door," Carr said in a recent ABC News segment on her support of Clinton, which also addressed violence against police.
"This is a bad time to be a good cop in this country," Reed-Veal said in the same segment. "OK? We need to remember they have lives too."
Jaweed Kaleem is The Times' national race and justice correspondent. Follow him on Twitter, Facebook and Instagram.
ALSO
Watch the mothers' full remarks at the Democratic National Convention
What's at stake in the Democratic and Republican family feuds
ADHD is now classified as a specific disability under federal civil rights law
Michelle Obama's stunning convention speech: 'When they go low, we go high'
---
UPDATES:
7:35 p.m.: This article was updated with more details about the speeches.
6:20 p.m.: This article was updated after the women spoke.
This article was originally published at 4:40 p.m.
Get our Essential Politics newsletter
The latest news, analysis and insights from our politics team.
You may occasionally receive promotional content from the Los Angeles Times.