Democrat Doug Jones wins Alabama Senate seat, but Roy Moore won't concede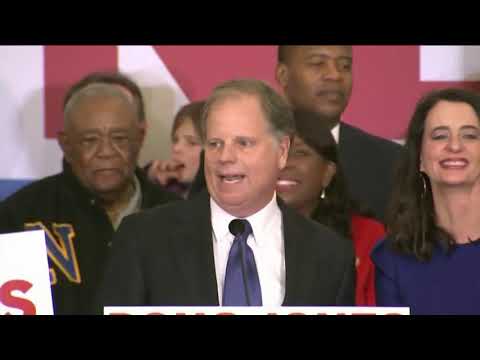 Democrat Doug Jones, whose uphill bid for U.S. Senate gathered strength when Republican Roy Moore was hit with charges of sexual misconduct with teenage girls, won Alabama's special election Tuesday.
Reporting from Birmingham, Ala. —
Democrat Doug Jones, who started the Alabama race for U.S. Senate as a massive underdog, swept to victory Tuesday night in a repudiation of scandal-stained Roy Moore. The upset also dealt a serious blow to President Trump.
The narrow victory slices the GOP's already-thin margin in the Senate to a single seat, complicating the party's legislative push and giving Democrats a major boost heading into the 2018 campaign, when control of Congress will be at stake.
The win — which Moore refused to acknowledge — marked the first time a Democrat has captured a U.S. Senate seat in Alabama in a quarter of a century.
More broadly, it signaled the limits of the nation's political tribalism.
In this deeply conservative, overwhelmingly Republican stronghold, the allegations of sexual misconduct Moore faced were enough for many to overcome the reflexive opposition to a party they have long associated with permissiveness and profligacy.
"At the end of the day, this entire race has been about dignity and respect," a jubilant Jones told cheering supporters at a rally in downtown Birmingham.
"This campaign has been about the rule of law," Jones said. "This campaign has been about common courtesy and decency and making sure that everyone in this state, regardless of which ZIP Code you live in, is going to get a fair shake in life."
Moore, for his part, sought to rally his disconsolate supporters.
"It's not over," the Republican told them at a gloomy appearance in Montgomery, suggesting a recount might change the result. "It's going to take some time."
But he was quickly undercut by his own party.
"While we are deeply disappointed in the extremely close U.S. Senate election results … we respect the voting process," said Terry Lathan, head of the Alabama GOP. "Now that this race has ended, may this holiday season of peace, love and hope resonate with everyone."
Moore ran up crushing margins in rural counties dominated by evangelical Christians, long the bulwark of his political base.
But Jones drew a robust turnout of African Americans who voted in landslide numbers for the former federal prosecutor. He cut into Moore's support among traditionally Republican-voting suburbanites apparently put off by the tawdry allegations of sexual assault and other misconduct.
Jones also benefited from more than 20,000 voters who apparently followed the lead of the state's senior Republican senator, Richard C. Shelby, who said he could not abide Moore and wrote in another candidate.
Jones was ahead of Moore by nearly 21,000 votes in incomplete returns.
The race shifted last month, after the Washington Post reported that Moore, 70, had molested a 14-year-old girl when he was a prosecuting attorney in his 30s. Another woman accused him of sexual assaulting her when she was 16, and several others came forward with stories of inappropriate courtship when they were in their teens.
Moore was already a controversial figure, off-putting to many Republicans who cringed at his history of inflammatory statements and defiant actions that twice had him booted from his job as the state's chief justice.
Moore strenuously denied the allegations, calling them a plot hatched by a strange-bedfellow coalition of liberal interests and the GOP establishment.
The controversy energized long-suffering Democrats, both here and across the nation.
The party and its allies poured millions of dollars and hundreds of volunteers into the state, eager to seize an early Christmas gift: a U.S. Senate seat in the solidly Republican Deep South.
"I'm 45, and I've voted since I was 18," said Chris Barry, who showed up to cast a ballot for Jones at a fire station in Hoover, a heavily Republican suburb outside Birmingham. "He's the best chance we've had since I can remember."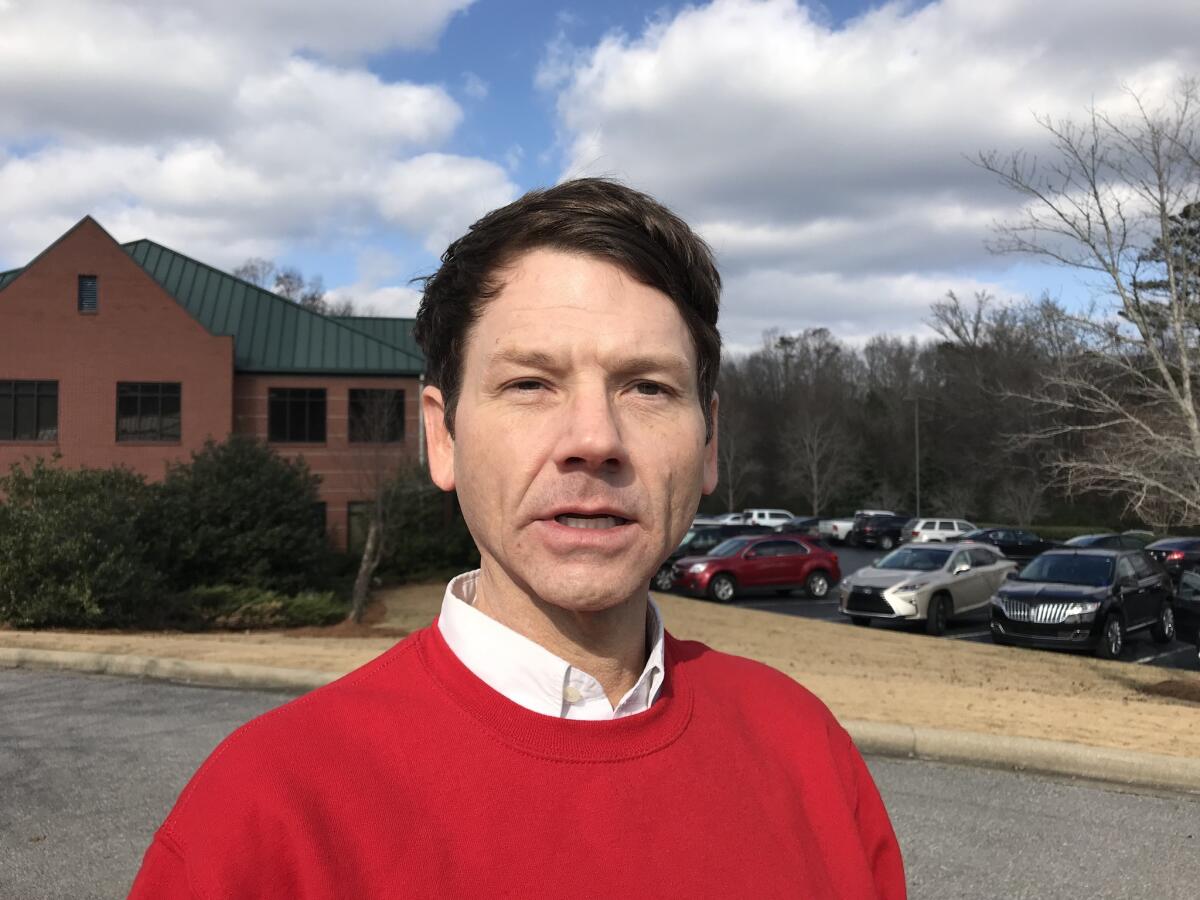 Some Republican voters backed Moore with admitted concern.
"I think any way you look at it, it's horrendous," said Craig Gilbert, 59, a corporate pilot. "If a man is falsely accused, it's horrendous. And if a 32-year-old man was molesting a 14-year-old girl, it's horrendous.
"You have to kind of keep your fingers crossed," Gilbert said before stepping out of the blustery cold to vote, "and hope the truth comes out and we'll deal with it at that time."
Jones, 63, is a former U.S. attorney who gained fame for prosecuting two Ku Klux Klansmen responsible for the deadly 1963 bombing of Birmingham's 16th Street Baptist Church, decades after the attack.
In Washington, Moore's defeat was a relief to his prospective GOP colleagues, even as it made their hold on Congress even more tenuous. The controversial judge and his cloud of scandal would have been a fixture in Democratic campaigns across the country, threatening to drag the Republican Party's image down along with him.
There was no such upside, however, for Trump, who initially steered clear of the contest, then leaped in headlong as polls showed Moore's support among Republicans holding firm.
"He went 0-2," said Jennifer Duffy, an analyst with the nonpartisan Cook Political Report, noting the president's support for interim Sen. Luther Strange, who lost to Moore in September's GOP primary. The special election was held to fill the seat vacated when Jeff Sessions resigned to become Trump's attorney general.
"Now he'll learn the hard lesson that President Obama learned," Duffy said. "He doesn't have that much influence on voters when he isn't on the ballot himself."
In a Tuesday night tweet, the president offered a strikingly measured and gracious response.
"Congratulations to Doug Jones on a hard fought victory," he said. "The write-in votes played a very big factor, but a win is a win. The people of Alabama are great, and the Republicans will have another shot at this seat in a very short period of time. It never ends!"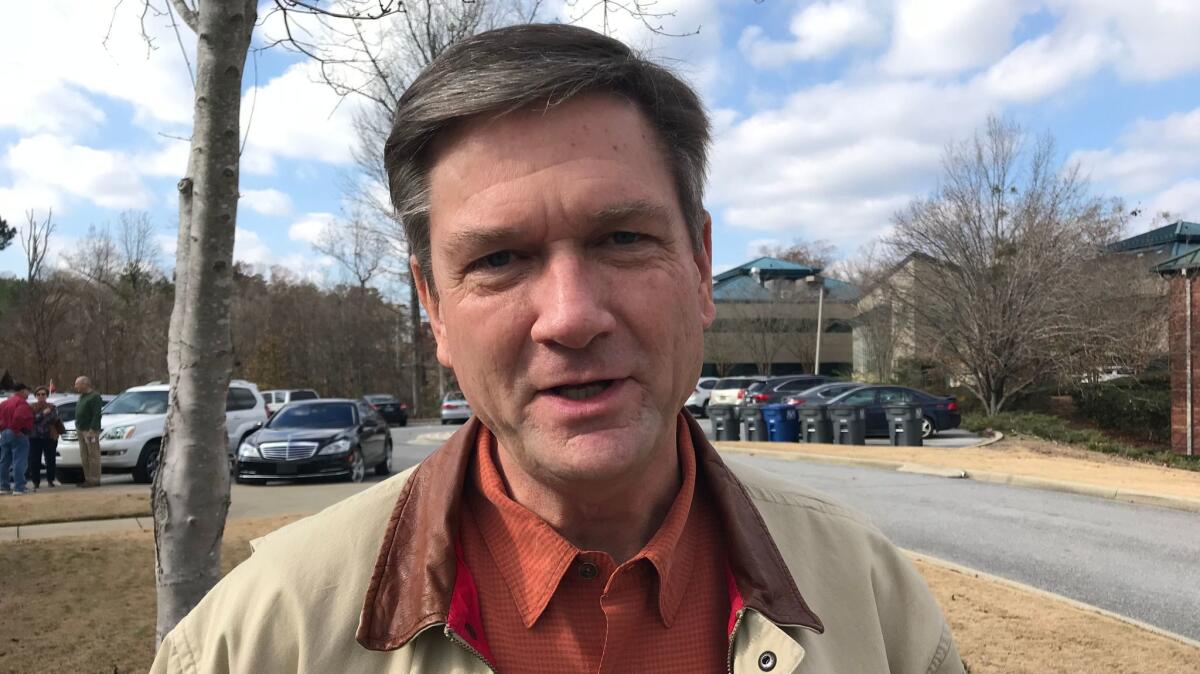 However, this particular campaign did, to the great relief of many.
The allegations have drawn national attention and considerable disparagement of Alabama, its history, its voters and their judgment. That condescension along with many millions of dollars in negative advertising, robocalls and attack mailers left many feeling picked on and fatigued.
"I put the TV on mute, I didn't answer the phone if I didn't recognize the number, and I threw out the mail," said Republican Ann Heitz, a Hoover retiree who declined to give her age or say for whom she voted.
"I'm tired of people acting like all Alabamians are stupid," she said. "But we do have so many politicians who don't deserve our respect. I'm disgusted by the whole thing."
Times staff writers Michael Finnegan in Los Angeles and Lisa Mascaro in Washington contributed to this report.
ALSO
Trump's troubles with Congress just got worse: Five takeaways from Democrats' upset in Alabama
Omarosa Manigault Newman leaving White House
In Florida, Trump attacks credibility of Roy Moore accuser as he rallies support for Alabama Senate hopeful
---
UPDATES:
9:55 p.m.: This story has updated with the election outcome and other details.
This report was first posted at 12:05 p.m.
Get our Essential Politics newsletter
The latest news, analysis and insights from our politics team.
You may occasionally receive promotional content from the Los Angeles Times.