Release of U.S. pastor likely to ease tensions with Turkey — and give Trump a win before midterm elections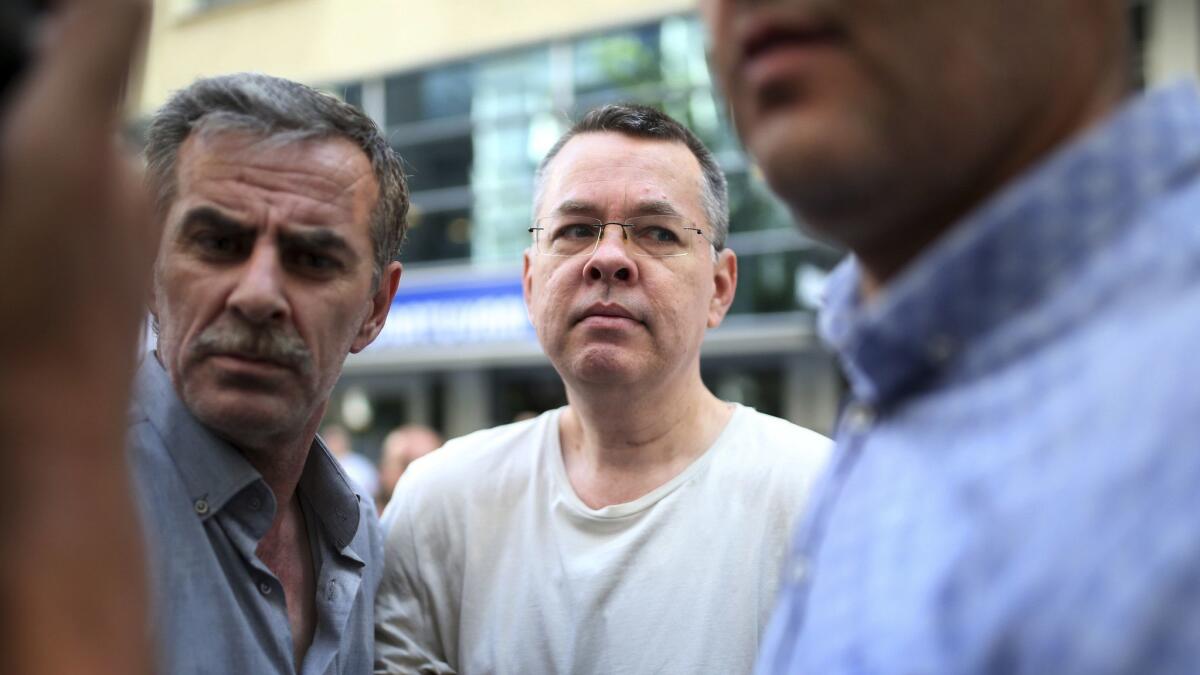 Reporting from Istanbul, Turkey —
An American Christian preacher was freed by a Turkish court Friday and was headed home to the United States, where he was expected to meet with President Trump at the White House on Saturday.
The freeing of the Rev. Andrew Brunson, 50, resolved a major irritant in U.S.-Turkish relations amid a burgeoning diplomatic crisis over the disappearance of Saudi-born journalist Jamal Khashoggi. Turkish authorities say Khashoggi was killed and dismembered in Saudi Arabia's consulate in Istanbul, Turkey's commercial capital.
The judge's ruling was expected after a recent flurry of diplomacy, including high-level meetings on the sidelines of the United Nations General Assembly in New York last month. As part of the negotiated arrangements, the Trump administration agreed to lift sanctions that had been imposed on Turkey in a bid to win Brunson's release.
Brunson returned briefly to his home in the Aegean coastal city of Izmir before boarding a U.S. military flight to Washington, with a brief stop in Germany. The White House said he was expected to land at noon Saturday at Joint Base Andrews.
Trump told reporters en route to a rally in Cincinnati that he hoped to welcome Brunson in the Oval Office. "We're very honored to have him back with us," he said, adding that the pastor had "suffered greatly."
Several other Americans remain in detention in Turkey, though their plight has drawn less attention. An ex-NASA scientist who holds both Turkish and U.S. citizenship, Serkan Golge, is still jailed on terrorism charges. He is one of more than a dozen dual nationals being held, along with three Turkish employees of the U.S. Consulate.
With Brunson's release, other pieces to the puzzle may fall into place. An executive at a Turkish state bank, Mehmet Hakan Atilla, is serving a prison sentence in the United States on a case related to accusations that Turkey's state-owned Halkbank circumvented U.S. sanctions against Iran. Turkey wants Atilla to be allowed to serve the rest of his sentence in his homeland.
Brunson was convicted Friday of terrorism-related charges and sentenced to a 37-month jail term, but freed on the basis of time served. He had been held for nearly two years — first detained, then imprisoned after being formally charged, and finally moved to house arrest in July for health reasons.
Brunson denied any wrongdoing, and supporters said the charges were politically motivated and false.
His release marks a victory for Trump, who had made it a priority for his administration, as well as for Turkish President Recep Tayyip Erdogan, who has sought to heal the rift with Washington and escape the sanctions that have battered his nation's economy.
Shortly after the court ruling, Trump tweeted triumphantly Friday in his signature all-caps style, "PASTOR BRUNSON JUST RELEASED. WILL BE HOME SOON!"
The courtroom scene in Aliaga, outside Izmir, Turkey's third-largest city, was emotional. Before the judge's ruling, Brunson declared: "I am an innocent man. I love Jesus. I love Turkey."
With his wife, Norine, looking on, Brunson cried when the decision was read out. The judgment averted what could have been a 35-year prison sentence if Brunson had been convicted of all charges.
The standoff over Brunson's fate was long and tense, with each side accusing the other of acting in bad faith. Turkey is weathering a financial crisis that was dramatically worsened by U.S. sanctions, tariffs and the threat of further retaliation by Washington. The Turkish currency, the lira, stabilized somewhat on the eve of the court decision as the outcome became clear.
Brunson, who presided over a small congregation at the Izmir Resurrection Church, has lived in Turkey for more than two decades. He was caught up in a vast nationwide dragnet launched by Erdogan after an unsuccessful coup attempt against his leadership in July 2016.
Erdogan accused self-exiled cleric Fethullah Gulen of fomenting the coup attempt from his compound in Pennsylvania, and tens of thousands of Turks have been jailed or purged from their jobs on suspicion of supporting him. Erdogan's government has repeatedly demanded that U.S. authorities expel Gulen, a permanent U.S. resident, to face charges in Turkey.
A North Carolina native, Brunson faced charges of ties not only to Gulen, but to the Kurdistan Workers Party, or PKK, an outlawed Kurdish separatist group. An earlier espionage charge was dropped.
Responding to the news from her home in Black Mountain, N.C., Brunson's mother, Pam, told the Reuters news agency that "God has answered the prayers of so many people around the world."
Trump's political base, which includes many evangelical Christians, had avidly followed the case, and the president won plaudits from them when he took a tough line against Turkey to press for Brunson's release. With less than a month until the midterm election, the pastor's return home — and expected appearance at the White House — will give Trump a success to tout on the campaign trail.
Vice President Mike Pence, an evangelical Christian who also took a strong personal interest in the case, wrote on Twitter that he and his wife, Karen, "look forward to welcoming Pastor Brunson and his courageous wife Norine back to the USA!"
Even with the breaking of the deadlock over Brunson, the United States and Turkey are still at odds over aspects of Syria's complex civil war. Washington backs Kurdish fighters in northern Syria who are viewed by Turkey as a cross-border version of the PKK.
Ending the impasse with Washington over Brunson could embolden Turkey in confronting Saudi Arabia over Khashoggi. Reports have swirled for days that the columnist, a U.S. resident who wrote opinion columns for the Washington Post, was killed after he entered the Saudi Consulate in Istanbul on Oct 2.
Late Thursday, the Washington Post reported that Turkish investigators had audiotapes that left little doubt that the journalist was beaten and killed in the consulate. Saudi Arabia says he left the compound unharmed, but has offered no proof of that.
Trump, who has cultivated a close relationship with the Saudi royal family, has said the matter needs to be investigated but stopped short of assigning blame. Some U.S. lawmakers are clamoring for steps to punish the kingdom, including cutting arms sales, if suspicions about Khashoggi's death are borne out.
Soner Cagaptay, director of the Turkish program at the Washington Institute for Near East Policy, a Washington think tank, noted that Erdogan also had been reluctant to directly accuse the Saudis, although leaks in Turkish media asserting that Khashoggi had been killed and dismembered were almost certainly officially sanctioned.
Erdogan, Cagaptay said, "wants to make sure he has U.S. backing before he enters a long, drawn-out conflict over the Khashoggi case."
Christians are a sometimes-mistrusted minority in overwhelmingly Muslim Turkey, and Soner Tufan, a spokesman for the Assn. of Protestant Churches in Turkey, called Friday's outcome a good one.
"He is innocent, but I think according to Turkish society, or according to Turkish dynamics, the judge had to give some penalty to him," he said. "But at the same time they had to release him, because he is innocent."
Special correspondent Farooq reported from Istanbul and Times staff writer King from Washington.
---
UPDATES:
2:45 p.m.: This article was updated throughout with staff reporting.
This article was originally published at 6:55 a.m.
Get our Essential Politics newsletter
The latest news, analysis and insights from our politics team.
You may occasionally receive promotional content from the Los Angeles Times.